News stories from Krakow, Poland.
Government Has Bought the Czartoryski Museum. Leonardo da Vinci's famous painting, Lady with an Ermine, has changed hands together with the entire collections of The Princes Czartoryski Museum in Krakow. Until recently the property of The Princes Czartoryski Foundation, they have been sold to the Polish government for euro 100 million, a fraction of an estimated value, on December 29th, 2016. The deal includes some 86,000 museum pieces and about 250,000 books and manuscripts as well as the buildings of The Czartoryski Museum and The Czartoryski Library, both situated in the historic center of Krakow. Upon the occasion Poland's Minister of Culture and National Heritage, Mr. Piotr Glinski, promised quick completion of the stalled modernization of The Czartoryski Museum and its long overdue reopening –as a branch of the Krakow National Museum which is to own its collections from now on.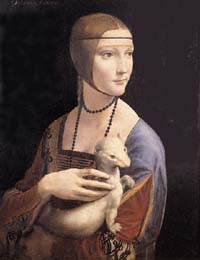 Krakow National Museum Is to Get a New Branch. The National Museum in Krakow will open a brand-new branch to display its collections of the Polish design and architecture, from fashion to furniture to interior decoration. It will be situated in the recently purchased building of Hotel Cracovia, opposite the main hall of the Krakow National Museum. The hotel, completed in 1965, is considered a good example of the Polish 20th-century modernist architecture. As the structure requires conversion and modernization, it will take years to open the new branch of the National Museum. But as early as next May the building is to host the first temporary exhibition.
Krakow Catholics Have a New Shepherd. Pope Francis has appointed Archbishop Marek Jedraszewski to succeed Cardinal Stanislaw Dziwisz as Metropolitan of the Krakow Archdiocese. Until recently Archbishop Jedraszewski, 67, was Metropolitan of the Archdiocese of Lodz, the industrial city in central Poland. Until his elevation in 2012 to the rank of archbishop he managed to combine careers of a Catholic prelate and a university philosophy professor. In Poland Archbishop Jedraszewski has a reputation as an outspoken conservative. His predecessor as the head of the Catholic Church in the Krakow region, Cardinal Dziwisz, has retired at 77 – he is best known for his role as the closest aide to Pope John Paul II.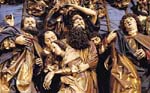 Stoss' masterwork stripped, piece by piece. Krakow's Veit Stoss's grand altarpiece in St. Mary church, the world's best medieval sculpture, is undergoing a thorough conservation which requires the temporary removal of its segments. Elements transferred to the restoration workshop are replaced with life-size photos showing the missing parts – cold comfort to visitors eager to see one of the top attractions of Krakow. The renovation of the 42-foot-high and 36-foot-wide masterpiece, which consists of 200 marvelous limewood sculptures, is to last till 2020 or longer and will cost well over three million euro.