News stories from Krakow, Poland.
Social lockdown in Poland from till April 11, 2020 or longer. To stem the spread of COVID-19 (coronavirus), the government of Poland has introduced its version of lockdown throughout the country. The drastic measures to be in force from March 25th to April 11th with further extension probable. People have been ordered to stay at home when they don't work. They may go out to work, to see a doctor when necessary, to help the elderly and family members, and to do essential shopping such as food, medicines, and hygiene products. Except for families, only two people may get together at a time. As of March 24th, 2020 nearly 800 cases of COVID-19 has been confirmed in entire Poland with 9 fatalities. As regards Krakow the toll was 43 ills and no fatality.
Great composer Krzysztof Penderecki died in Krakow. The world-renowned Krakow's composer Krzysztof Penderecki died March 29th, 2020 aged 86. Born on November 23, 1933 in Debica, 120 kilometers east of Krakow, he studied music at the Jagiellonian University and the Academy of Music in Krakow of which he later would be professor and president (rector) from 1972 to 1987. Mr. Penderecki ranks as one of the world's greatest composers of contemporary classical music and was an acclaimed conductor as well. He won four Grammy Awards. From 1976 Krzysztof Penderecki shared his time between his house in Krakow and the 19th-century mansion in the village of Luslawice where he founded the European Music Center in 2013. Privately Mr. Penderecki was an ardent amateur arborist and he planted some 1500 taxa of trees and shrubs in his vast Luslawice park.
No epidemics yet but precautions are in place. In a bid to prevent an epidemic of COVID-19 (coronavirus), Poland government has ordered a temporary closure of cultural venues and institutions, museum - including Auschwitz - restaurants, cinemas, coffee shops, pubs, clubs, schools, universities, shopping centers, sport and fitness facilities etc. It has also banned all gatherings of fifty people or more. Plus foreign travelers are not allowed to enter Poland for the time being with international air, train, and bus connections suspended. To date there has been just 93 confirmed cases of the COVID-19 disease in the whole country and only one of them in Krakow (as of noon March 14th, 2020). Up to now almost Polish cases involved people who freshly arrived from abroad.
Krakow Philharmonics Have Moved For a Time. As the building of the Krakow philharmonic society, Filharmonia Krakowska, at 1 Zwierzyniecka street undergoes modernization its office operations and the ticket box has been temporarily moved to Herbewo building at 64 Aleja Slowackiego avenue till the end of 2019 (maybe somewhat longer). The concerts take place at the following venues: Nowohuckie Centrum Kultury culture centre at 232 al. Jana Pawla II, ZPSM Mieczyslawa Karlowicza at Centrum E (both in Nowa Huta district), Krakow National Museum's Gmach Glowny main building at 3 Maja street and Adama Mickiewicza avenue, Zydowskie Muzeum Galicja at 18 Dajwor street, and Muzeum Lotnictwa Polskiego (Polish Aviation Museum) at 39 Jana Pawla II avenue while some events happen in the city's historic churches.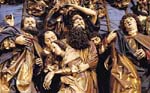 Veit Stoss' masterwork stripped, piece by piece. Krakow's Veit Stoss's grand altarpiece in St. Mary church, the world's best medieval sculpture, is undergoing a thorough conservation which requires the temporary removal of its segments. Elements transferred to the restoration workshop are replaced with life-size photos showing the missing parts – cold comfort to visitors eager to see one of the top attractions of Krakow. The renovation of the 42-foot-high and 36-foot-wide masterpiece, which consists of 200 marvelous limewood sculptures, is to last till 2020 or longer and will cost well over three million euro.