attractions

landmarks

museums

restaurants

hotels

entertainment

travel
Currencies exchange rates in Krakow.
/official median rate of exchange/
One euro buys 4.2 Polish zlotys (PLN).
One US dollar buys 3.7 Polish zloty (PLN).
One Swiss franc buys 3.7 Polish zloty (PLN).
One British sterling buys 4.7 Polish zlotys (PLN).
One Japanese yen buys 0.036 Polish zloty (PLN).
---

Glance Krakow news stories.
for the latest, updates, and tidbits.
Krakow Christmas tradition Voted the Cultural Heritage of Humanity.
UNESCO has inscribed the Krakow tradition of building szopka Nativity scenes on the Representative List of the Intangible Cultural Heritage of Humanity. By the end of November the organization has awarded this status to the Krakow time-honored social practice at its 2018 session on Mauritius. Every year on the first Thursday of December the Krakow constructors of szopkas gather in the city's central square at noon to show their newest works. The szopka Nativity scenes are Poland's first item ever voted by UNESCO as the Intangible Cultural Heritage of Humanity.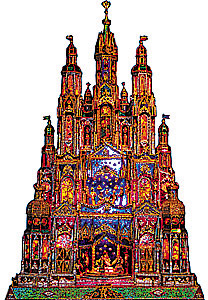 New City Council, Old Mayor - Local Elections.
The incumbent Mayor of Krakow Prof. Jacek Majchrowski got 61.94 percent of votes in the mayoral race runoff on November 4th and thus he has secured his 5th term in office. His opponent, Miss Malgorzata Wassermann, a prominent member of Law and Justice party and a sitting Member of Parliament, scored 38.06 percent. Two weeks earlier the coalition of the centrist Civic Platform party (Platforma Obywatelska - PO), center-left Nowoczesna party, and supporters of the Krakow mayor have secured 23 seats in the 43-strong City Council in the Krakow local elections on October 21st, 2018. Their main opponents, the right-wing Law and Justice party (Prawo i Sprawiedliwosc – PiS), will have 16 councilors, while the remaining four seats went to a failed mayoral candidate and his three supporters.
The Czartoryski Museum may reopen before 2020.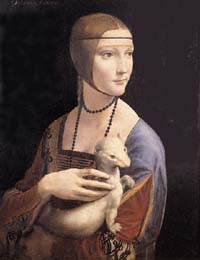 The modernization of The Czartoryski Museum in Krakow is to be completed in the autumn next year, so its long overdue reopening may take place - fingers crossed - in December 2019. For the meantime, Leonardo's Lady with an Ermine will be exhibited in the National Museum's main building at 1, 3 Maja street. The Polish government has bought the entire collections of The Princes Czartoryski Museum from The Princes Czartoryski Foundation on December 29th, 2016.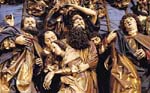 Stoss' masterwork stripped, piece by piece.
Krakow's Veit Stoss's grand altarpiece in St. Mary church, the world's best medieval sculpture, is undergoing a thorough conservation which requires the temporary removal of its segments. Elements transferred to the restoration workshop are replaced with life-size photos showing the missing parts – cold comfort to visitors eager to see one of the top attractions of Krakow. The renovation of the 42-foot-high and 36-foot-wide masterpiece, which consists of 200 marvelous limewood sculptures, is to last till 2020 or longer and will cost well over three million euro.
Krakow's News Stories of the Past:
Krakow Info Archive News of 2018
Krakow Info Archive News of 2009
---
Krakow Festivals
Hardly a month passes in Krakow without some time-honored occasion for common festivities or colorful ceremony.
Krakow's Regular Culture Events
There are over fifty culture festivals in Krakow every single year.
---
---
In the proximity of Krakow
Krakow is Poland's tourist mecca, and also a gateway to many other must-see sites in the region.
---