Krakow Restaurants, a Dining Guide
Krakow, Poland's Mecca of gourmets, can boast many excellent restaurants.
Good restaurants and various other eateries that offer quality food are found throughout the city. Yet Krakow's historical Old Town central district seems virtually stuffed with establishments catering to all kinds of diners. Here, within easy walking distance, one discovers hundreds of restaurants, cafes, bistros, grills, pizzerias, salad bars, etc. They are lodged in every available space of the area's old palatial residences and stately burgher houses – upstairs, downstairs, and most willingly in those vast ancient cellars. No doubt, the exquisite and picturesque period interiors are a premium. And from springtime through autumn restaurant tables take up the streets and squares of the mostly pedestrian precinct as well as backyards turned gardens.
A couple of blocks south another scenic downtown district, Kazimierz famed for its past Jewish quarter, also boasts numerous eateries. And still further to the south is the city's newly established gastronomic frontier in historic Podgorze town across Wisla river.
Krakow restaurant traditions
Krakow gastronomy has a long and glorious tradition that dates back to the famously lavish medieval and Renaissance feasts and the Baroque extravaganzas of Polish gentry gourmets. And the city's legendary restaurants of the past two centuries are fondly remembered. Yet recent decades have brought about a genuine restaurant explosion owing to the hectic efforts of aspiring restaurateurs, native as well as immigrants. And some Krakow chefs have achieved celebrity of sorts.
Trends in Krakow's Restaurants
Currently fusion cooking seems to be all the rage among the city's trendy chefs. Yet a creative adaptation of the old Polish cuisine is still in vogue. Also a revival of the local folk cookery goes on. On the other hand Far East foods, once exotic, appear to have become almost staples nowadays. At the same time Krakow restaurant patrons occur enamored of fine French and Italian cuisine more than ever before.
Good restaurants in Krakow.
Any following information has been provided by respective restaurants on their sole responsibility.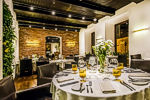 Albertina Restaurant & Wine
Polish cuisine with Mediterranean twist.
Address: ul. Dominikanska 3, 31-043 Krakow (located in the center on the corner of Dominikanska and Poselska streets).
Phone: +48 123334110, mobile + 48 570136720, Website www.albertinarestaurant.pl www.facebook.com/AlbertinaRestaurant
Albertina is an exceptional place on the culinary map of Krakow. The restaurant, located in the center of the Old Town, tempts with a unique character of its decor, carefully prepared menu, and excellent wine selection from all over the world. Albertina combines Polish cuisine in modern form, based on seasonal menu and local products, with Mediterranean inspirations, e.g. fresh lobsters and oysters from its own lobster tank (the only one in the entire Krakow). Also, Albertina can boast Poland's only Enomatic system of self-service wine dispensers, with a superb range of 32 wines to buy by the glass.
CK Browar
Polish cuisine.
Address: 7 Podwale street.
Phone: (+48) 124292505
Website www.ckbrowar.krakow.pl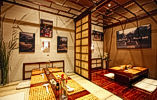 Edo Fusion & Edo Sushi Bar
Japanese cuisine.
What distinguishes Edo Sushi Bar (now called "the old Edo") is its constant adherence to the traditional methods of Japanese cooking, which has won this oldest sushi-bar of Krakow the appreciation of culinary critics and numerous regular customers. In the menu of the new Edo Fusion there are interesting dishes of the Japanese provenance enriched with flavors and aromas evoking Thai, Mexican, and Mediterranean reminiscences.
Meal for two without wine - about 25 euro
Address: 3 Bozego Ciala street and 8 Miodowa street.
Phone: (+48) 124222424
Jama Michalika restaurant and art cafe
Polish cuisine.
Address 45 Florianska street. Phone/fax (+48) 124221561. Email poczta@jamamichalika.pl Website www.jamamichalika.pl
The original vibrant Art Nouveau interior of famous Jama Michalika, established in 1895, dates back to 1908. The place was immortalized by its early 20th-century patrons: the greatest artists, actors and men of letters of the period, whose caricatures still adorn the walls. The restaurant is situated at the Royal Road, five minutes walk from the central square, close to Brama Florianska city gate. It serves traditional Polish dishes.
Dinners for organized groups from 5 euro per person.
We arrange banquets, special events, weddings, and business gatherings at negotiable prices.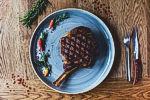 Moo Moo Steak & Wine
Steaks and burgers.
An excellent venue for guests who value the supremacy of high quality ingredients and who recognize the effort that goes into the preparation of a top-notch steak. The classic menu offers the finest seasonal steaks, succulent beef burgers, and impressive home-made sauces based on demi-glace which offer flavorful accompaniment to the various meat orders available. And of course the gifted kitchen team ensures that meats are properly done as per request. With an ambience that elevates the overall attitude, this elegant spot derives its true merit from its outstanding flavors, a splendid selection of wines, and a qualified and experienced staff that really values every need of its guests.
Let's meat each other!
Address: 9 Sienna street. Website www.moomoo.com.pl Email manager@moomoosteak.pl
Phone: (+48) 12 422 20 53.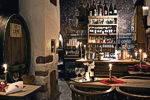 Pod Aniolami restaurant
Polish cuisine.
The Pod Aniolami – "Under the Angels" restaurant is an extraordinary place, famed far and wide for its marinated meats, grilled over beech hardwood fire, and other old Polish dishes. The restaurant's historical 13th-century interiors and brilliant cuisine, based on the Polish culinary traditions, will make you soak up the atmosphere of the Medieval Kings' City of Cracow. At "Under the Angels" time stood still and one can still find the ambience of old Cracow here. Beautiful interiors and excellent cuisine attract renowned guests from all over the world. On the ground floor we invite you to The Chamber of the Wawel Castle's Comptroller where one can admire the 18th-century polychromes during private banquets. There is also a charming year-round open garden with a mosaic fountain to which one can always drop a coin wishing to come back to this unusual place.
Meal for two without wine - about 40 euro
Address: 35 Grodzka street.
Web site www.podaniolami.pl Email restauracja@podaniolami.pl
Phone: (+48) 124213999.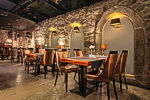 Rubinstein restaurant
International cuisine.
Address: 12 Szeroka street. Email recepcja@rubinstein.pl
Phone: (+48) 123840000.
Upscale dining-out experience and unforgettable milieu meet reasonable prices. Located in a converted 15th-century building, the restaurant at Hotel Rubintein sits in the heart of historic Kazimierz, a few minutes walk from the Old Synagogue, Wawel Castle and the Main Square. The restaurant serves dishes from all over the world, while the "Winoteka" offers plenty of quality wine.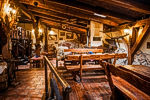 Stodola
Polish cuisine.
We cordially invite you to our restaurant located in the heart of Krakow's old town. The unique atmosphere, unforgettable style, and true quality have been appreciated by our satisfied guests. Our menu is rich and varied, you can choose from tasty meals, good beer, and delicious drinks. The chef's specialty is game. By visiting us you will be convinced that "Stodola 47" is an excellent venue for a meeting with friends and family as well as any event such as wedding, birthday parties, etc. Our restaurant can accommodate up to 90 persons and is open from noon. Visit us and enjoy.
Address: ul. Florianska 47
Phone: (+48) 122924925
Website: www.stodola47.p
Wierzynek restaurant
Polish cuisine.
Meal for two without wine: about 55 euro
Address: Rynek Glowny 16 /Market Square/
Phone: +48 12 424 96 24, email rezerwacja@wierzynek.com.pl
The tradition of the Wierzynek brand dates back to 1364, when a wealthy merchant Nicolas Wierzynek hosted a splendid feast for the monarchs of Europe on behalf of the Polish King Casimir the Great. The feast took place in a historical tenement at the Main Market Square in Cracow, where today the legendary restaurant is located.
Wierzynek is the place for traditional Polish cuisine and courtly customs gourmets. This Krakow worldwide brand is associated with luxury and sumptuousness, and the restaurant is distinguished as one of the thousand places in the world that you must visit before you die.
After 650 years of history our guests are still the most important for us. Wierzynek Restaurant is not just a legend – it is a story playing every day anew.