Choice Krakow Restaurants with Foreign Nations' Cuisine
French restaurants and Chinese restaurants, Italian restaurants and American restaurants, Mexican restaurants and Kurdish restaurants, as well as African, Vietnamese, Indian, etc.
Myriad Krakow restaurants cater to foreign tastes, are run by expats and employ exotic chefs.
Any following information has been provided by respective restaurants in Krakow on their sole responsibility.
Del Papa restaurant
Italian cuisine.
Meal for two without wine - about 30 euro
Address: 6 Sw. Tomasza street. Website www.delpapa.pl
Phone: (+48) 124218343.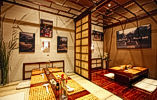 Edo Fusion & Edo Sushi Bar
Japanese cuisine.
What distinguishes Edo Sushi Bar (now called "the old Edo") is its constant adherence to the traditional methods of Japanese cooking, which has won this oldest sushi-bar of Krakow the appreciation of culinary critics and numerous regular customers. In the menu of the new Edo Fusion there are interesting dishes of the Japanese provenance enriched with flavors and aromas evoking Thai, Mexican, and Mediterranean reminiscences.
Meal for two without wine - about 25 euro
Address: 3 Bozego Ciala street and 8 Miodowa street.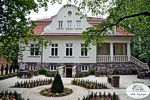 Villa Fryderyka Restaurant and Pantry
Polish and French cuisine.
Authentic passion for cooking and culinary interests in the classic French style have become the fundament on which Fryderyk Pautsch's Villa arisen, creating this wonderful spot on the map of Krakow. Villa Fryderyka Restaurant and Pantry was established in a unique place, where Professor Fryderyk Pautsch lived and created many of his paintings. We've created this wonderful place in the middle of renovated villa with a magical garden. The interior design of Villa Fryderyka is modeled on elegant French style with incredible precision and attention to every detail. Pastel saloons decorated in sophisticated French style emphasize beauty of the building itself and decorative lighting gives an impression of delicacy and freshness. Welcome to the mystic place where the aroma stimulates senses, surroundings become inspiration and encourage to celebrate the moment with addition of subtle romantic music accompaniment. The art of creating culinary works is our purpose and objective that we desire to pursue. In our cooking, we precisely combine tastes of traditional, forest-smelling Polish and classic French cuisines to satisfy the most demanding palates. With great attention we pick ingredients and utilize their natural taste potential, composing dishes unique in their simplicity. We guarantee that every occasion to celebrate in our restaurant will be unforgettable culinary experience.
Address: 105 Kazimierza Wielkiego street. Website www.willafryderyka.pl
Phone: (+48) 502 515 199 Email manager@willafryderyka.pl

---
Krakow Restaurants
Krakow is Poland's mecca of gourmets thanks to its many excellent restaurants.
Polish menu
Try traditional Polish cuisine in one of Krakow's choice restaurants. Ask for regional specialties of Krakow and the Malopolska province.
Cosmopolitan menu
There is the world standard a traveled gourmet feels at home in. Krakow's best restaurants happily satisfy the worldly tastes.
Economy class
While all Krakow restaurants occur inexpensive to Western visitors, some places are even more so.
---
---
There are over 35,000 Krakow's beds to choose from.