Cosmopolitan menu in Krakow's restaurants.
There is the world standard a traveled gourmet feels at home in. Krakow's restaurants happily satisfy the worldly tastes.
Find a good restaurant in Krakow
Any following information has been provided by respective restaurants on their sole responsibility.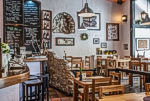 Guliwer restaurant & cafe
European cuisine.
Guliwer Cafe & Restaurant is a little, cosy eatery situated at Bracka street, literally 100 meters from the Old Town's Rynek Główny central square. It's ideal for those who seek a place in the very heart of Krakow where one may have a tasty breakfast - or lunch, or dinner - in a casual atmosphere, sip a glass of excellent wine, or indulge oneself in splendid coffee or hot, thick chocolate. Till late evening hours we serve dishes based solely on healthy, natural ingredients, with a great deal of herbs and without any artificial improvers! The cakes we recommend and excellent creme brulee are made every day on the premises by our cooks.
Meal for two without wine - about 35 euro
Address: 6 Bracka street. Website www.guliwer-restauracja.pl
Phone: (+48) 124302466.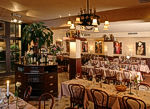 Szara Kazimierz restaurant
European cuisine.
The Szara Kazimierz Restaurant is located on Szeroka street, where for more than 20 years has been organized Jewish culture festival. The Szeroka street is actually not a street but a wide and beautiful square where You will find Jewish bookshops cosy coffee shops and hotels. The Szara Kazimierz is a place with amazing atmosphere and food, with Michelin recommendation awarded 6 years in a row. Here You can eat international food with elements from the Scandinavian cooking and also Polish dishes. The Szara's specialities are the famous fish soup a la Bouillabaise, the Plankstek-beef tenderloin served on a wooden plate, and many other to choose from. The interiors are spacious and designed with excellent taste. There is a patio in the back surrounded by beautiful plants, where You can relax with delicious food and wine. There is no place like the Szara.
Meal for two without wine - approx. 40 euro
Address: 39 Szeroka street.
Website www.szarakazimierz.pl
Email kazimierz@szara.pl
Phone: (+48) 124291219.


Krakow Restaurants
Krakow is Poland's mecca of gourmets thanks to its many excellent restaurants.
---
Multicultural menu
French and Chinese, Italian and Breton, Mexican and Kurdish, African, Vietnamese, Indian, etc. Myriad Krakow restaurants cater to foreign tastes, are run by expats and employ exotic chefs.
Polish menu
Try traditional Polish cuisine in one of Krakow's choice restaurants. Ask for regional specialties of Krakow and the Malopolska province.
Budget restaurants
Dine out economically in one of Krakow's low-cost eateries.
---
---
There are over 25,000 beds to choose from in Krakow.