Cosmopolitan menu in Krakow's restaurants.
There is the world standard a traveled gourmet feels at home in. Krakow's restaurants happily satisfy the worldly tastes.
Find a good restaurant in Krakow
Any following information has been provided by respective restaurants on their sole responsibility.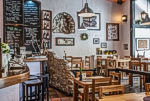 Guliwer restaurant & cafe
European cuisine.
Guliwer Cafe & Restaurant is a little, cosy eatery situated at Bracka street, literally 100 meters from the Old Town's Rynek Główny central square. It's ideal for those who seek a place in the very heart of Krakow where one may have a tasty breakfast - or lunch, or dinner - in a casual atmosphere, sip a glass of excellent wine, or indulge oneself in splendid coffee or hot, thick chocolate. Till late evening hours we serve dishes based solely on healthy, natural ingredients, with a great deal of herbs and without any artificial improvers! The cakes we recommend and excellent creme brulee are made every day on the premises by our cooks.
Meal for two without wine - about 35 euro
Address: 6 Bracka street. Website www.guliwer-restauracja.pl
Phone: (+48) 124302466.
Wierzynek restaurant
Polish cuisine.
Meal for two without wine: about 55 euro
Address: Rynek Glowny 16 /Market Square/
Phone: +48 12 424 96 24, email rezerwacja@wierzynek.com.pl
The tradition of the Wierzynek brand dates back to 1364, when a wealthy merchant Nicolas Wierzynek hosted a splendid feast for the monarchs of Europe on behalf of the Polish King Casimir the Great. The feast took place in a historical tenement at the Main Market Square in Cracow, where today the legendary restaurant is located.
Wierzynek is the place for traditional Polish cuisine and courtly customs gourmets. This Krakow worldwide brand is associated with luxury and sumptuousness, and the restaurant is distinguished as one of the thousand places in the world that you must visit before you die.
After 650 years of history our guests are still the most important for us. Wierzynek Restaurant is not just a legend – it is a story playing every day anew.


Krakow Restaurants
Krakow is Poland's mecca of gourmets thanks to its many excellent restaurants.
---
Multicultural menu
French and Chinese, Italian and Breton, Mexican and Kurdish, African, Vietnamese, Indian, etc. Myriad Krakow restaurants cater to foreign tastes, are run by expats and employ exotic chefs.
Polish menu
Try traditional Polish cuisine in one of Krakow's choice restaurants. Ask for regional specialties of Krakow and the Malopolska province.
Budget restaurants
Dine out economically in one of Krakow's low-cost eateries.
---
---
There are over 25,000 beds to choose from in Krakow.