It may concern you: watch out for developments which change things in Krakow.
---
Every summer heatwaves hit Krakow time and again so take care to take the usual precautions. At the same time don't drink water from pumps in the central square as tourist often do: it's fresh and cold but it's unfit for drinking and can make you sick. Whereas the Krakow tap water is drinkable, the pumps draw untreated water from wells beneath the square which may be easily contaminated.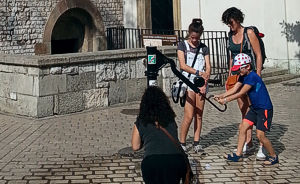 ---
Your breath.
Cold weather in Krakow brings about the raised level of fine particulate matter in the air. Nowadays Krakow, as practically all European cities, is a battlefield in the global anti-coal campaign so alarmist reports happen throughout winter notably when foggy conditions prevail. Actually, there is no real cause for concern as long as you avoid walking busy arteries jammed with vehicles during peak hour traffic in the morning and between 3 pm and 7 pm. Please remember that, unlike London or Paris, in Krakow the equipment to measure levels of fine particulate matter and other pollutants is installed only in the most busy streets so any published data mostly concern car exhaust fumes not the general air quality in the city. More reliable is The Copernicus Atmosphere Monitoring Service (CAMS) which publishes up-to-date information online at www.regional.atmosphere.copernicus.eu, based on satellite data, plus four-day forecasts - also specifically for Krakow.
---
Mobility woes.
Road works still paralyze central Krakow and play havoc with public transport in the city even if the situation is now somewhat better than previously.
---
Lady with an Ermine moved to the National Museum.
From May 19th, 2017 until the reopening of the Czartoryski Museum Lady with an Ermine, Leonardo's marvelous portrait of Cecilia Gallerani, is to be displayed in the main building of the National Museum in Krakow at 1, 3 Maja street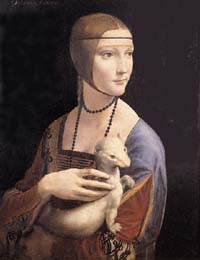 ---
Saint Mary's altar incomplete.
Veit Stoss's altarpiece of the high altar in the Basilica of Saint Mary (Bazylika Mariacka), one of the world's best Gothic masterpieces, is undergoing an extensive conservation, which requires the temporary removal of its segments. Elements transferred to the restoration workshop are replaced with life-size photos showing the missing parts. The renovation is to last till 2020 or longer.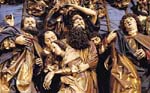 ---
The Czartoryski Museum closed.
Officially, the Czartoryski Museum in Krakow will stay closed for renovation and modernization through 2019.
---