It may concern you: watch out for developments which change things in Krakow.
---
June 18th - 30th, 2017 Euro 2017 U21 Championship.
Krakow hosts five matches of Euro 2017 U-21 football championship in the second half of June. It's only teams aged 21 years or younger, nonetheless expect an influx of soccer fans who can't help behaving like, well, soccer fans. Stadion Cracovia stadium, situated just a ten minutes' walk from the Krakow central square, is the venue for the final on June 30th, 2017 as well as one of semifinals on June 27th. Earlier – namely June 18th, June 21st, and June 24th – there are matches of Group C consisting of Germany, the Czech Republic, Denmark, and Italy.
---
Lady with an Ermine moved to the National Mauseum.
From May 19th, 2017 until the reopening of the Czartoryski Museum Lady with an Ermine, Leonardo's marvelous portrait of Cecilia Gallerani, is to be displayed in the main building of the National Museum in Krakow at 1, 3 Maja street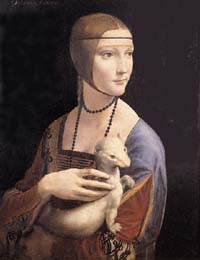 ---
Saint Mary's altar incomplete.
Veit Stoss's altarpiece of the high altar in the Basilica of Saint Mary (Bazylika Mariacka), one of the world's best Gothic masterpieces, is undergoing an extensive conservation, which requires the temporary removal of its segments. Elements transferred to the restoration workshop are replaced with life-size photos showing the missing parts. The renovation is to last till 2020 or longer.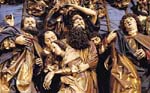 ---
The Czartoryski Museum closed.
Officially, the Czartoryski Museum in Krakow will stay closed for renovation and modernization through 2019.
---