Blog of Krakow-watchers and visitors.
Click here to write your contribution to our Krakow blog.
Authors of the entries to the Krakow Forum take full responsibility for their content. The following does not necessarily represent opinions of the Krakow Info editors.
---
Nativity scenes scattered across the city.
/2017-12-12/ Ten purpose-built oversized Krakow szopka traditional Nativity scenes adorn the city's squares. At the same time 27 authentic szopka exhibits from the collection of the City of Krakow Historic Museum have been displayed in shop windows at Rynek Glowny central square and in Kazimierz district.
Thom
---
Central skating rink.
/2017-12-08/ An 800-square-metre ice rink has opened in Plac Wolnica square in the Kazimierz downtown area and it will last till February 25th. The 45-minutes skating costs five zlotys. The rate for renting skates or a helmet is also 5 PLN.
Kasia
---
Szopka exhibit opens December 11th in new place.
/2017-12-04/ The exhibition of the Nativity scenes entered for 75th Krakow Szopka contest has been temporarily moved to Celestat building at 16 Lubicz street because the traditional venue, the Historical Museum at the central square, is under renovation. The exhibition opens December 11, 2017 to end on February 25th, 2018.
Muse
---
Santa Claus pageant December 6th.
/2017-12-02/ A parade of 142 Santas or rather Saint Nicholases takes place in Krakow's Rynek Glowny central square on Wednesday, December 6th at 3 pm. In Poland the feast day of Saint Nicholas is traditionally a day for children to be showered with presents and sweet things.
Barbara
---
Nativity scenes paraded on December 7th.
/2017-11-23/ The 75th festival of the Krakow Szopka nativity scenes takes place in the Rynek Glowny central square at noon on Thursday, December 7th, 2017.
Thoma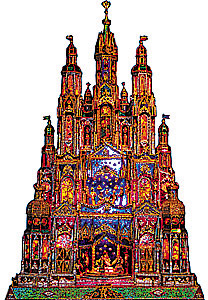 ---
Krakow Christmas guide.
/2017-11-20/ A brand-new guidebook to Christmas Krakow, published this November, is now available as an ebook from Amazon online bookstore.
Mark
---
Museum open day.
/2017-11-13/ This year open day at Krakow museums falls on Sunday, November 19th, from 10 am to 4 pm (some museums may keep longer hours). That day 23 museums in the city admit visitors free of charge and many of them organize special attractions such as film screenings, lectures, shows, concerts. etc.
Muse
---
2018 Easter music festival.
/2017-11-09/ Next year the Misteria Paschalia Krakow Easter festival of classical music takes place in Krakow throughout Holy Week and beyond. It starts on Monday, March 26th and is to last through Monday, April 2nd 2018. The festival features Europe's top early music ensembles and soloists. For every day there are two concerts planned except Good Friday, Easter Sunday and Easter Monday when one concert will take place each night at 8 pm.
Thoma
---
Opera Rara festival January/February 2018.
/2017-11-07/ Next year's edition of Krakow's festival Opera Rara starts on January 18th to end on February 13th, 2018. Its program consists of concerts and recitals of classical music, mostly operatic and mostly of the Baroque period. The organizers have managed to line up a number of top European soloists and ensembles.
Barbara
---
Free shows at the Krakow National Museum.
/2017-11-03/ Commemorating the Independence Day the National Museum in Krakow makes exhibitions in its main building at 1. 3 Maja street accessible free of charge on the next weekend, i.e. Friday, November 10th through Sunday, November 12th, 2017. Except Leonardo da Vinci's painting Lady with an Ermine can be seen for free solely on Saturday, November 11th, the Independence Day.
Muse
---
Krakow Royal Castle for free.
/2017-11-02/ Admission to the permanent exhibitions of the Krakow Wawel Royal Castle is free of charge this November. Free tickets are available at the box office unless the number of visitors reached the daily limit.
Barbara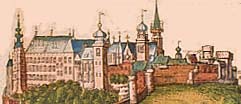 ---
Deep Purple farewell in Krakow.
/2017-10-30/ England's veteran rock band, Deep Purple, will perform its farewell concert, The Long Goodbye Tour, in Krakow at Tauron Arena, 7 Lema street, on Sunday, July 1st 2018 at 8 pm, Tickets on sale online from November 3rd, 2017.
Thoma
---
Conrad Festival of literature.
/2017-10-23/ Conrad Festival, named after English writer Joseph Conrad born Jozef Korzeniowski in Poland and educated in Krakow, goes on this week from today through Sunday, October 29th. Devoted to literature, the festival largely consists in meeting varied writers.
Muse
---
Krakow Book Fair.
/2017-10-20/ Krakow Book Fair 2017 starts Thursday, October 26th and ends Sunday, October 29th. Its main venue is EXPO Krakow at 9 Galicyjska street in the Nowa Huta district. A one-day ticket costs 8 zlotys (PLN). Opening hours 10 am to 5 pm on Thursday and Sunday, and to 7 pm on Friday and Saturday.
Kasia
---
New express to Prague may be soon.
/2017-10-14/ The Czech Republic's carrier LEO Express is to launch an everyday direct train service between Prague and Krakow. According to plans one train will leave Prague for Krakow at 4.10 pm to reach its destination at 11.10 pm. The train for Prague will depart from Krakow Glowny central train station at 4.44 am and will arrive to the Czech capital at 11.39 am. The service may start in mid-December this year, fingers crossed.
Mark
---
Market in Maly Rynek square October 6th to October 10th.
/2017-10-09/ So called 'Cultural Borderlands Market' goes on in Maly Rynek square, situated one block east of the Rynek Glowny central square, through Sunday, October 15th. The stalls sell village arts and crafts such as cloths, pottery, and metalwork. Also traditional foods such as breads, cheeses, cured meats, and sweets are available. Plus Open-air musical gigs which start at 4 pm.
Kasia
---
Krakow piano music festival.
/2017-10-04/ The 9th International Royal Cracow Piano Festival (Miedzynarodowy Festiwal Pianistyczny Krolewskiego Miasta Krakow), a yearly Krakow festival of piano music, starts on Sunday, October 8th. Its program consists of seven piano recitals, one every two or three days - the last one on Sunday, October 22nd, 2017.
Barbara
---
Free Jazz Autumn in Krakow.
/2017-10-02/ The 12th Krakow Jazz Autumn festival (Krakowska Jesien Jazzowa) starts October 9th, 2017. The festival features mostly free jazz and its principal venue is Alchemia club at 5 Estery street in the Krakow Kazimierz historic area.
Muse
---
Saint Michael market till October 1st.
/2017-09-25/ The Saint Michael market takes place in Maly Rynek square, one block east from the Rynek Glowny central square, through Sunday, October 1st. Its stalls sell the village arts crafts from cloths to pottery to sculpture. Also traditional foods such as breads, cheeses, cured meats, and sweets.
Kasia
---
Buses and trams for free.
/2017-09-21/ Tomorrow, September 22nd everybody may travel free of charge on the Krakow municipal public transport, that is the MPK buses and trams, owing to the World Car Free Day.
Thoma
---
All Souls jazz.
/2017-09-20/ This year the 62th All Souls Krakow jazz festival (Krakowskie Zaduszki Jazzowe) takes place somewhat later than usual. It starts on November 3rd, one day after the All Souls Day, and ends November 9th.
Mark
---
Krakow Musical Autumn.
/2017-09-16/ The 4th Krakow Musical Autumn is a four-day festival of classical music organized in the Filharmonia Krakowska concert hall at 1 Zwierzyniecka street, next to the Old Town central historic district, from Sunday, October 1st through Wednesday, October 4th. Its program consists in four concerts which feature Sweden's pianists Peter Jablonski and Patrik Jablonski on Sunday, Poland's BUKOLIKA piano trio on Monday, Latvia's pianist Ilja Domnins on Tuesaday, and lastly Poland's clarinetist Barbara Borowicz and pianist Anna Miernik-Sobula on Wednesday.
Barbara
---
Festival of organ music.
/2017-09-15/ The 51st Organ Music Days, an autumnal Krakow festival of organ music takes place September 16th through September 21st, 2017 with daily concerts in Filharmonia Krakowska concert hall and a couple of Krakow's historic churches. Except the concert on Wednesday, September 20th is in a church in the city of Biecz, some 140 kilometers east of Krakow.
Muse
---
Xmas market in Krakow starts November 24.
/2017-09-09/ In 2017 the Krakow Christmas market opens in Rynek Glowny central square on Friday, November 24th. The official closing day is December 26th.
Kasia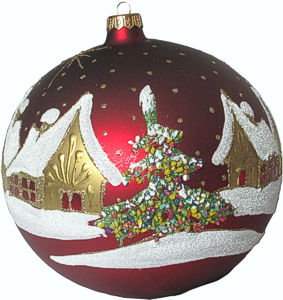 ---
When sausage dogs march.
/2017-09-06/ This year's famed Krakow parade of dachshunds (aka "sausage dogs") takes place on Sunday, September 10th. At noon it starts next to Barbakan (a barbican) behind the Brama Florianska gate at the end of Florianska street. Next the dogs plus their masters will march down the Florianska street to Rynek Glowny central square. Yet the whole event next to the Barbakan begins at 11.45 am.
Thoma
---
Sheep grazing in central Krakow.
/2017-09-02/ A small flock of sheep graze the Krakow Blonia downtown meadow till September 10th, an advertisement for the colorful herding traditions of Poland's Podhale highlands region. The sheep and their shepherds, clad in folk costumes, expect visitors from 6 am to 8 pm.
Mark
---
Honey fest.
/2017-01-01/ Krakow Honey Harvest, the bee-keeping festival takes place in Plac Wolnica square from Friday, September 1st through Sunday, September 3rd. Opening hours 9 am to 8 pm Friday and Saturday, and to 7 pm on Sunday. Local producers sell various kinds of honey, beeswax, and other apiculture products. Also live performances, contests, etc.
Thoma
---
Contemporary classics in late September.
/2017-08-21/ Krakow Opera company opens its new season Sunday, September 17th with a concert of operetta arias and duets. See list of all opera performances in Krakow.
Muse
---
Pop fest to rock Krakow August 18th & 19th.
/2017-08-08/ The Krakow Live Festival features an array of rap, rock, and pop acts on the grounds of the Polish Aviation Museum at 39 Jana Pawla II avenue on August 18th and August 19th. The lineup includes Ellie Goulding, Lana Del Rey, alt-J, Wiz Khalifa, and Birdy
Kasia
---
Krakow Philharmonics new season.
/2017-08-02/ The Krakow Philharmonic society has published its concert program for autumn 2017 and early 2018. See the calendar of philharmonic concerts in Krakow.
Barbara
---
Contemporary classics in late September.
/2017-07-26/ In 2017 Sacrum Profanum Krakow festival of contemporary classical music takes place in the last week of September, namely from Tuesday, September 26th through Sunday, October 1st. It's program consists of twenty concerts which feature internationally recognized ensembles and soloists performing modern music.
Muse
---
Up to date Krakow guidebook.
/2017-07-18/ The updated edition of The Marvels of Krakow 2017 guidebook is available online from Amazon. It's reasonably priced and, given its rich contents, offers good value for money.
Kasia

---
National Museum shuts modern art, for now.
/2017-07-12/ National Museum in Krakow closes its permanent exhibition of modern art on July 16th, 2017. The Gallery of the 20th-century Polish Art situated in the museum's main building at 1, 3 Maja street will not reopen before 2019 if at all as the planned revamping of the show may be accompanied by the change of the name.
Muse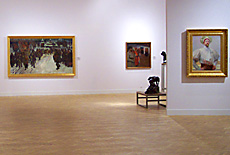 ---
Europe's volleyball championship.
/2017-07-08/ EuroVolley Poland 2017, men's volleyball championship of Europe, starts August 24th and ends September 3rd, with its most important events taking place in Krakow which hosts the final, both semifinals, and two quarterfinals. They are scheduled for September 3rd, September 2nd, and August 31st respectively. The venue - Tauron Arena Krakow at Lema street.
Thoma
---
Krakow makes football history.
/2017-06-28/ This year's Euro U-21 football championship for players aged 21 and under climaxes with the final Germany vs. Spain in Krakow on Friday, June 30th. The match at Stadion Cracovia stadium at Kaluzy street, two blocks west of the Old Town historic center, starts at 8.45 pm.
Mark
---
Street theatres galore.
/2017-06-26/ The 30th International Street Theatre Festival in Krakow starts on Wednesday, July 5th to end on Sunday, July 9th or actually Monday as the final show called F451-Krakow is planned to last 24 hours. The Krakow Rynek Glowny central square remains the principal venue for the festival's numerous performances. Also two neighboring squares, Maly Rynek and Plac Szczepanski, will serve as the festival stages every afternoon and evening with four to seven shows back to back.
Thoma
---
Sinfonietta class fest.
/2017-06-20/ This year Sinfonietta Festival of classic music goes on in Krakow from June 30th through July 4th. Concerts take place every day. The program for Saturday, July 1st looks hectic indeed, with 13 free concerts on that evening.
Barbara
---
Krakow Summer Jazz Fest.
/2017-06-12/ The 22nd Summer Jazz Festival in Krakow takes place from June 18th to July 29th, 2017 though it gets in full swing throughout July. The main venue is the Piwnica Pod Baranami cellar club at 27 Rynek Glowny (Grand Square) where jazz concerts are scheduled every night at 9 pm from July 3rd through July 29th. The culmination falls on July 15th, aka Jazz Night, with numerous free concerts - in Krakow clubs as well as alfresco.
Muse
---
The UNESCO World Heritage talks.
/2017-06-07/ The 41st session of the UNESCO World Heritage Committee takes place in Krakow from July 2nd through July 12th, 2017. After the opening at the Wawel Royal Castle the delegates will take up the ICE conference center. The main conference is to be accompanied by a number of side events.
Mark
---
Science festival in central square.
/2017-05-24/ Science Festival takes place in Rynek Glowny central square from Thursday, May 25th through Saturday, May 27th. A showcase for Krakow universities, it enables visitors to watch and participate in various experiments. Free admission.
Barbara
---
Leonardo's Lady in new place.
/2017-05-18/ Leonardo da Vinci's Krakow masterpiece, Lady with an Ermine, has been moved from the Wawel Royal Castle to the National Museum in Krakow. The picture is placed in an upstairs room of the museum's main hall (Gmach Glowny) at 1, 3 Maja street. Initially free of charge, from June 23rd, 2017 the regular ticket is to cost 10 zloty (PLN). Opening hours are from 10 a.m. to 6 p.m. Tuesday through Saturday and 10 a.m. to 4 p.m. on Sundays.
Kasia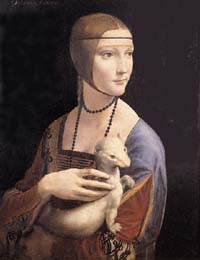 ---
Museum Night.
/2017-05-06/ In 2017 the Museum Night takes place in Krakow on Friday, May 19th. Krakow museums will keep long hours, admit free of charge, and offer special attractions. Visitors need to purchase a token for one zloty that will allow to access the museums and travel for free on trams and city buses from 5 pm to 2 am.
Muse
---
Best of Krakow 2017 guide is available as an ebook.
/2017-05-02/ The Best of Krakow guide, the updated edition for 2017, is available a Kindle ebook at Amazon online store. Published as recently as April 19th, 2017.
Muse

Get the 2017 Krakow companion guide
---
Leonardo's at the Royal Castle somewhat longer.
/2017-04-28/ The exhibition of Leonardo da Vinci's Lady with an Ermine in the Wawel Royal Castle has been extended for a week. It closes permanently on May 7th, 2017 rather than April 30th as originally planned.
Mark
---
Euro 2017 U21 Championship in Krakow.
/2017-04-26/ Five matches of Euro 2017 U-21 are scheduled to take place in Krakow in the second half of June. It co-hosts the European football youth championship together with five other Polish cities. Apart from Poland eleven national teams qualified, all players aged 21 years or younger. Krakow's Stadion Cracovia stadium, situated just a ten minutes' walk from the central square, is the venue for the final on June 30th, 2017 as well as one of semifinals on June 27th. Earlier – on June 18th, June 21st, and June 24th – it is to host matches of Group C consisting of Germany, the Czech Republic, Denmark, and Italy.
Thoma
---
2017 Folk Art Fair.
/2017-04-24/ The 41st Cepelia Folk Art Fair in Krakow takes place this summer in Rynek Glowny central square from August 10th through August 27th, 2017. As usual, visitors may expect rows of stalls selling assorted traditional village crafts and arts, that is embroidery, pottery, woodcarving, painting, iron, metalwork, etc. There are also varied special attractions and entertainments such as gigs by acts performing traditional village tunes and songs..
Kasia
---
Student revelries peak in May.
/2017-04-20/ This year Krakow's Juwenalia traditional student festival takes place from May 9th throuigh May 14th. It culminates in a wild and colorful pageant in Rynek Glowny central square, scheduled for Friday, May 12th. Expect the parade of Krakow students to reach the square at noon or so.
Mark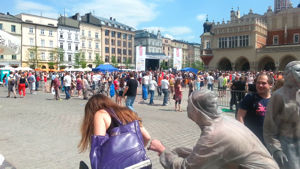 ---
Summer opera festival in Krakow.
/2017-04-18/ The 2017 Krakow Opera Summer Festival starts June 9th and ends July 2nd. Three events take place in the courtyard of the Wawel Royal Castle but otherwise the venue is the Opera House at Lubicz street.
Barbara
---
The Czartoryski Museum in brief.
/2017-04-07/ An exhibition called "Most Valuable. The Princes Czartoryski Collection." has opened today in Arsenal building at 8 Pijarska street to go on till April 8th, 2018. It displays roughly 350 exhibits, including some of the most valuable items of Krakow's famed Czartoryski Museum, such gems among them as Rembrandt's 'Landscape with the Good Samaritan' and Lucas Cranach's portraits of Polish royalty. At the same time the museum's crown jewel, namely Leonardo da Vinci's "Lady with an Ermine', is to be exhibited separately in the main hall of the Krakow National Museum at 3 Maja street from May 19th, 2017. Meant as a cross-section of the Czartoryski collections, the Arsenal show contains not only works of art but also antiquities, memorabilia connected with great men and Polish history, documents, and ancient functional art.
Muse
---
Cracovia, Poland's hockey champ
/2017-04-03/ The ComArch Cracovia aka Cracovia Krakow, the city's ice hockey team, has won Poland's championship for season 2016/2017. It is the second time in row. Thus the club has held twelve titles since 1937 when it prevailed for the first time.
Thoma
---
Krakow, a budget break.
/2017-03-25/ A budget city break in Krakow costs 160.55 British pounds in 2017 according to the annual Post Office Travel Money City Costs Barometer. It's 21.50 pounds less than a cheap break in Prague. The report states that Krakow is the 6th least expensive among popular city break destinations in Europe. The cheapest comes Paphos in Cyprus with costs amounting to 138.40 pounds. Stockholm in Sweden and Reykjavik in Iceland remain the most expensive places for frugal tourists..
Kasia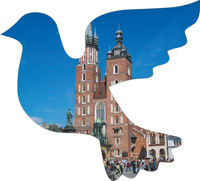 ---
Metallica to perform in Krakow in April 2018.
/2017-03-16/ Next year Metallica, the USA's famed rock band, will give a concert in Krakow. The gig, part of the WorldWired Tour, is planned for Saturday, April 28th, 2018. Venue Tauron Arena Krakow at 7 Lema street. Tickets on sale from March 21st, 2017.
Muse
---
2017 Easter market in Krakow.
/2017-03-10/ This year Easter market in Krakow starts in the city's central square on Friday, April 7th to last through Monday, April 17th. Expect traditional Easter decorations, foods, and village handicrafts will be on sale.
Kasia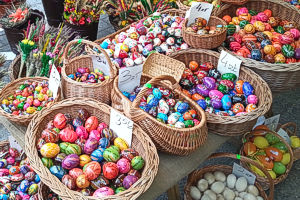 ---
Baroque music for free.
/2017-03-02/ Krakow festival of Bach music, 22nd Bach Days, take place from Monday, March 13th through Sunday, March 19th with at least one concert every day in Aula Florianka at 8 Basztowa street. All concerts are free.
Barbara
---
Leonardo's masterpiece to leave Royal Castle.
/2017-02-17/ It's all clear now. Leonardo's famous picture Lady with an Ermine is to stay on show in the Wawel Royal Castle to the end of April. From May 19th, 2017 the marvelous portrait of Cecilia Gallerani will be displayed in the main building of the National Museum in Krakow at 1. 3 Maja street.
Mark
---
Shanties festival in Krakow.
/2017-02-01/ This year's edition of Shanties Krakow festival of sailor songs takes place from Thursday, February 23rd through Sunday, February 26th. The main festival venues are Zaczek club at 5, 3 Maja street and Kijow.Centrum playhouse at 34 Slowackiego avenue.
Muse
---
Commemorating victims of KL Plaszow.
/2017-01-25/ Municipality of Krakow, the Jewish Religious Community of Krakow, and the City of Krakow Historical Museum have signed an agreement that paves the way for the creation of the Museum Memorial Site commemorating victims of KL Plaszow, the Nazi concentration camp situated in Krakow during World War II. The new museum is to open before 2021 if everything goes well.
Barbara
---
Government has got the Lady.
/2017-01-02/ On December 29th the Polish government has bought Leonardo da Vinci's 'Lady with an Ermine' as well as the rest of The Princes Czartoryski Museum and The Czartoryski Library for euro 100,000,000. The museum, however, will not reopen before 2019 anyway, probably. Nevertheless, Leonardo's famous painting is to be transferred from the Wawel Royal Castle, where it's exhibited now, probably to the Krakow National Museum's branch at the Cloth Hall in the Rynek Glowny square.
Kasia
---