Krakow blog for visitors and residents.
Click here to write your contribution to our Krakow blog.
Authors of the entries to the Krakow Forum take full responsibility for their content. The following does not necessarily represent opinions of the Krakow Info editors.
---
Krakow alert: Precautions against coronavirus in place: social distancing 1.5 metre plus indoor face covering are mandatory.
---
The 2021 Festival of the Krakow szopka Nativity scenes.
/2021-11-15/ This year's 79th festival of the Krakow Szopka nativity scenes takes place in the Rynek Glowny central square on Thursday, December 2nd, 2021. The event starts at noon. UNESCO has inscribed the tradition of building the Krakow szopka on the Representative List of the Intangible Cultural Heritage of Humanity.
Barbara
---
No huge New Year concert in 2021.
/2021-11-04/ New Year's open-air concert in the Krakow vast central square has been cancelled in 2021 to avoid the spreading of COVID-19. The free concert used to attract up to 100,000 revelers in the past.
Mark
---
---
Christmas market as usual in 2021, fingers crossed.
/2021-10-16/ As planned now, the Christmas market in the central square of Krakow is due to open on Friday, November 26th to last through December 26th, 2021 and next continue as the New Year market till January 2nd, 2022. Yet, since the COVID-19 pandemic isn't yet over, plans may change according to the situation.
Kasia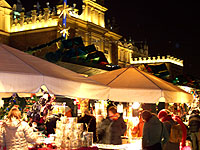 ---
Free concerts of organ music every day.
/2021-10-08/ The 18th edition of the Organ All Souls International Festival starts in Krakow on Saturday, October 30th to continue November 2nd, All Souls Day, through November 9th, 2021. Each of the nine recitals and concerts of organ music takes place in one of the historic churches of the Krakow. Free admission to all events.
Barbara
---
Krakow All Souls Jazz Festival this year.
/2021-10-06/ The 66th All Souls Krakow jazz festival (Krakowskie Zaduszki Jazzowe) starts on Wednesday, October 27th, 2021. This year Europe's oldest jazz festival ends on Saturday October 30th so - unlike its earlier editions - it is not to include the All Souls Day. The festival program consists of one concert plus one jazz jam session.
Muse
---
2021 Krakow Book Fair.
/2021-09-07/ The 24th Krakow Book Fair starts Thursday, October 14th to end on Sunday, October 17th, 2021. Its main venue is EXPO Krakow at 9 Galicyjska street in the Nowa Huta district. This year an online access will complement the physical participation.
Kasia

The Christian pilgrim's guide to Krakow
---
Folk Art Fair in the central square of Krakow, August 14 - 29.
/2021-08-12/ The 45th Cepelia Folk Art Fair in Krakow opens in Rynek Glowny central square on Saturday, August 14th to last through Sunday August 29th, 2021. Visitors are invited to stroll along rows of stalls selling assorted traditional village crafts and arts such as embroidery, pottery, woodcarving, paintings, iron items etc. Plus some special attractions and entertainments are planned, notably gigs by acts performing traditional village dances and songs.
Kasia
---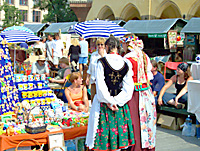 ---
A dumplings festival.
/2021-08-11/ The Pierogi food festival goes on in Krakow in the Maly Rynek square, one block east from the Old Town's central square till Sunday, August 15th, 2021. Visitors may devour the delicious Polish stuffed dumplings every day from 10 am to midnight and enjoy live gigs from time to time.
Thoma
---
Modern classical music festival in the end of September, beginning of October.
/2021-08-02/ The 19th Sacrum Profanum festival of contemporary classical music starts in Krakow on Wednesday, September 29th and will last through Sunday, October 3rd, 2021. It's program consist of seven concerts and one performance blending music and theater.
Mark
---
Classical music this late August.
/2021-07-28/ In 2021 the 46th Music in Old Cracow Festival consists of 17 live concerts, one per day, as usual from August 15th through August 31st. The historic churches of Krakow and the city's other architectural monuments serve as the venues for most of the concerts.
Kasia
---
Street theatre festival: July 9-11 & September 4/5, 2021.
/2021-07-07/ The first leg of the 34th ULICA International Street Theatre Festival in Krakow takes place July 9th through July 11th, 2021 with simultaneous alfresco performances in the Rynek Glowny central square as well as other public spaces but always free of charge. The festival's second leg is planned for September 4th and September 5th. This year's edition of the festival has the phrase "Strange events. A reactivation" as its theme.
Muse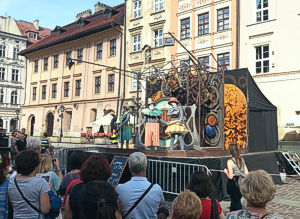 ---
Krakow festival of the Polish Classical Music in July 2021.
/2021-07-05/ This year the program of the 17th Festival of Polish Music in Krakow consists of seven classical music concerts, one per day, namely Thursday July 8th, Friday July 9th, Saturday July 10th, Sunday July 11th, Friday July 16th, Saturday July 17th, and Sunday July 18th. Tickets cost 50 PLN.
Barbara
---
2021 Summer Jazz Festival Krakow goes on live.
/2021-07-03/ The 26th Summer Jazz Festival in Krakow boasts numerous live concerts taking place from July 4th through August 1st, 2021. The principal venue is Piwnica Pod Baranami cellar club at 27 Rynek Glowny (Grand Square) where jazz concerts are scheduled every night at 9 pm from July 4th through July 30th. The New Orleans Sunday falls this year on July 4th with Krakow's jazzmen playing traditional jazz at pavement cafes of the Rynek Glowny central square from noon to 4 pm, followed by a New Orleans Parade and an open-air concert in the Plac Szczepanski square one block west from Krakow's central square.
Thomas
---
Sinfonietta festival goes on.
/2021-06-30/ This year's Sinfonietta Festival of classic music takes place in Krakow on July 1st, July 3rd, and July 4th, 2021. The program for Saturday, July 3rd looks hectic indeed, with sixteen free concerts at six venues,fifteen of them concurrent and each lasting for about 45 minutes, starting at 4:30 pm, 5:45 pm, 7 pm, and 8:30 pm.
Musi
---
The Auschwitz sites open to visitors every day.
/2021-06-18/ The Auschwitz memorial museum commemorating victims of the Nazi death camp in the city of Oswiecim, situated 70 kilometers west of Krakow, is accessible now every day of the week as before the outbreak of the COVID-19 epidemic. Visitors need to keep to a mandatory route which minimizes contacts between them.
Barbara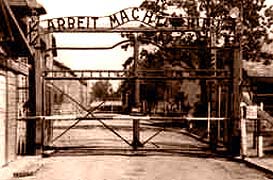 Few pandemic precautions still in place.
/2021-06-01/ As new confirmed cases of COVID-19 are reduced to hundreds throughout Poland, practically all places have reopened, although most of them function with some restrictions such as capacities halved, mandatory distances and face masks, etc. Outdoor facial masking is no longer required as long as you are able to keep the social distance of 1.5 metres.
---
Crafts fair in Krakow central squares.
/2021-05-11/ The Crafts Fair starts in the Old Town's Rynek Glowny central square on May 14th and will last to May 23rd. Some forty stalls are to sell various traditional Polish handicrafts.
Kasia
---
Step by step back to almost normal.
/2021-05-01/ With significantly fewer new cases of COVID-19 in Poland and progress in vaccination, the Polish government has announced its plans as regards easing the restrictions and precautions against the pandemic. On May 4th, 2021 shopping malls and museums may reopen. Hotels will be able to accommodate tourists from May 8th. From May 15th face-covering won't be mandatory in the open air and alfresco eateries will be allowed to reopen, ditto open-air cinemas and theaters. Indoor eating out as well as roofed cinemas, theaters, concert venues, etc. will return on May 29th. Also sports facilities are to be made available in stages over May.
Mark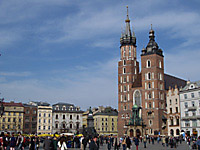 ---
Easing not before April 18th.
/2021-04-07/ Polish authorities have decided that anti-COVID restrictions introduced on March 20th are to stay in place till April 16th, possibly longer.
Kasia
---
All-sweeping precautions against COVID-19 are back.
/2021-03-20/ A return to near normality has proved short-lived. In a bid to stem the new rise of of COVID-19 cases, Poland government has again ordered a temporary closure of cultural venues and institutions, museums, restaurants, cinemas, coffee shops, pubs, clubs, schools, universities, shopping centers, sport and fitness facilities etc. It has also banned all events and other gatherings. The restrictions are to stay in place to April 9th, 2021, if not longer.
Mark
---
Back to almost normal.
/2021-02-12/ Since new COVID-19 cases have plateaued at relatively low daily numbers in Poland, the government eased again many of everyday restrictions. And thus, from February 12th, 2021 hotels and other lodgings in Krakow may accommodate guests. Theaters, cinemas, and operas as well as tourists attractions reopened though with limits for visitors per floor area and facial masking, social distance mandatory. Also live concerts are back and people may enjoy sports facilities such as swimming pools, tennis courts, and ski slopes. To disappointment of many restaurants, coffee shops, etc. still can't cater for customers on the premises, being restricted to serving solely takeaways, while pubs and bars as well as nightclubs stay closed.
Mark
---
Stoss' masterpiece shines like new after renovation.
/2021-02-06/ Veit Stoss' grand altarpiece in Krakow's St. Mary church, the world's best medieval sculpture has undergone a thorough conservation. The 42-foot-high and 36-foot-wide structure, which consists of 200 marvelous limewood sculptures, was dismantled, its parts transferred to the restoration workshop, cleaned, examined, documented, restored to the original state, conserved, and reassembled, The renovation works took five years and cost an equivalent of over four million euro.
Muse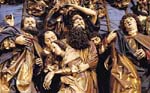 ---
Buses, trams more expensive now.
/2021-02-03/ Rise, rise! From February 1st, 2021 bus and tram tickets cost more across Krakow public transport. A one-way ticket for a municipal bus or a streetcar is 6 zloty instead of 4.6 PLN. A 20-minutes ticket, which allows for changing lines, costs 4 zloty (PLN) and its 60-minutes equivalent is 6 zlotys, while a 90-minute ticket has been priced at 8 zlotys. The price of unlimited-travel passes for all municipal buses and streetcars have been set at 22 zloty for a 24-hour ticket. The 48-hour passes and the 72-hour passes cost 35 PLN and 50 PLN respectively. A seven-day unlimited-travel ticket costs 68 zlotys.
Kasia
---
Museums reopen and big shopping is back again.
/2021-02-01/ As the number of new confirmed cases of COVID-19 has been falling throughout Poland for weeks, the government has allowed museums and shopping malls to reopen on February 1st, 2020, with limits for visitors per floor area and facial masking, social distance mandatory.
Mark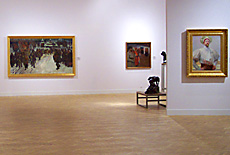 ---
Rapid COVID tests at the Krakow Airport.
/2021-01-27/ Rapid COVID-19 tests for viral antigens are available at the Krakow Airport of Balice. The test costs 200 PLN, an equivalent of roughly 44 euro, and one needs to wait about twenty minutes for the result. At present the Dutch government requires such tests for passengers flying to The Netherlands but some other countries may follow suit soon.
Barbara
---
Tour de Pologne race in Krakow in mid August 2021.
/2021-01-25/ This year's Tour de Pologne multi-stage bicycle race is scheduled to end in Krakow on August 15th, 2021. The 78th edition of Poland's equivalent of Tour de France, Italy's Giro d'Italia and Spain's Vuelta a Espana will start on August 9th with its route meandering through the southern Poland.
Thoma
---
Less restrictions not before the end of January.
/2021-01-15/ As the numbers of new confirmed cases of COVID-19 are significantly down throughout Poland and particularly in the Krakow region, a loosening of the more restrictive precautions against the spreading of the virus are expected in early February. For the time being, not only all live events and other gatherings are banned but also most stores at shopping centers stay closed while eateries are allowed to serve only takeaways.
Kasia
---
---