Blog of Krakow-watchers and visitors.
Click here to write your contribution to our Krakow blog.
Authors of the entries to the Krakow Forum take full responsibility for their content. The following does not necessarily represent opinions of the Krakow Info editors.
---
Free Baroque music .
/2018-02-16/ The Krakow festival of Bach music, the 23rd Bach Days, consists of nine concerts and two recitals spread over nine days from Saturday, March 10th through Sunday, March 18th with at least one musical concert every day in Aula Florianka at 15 Sereno Fenna street. All concerts are free of charge.
Barbara
---
2018 Krakow Film Music Festival.
/2018-02-14/ The 11th Krakow Film Music Festival starts on May 29th, ends June 5th, 2018. However concerts in Krakow will take place May 30th, May 31st, June 1st, June 2nd, and lastly June 3rd at one of two venues Tauron Arena Krakow at 7 Lema street and ICE Krakow Congress Center at 17 Konopnickiej street. Also, there will be concerts in Katowice on May 29th and at The Krzysztof Penderecki European Center for Music in Luslawice on June 5th.
Kasia
---
February festival of Spanish music.
/2018-02-10/ Festival of classical Spanish music in Krakow starts on Sunday, February 18th to last through Saturday, February 24th, 2018. Daily concerts take place at two venues, the Akademia Muzyczna conservatory at 43 sw. Tomasza street and Aula Florianka concert hall at 15 Sereno Fenna street, and they mostly feature Spain's 20th-century composers. Admission for all concerts is free of charge.
Muse
---
Easter music festival.
/2018-02-06/ In 2018, as in the past, the Misteria Paschalia Krakow Easter festival of classical music takes place in Krakow throughout Holy Week. It starts on Monday, March 26th and will continue through Monday, April 2nd 2018. The festival has attracted an array of Europe's top early music ensembles and soloists. There are two concerts planned every day, except on Good Friday, Easter Sunday and Easter Monday just one concert will take place each night. The venues vary from the Old Town's historic churches to ICE congress center to the subterranean chambers of the Wieliczka Salt Mine.
Thoma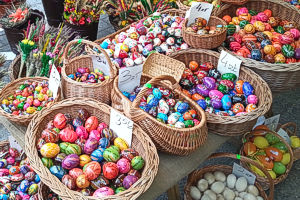 ---
Sweet Thursday.
/2018-02-02/ Fat Thursday feast, Tlusty Czwartek in Polish, Poland's traditional day of sugary overeating, falls on February 8th this year. So next Thursday don't forget to buy paczki, the local incarnation of donuts, a must-eat in Krakow on that day. It marks the start of Ostatki, i.e. the last week of carnival in Krakow.
Barbara
---
Elton John show in Krakow in 2019.
/2018-01-26/ The UK's stellar pop rock act Elton John will perform in Krakow for the last time next year. His Krakow showing during "Farewell Yellow Brick Road" tour falls on May 4th, 2019. The planned venue is Tauron Arena Krakow at 7 Lema street..
Kasia
---
Sunday shopping to be restricted.
/2018-01-19/ The Polish parliament has passed a bill which phases in a ban on Sunday shopping. In 2018 most stores in Poland will stay closed on 23 Sundays, namely March 11th, March 18th, April 1st, April 8th, April 15th, April 22nd, May 13th, May 20th, June 10th, June 17th, July 15th, July 22nd, August 12th, August 19th, September 9th, September 16th, September 23rd, October 14th, October 21st, November 11th, November 18th, and December 9th. Some pharmacies and some groceries as well as bakeries, flower shops, and all gas stations can stay open every Sunday.
Mark
---
Epiphany January 6th, 2018.
/2018-01-04/ On Epiphany feast January 6th, 2018 shopping malls www.krakow-info.com/shopping.htm closed, practically all shops etc closed, most tourist sites closed, gas stations open. Public transport adopts Sunday timetables. At the Wawel Royal Castle only two shows open, namely State Rooms and Crown Treasury & Armoury, from 10 am to 5 pm. All branches of the Krakow Historical Museum stay closed, including Schindler's Factory.
Muse
---
Christmas market extended thru January 7, 2018.
/2018-01-03/ This year Krakow's principal Christmas market in Rynek Glowny central square has been extended to go on beyond the Epiphany feast, January 6th. And so it ends on Monday, January 8th.
Kasia
---