Blog of Krakow-watchers and visitors.
Click here to write your contribution to our Krakow blog.
Authors of the entries to the Krakow Forum take full responsibility for their content. The following does not necessarily represent opinions of the Krakow Info editors.
Krakow, a budget break.
/2017-03-25/ A budget city break in Krakow costs 160.55 British pounds in 2017 according to the annual Post Office Travel Money City Costs Barometer. It's 21.50 pounds less than a cheap break in Prague. The report states that Krakow is the 6th least expensive among popular city break destinations in Europe. The cheapest comes Paphos in Cyprus with costs amounting to 138.40 pounds. Stockholm in Sweden and Reykjavik in Iceland remain the most expensive places for frugal tourists..
Kasia
---
Metallica to perform in Krakow in April 2018.
/2017-03-16/ Next year Metallica, the USA's famed rock band, will give a concert in Krakow. The gig, part of the WorldWired Tour, is planned for Saturday, April 28th, 2018. Venue Tauron Arena Krakow at 7 Lema street. Tickets on sale from March 21st, 2017.
Muse
---
2017 Easter market in Krakow.
/2017-03-10/ This year Easter market in Krakow starts in the city's central square on Friday, April 7th to last through Monday, April 17th. Expect traditional Easter decorations, foods, and village handicrafts will be on sale.
Kasia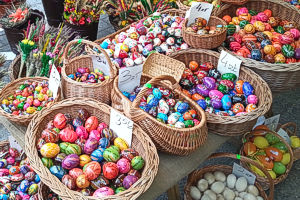 ---
Baroque music for free.
/2017-03-02/ Krakow festival of Bach music, 22nd Bach Days, take place from Monday, March 13th through Sunday, March 19th with at least one concert every day in Aula Florianka at 8 Basztowa street. All concerts are free.
Barbara
---
Leonardo's masterpiece to leave Royal Castle.
/2017-02-17/ It's all clear now. Leonardo's famous picture Lady with an Ermine is to stay on show in the Wawel Royal Castle to the end of April. From May 19th, 2017 the marvelous portrait of Cecilia Gallerani will be displayed in the main building of the National Museum in Krakow at 1. 3 Maja street.
Mark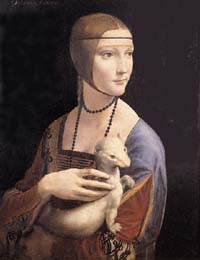 ---
Shanties festival in Krakow.
/2017-02-01/ This year's edition of Shanties Krakow festival of sailor songs takes place from Thursday, February 23rd through Sunday, February 26th. The main festival venues are Zaczek club at 5, 3 Maja street and Kijow.Centrum playhouse at 34 Slowackiego avenue.
Muse
---
Commemorating victims of KL Plaszow.
/2017-01-25/ Municipality of Krakow, the Jewish Religious Community of Krakow, and the City of Krakow Historical Museum have signed an agreement that paves the way for the creation of the Museum Memorial Site commemorating victims of KL Plaszow, the Nazi concentration camp situated in Krakow during World War II. The new museum is to open before 2021 if everything goes well.
Barbara
---
Government has got the Lady.
/2017-01-02/ On December 29th the Polish government has bought Leonardo da Vinci's 'Lady with an Ermine' as well as the rest of The Princes Czartoryski Museum and The Czartoryski Library for euro 100,000,000. The museum, however, will not reopen before 2019 anyway, probably. Nevertheless, Leonardo's famous painting is to be transferred from the Wawel Royal Castle, where it's exhibited now, probably to the Krakow National Museum's branch at the Cloth Hall in the Rynek Glowny square.
Kasia
---