Krakow's various schools and other educational institutions.
Until 2017 Poland had a five-stage education system which consisted of preschools, elementary schools, lower secondary schools, upper secondary schools, and higher education. The current Polish government has abolished the lower secondary schools introducing 8-year elementary schools and 4-year high schools supplemented with vocational schools.
In Poland compulsory education begins at the age of seven and continues till the age of eighteen.
Up to 2017 there were 145 elementary schools (szkola podstawowa) in the city with some 39,000 pupils, 99 lower secondary schools (gimnazjum) teaching roughly 24,000 pupils or so, and 161 upper secondary schools with aggregate enrollment of over 40,000 students.
In 2017 Krakow adopted the new municipal network of 111 elementary schools (szkola podstawowa) and 31 high schools (liceum) plus 38 vocational secondary schools (technikum) and basic vocational schools (szkola zawodowa). Apart from the municipality-funded schools there are a number of elementary schools and high schools run by various organizations and financed through tuition.
Krakow's 113 post-secondary vocational colleges, szkola policealna, number some 13,000 students.
Also Krakow's 10 Catholic church seminaries provide the post-secondary education.
Adults may get further education in 91 schools, szkola dla doroslych, including 16 high schools for adults, 21 supplementary high schools, and 30 supplementary technical colleges.
Most preschools as well as schools from the elementary to the post-secondary ones are run by the Krakow municipality and financed largely by the central government's subsidies.
The neo-Gothic Collegium Novum building of 1887
at the Planty ring of gardens, the Jagiellonian University's headquarters.
Higher education in Krakow.
Every year over 170,000 students attend Krakow's 25 institutions of higher education. The largest is the 650-year-old Jagiellonian University that together with its medical school totals nearly 45,000 students and 6,700 faculty members. The city's other institutions of higher education include varied technology universities, arts academies, teacher-training colleges, bachelor-degree vocational colleges, and business schools.
Selected schools in Krakow
Any following information has been provided by respective schools on their sole responsibility.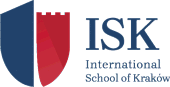 International School of Krakow
Postal address: Lusina, ul. sw. Floriana 57, 30-698 Kraków, Poland. Website http://www.iskonline.org Phone +48 12 270 14 09.
"ISK is dedicated to excellence in the intellectual and personal development of tomorrow's world citizens".
The International School of Kraków (ISK) is an independent, not-for-profit, co-education day school founded in 1993 to provide high quality education to the international community in Kraków, Poland. ISK offers an education for children ages 3-18 (Early Years, Elementary School, Middle School, High School) and boasts 56 teachers and 285 students representing 33 nationalities and 29 languages. ISK has been accredited by CIS (Council of International Schools in Europe) and NEASC (New England Association of Schools and Colleges in North America) since 2008.
ISK is authorized as an IB World School, offering the full IB Diploma Programme, which includes six IB courses, taken at either higher or standard level. ISK is also an official College Board testing center for SAT exams.
---
Krakow's Institutions of Higher Education
Study in Krakow
For foreigners Krakow is a good place to complete or continue their studies
Jagiellonian Library
Poland's oldest library boasts 4.5 million volumes and its unique collection of medieval manuscripts and ancient books contains tens of thousands priceless items.
Krakow University
Poland's oldest university with its 6,700 faculty and over 42,000 students is the country's second largest institution of higher education and the best one.
---