---
---
---
---
---
---
---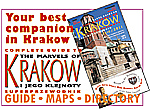 The ultimate Krakow guidebooks
---
The top attraction and the premier tourist destination in Poland, today's Krakow (dated English spelling 'Cracow') is a vibrant city of a million, proud of its long and glorious history, rich heritage, and architectural beauties. For centuries the capital of the Polish kingdom, nowadays it remains the southern Poland's metropolis and the seat of the Malopolska provincial government. Important as a crucial center of business, culture, and education, Krakow is also famous for its myriad restaurants and clubs.

Glance at Krakow news, current affairs, recent developments, and happenings.

Look up Krakow events, updates, and whatever goes on in the city.

Krakow visitor kit

essential
tourist
information
and useful facts

Geography, Weather, Local Government, Population, Economy, Money, History, Culture, Environment, Wildlife, Poland, Malopolska Province, Healthcare, Krakow for the disabled

Food, Hotels, Travel, Krakow Airport, Transport, Safety, Shopping, Communications, Souvenirs, Beauty salons, Children in Krakow, Tourist offices, Phrase book, Lost property

Landmarks, Museums, Events, Tours, Festivals, Parks, Cafes, Carnival in Krakow, Krakow Christmas, Krakow Easter, Treasures, Entertainment, Wildlife, Krakow Zoo

Events, Nightlife, Restaurants, Drinks, Cafes, Sightseeing, Shopping, Dancing, Art, Music, Krakow Opera, Theater, Gambling, Strolls, Rides, Sport, Swimming, Cinema, Taking photos and video

Up-to-date guide to Krakow, Poland

Guide to Krakow, Poland

explore
places to visit
and
things to see

Wawel - the Royal Castle and Cathedral, Grand Square, Churches, Cloth Hall, Town Hall Tower, Basilica of the Virgin Mary's, Skalka Sanctuary, Barbican, City Walls, Collegium Maius, Kanonicza Street, Planty Gardens, Tyniec Abbey, Bielany Monastery, St. Norbert's Convent, Wieliczka Salt Mine, Krakow Mounds, Botanical Garden, Juliusz Slowacki Theater, Palace of Arts, Old Synagogue, Kazimierz's synagogues

Prettiest Leonardo da Vinci, World's greatest medieval sculpture, Window of awe, Subterranean wonder world, Renaissance pearl, Giant bell, Miraculous images, 8-foot golden crown, Signal trump, Nativity beauties, Ice-age rhino, Slavic idol, 'Kmita's Chasuble'

Wawel Royal Castle, Wawel Cathedral, Grand Square, Masterpiece of Leonardo da Vinci, Wieliczka Salt Mine, Grand Altarpiece, Collegium Maius, Kanonicza Street, Kazimierz Town, Schindler's Factory

Krakow Arena, ICE Krakow, National Museum in Krakow, Sanctuary of Divine Mercy, John Paul II Center, International Culture Center, Bunker of Arts, Center for Jewish Culture, Villa Decius,

Krakow tips

helpful advice
handy hints
and ready
answers

Map of Krakow, Map of Krakow's Old Town Historic District, Map of Krakow's Kazimierz Historic District, Map of Poland, Map of the Main Roads, Driving in the City Center, Map of the Malopolska Province, Maps of public transport in Krakow

Auschwitz, Tatra Mountains, Zakopane, Czestochowa, Kalwaria, Ojcow National Park, Wadowice, Eagle-nest Castles, Warsaw

Restaurants in Krakow, Krakow restaurants with Polish cuisine, traditional Polish recipes, Krakow food products, Cafes in Krakow, Krakow fast foods, Krakow drinks

Hotels in Krakow, Each and every Krakow hotel, Krakow hostels and guest rooms, Holiday apartment rentals in Krakow, Booking hotel in Krakow, The meaning of hotel stars

Krakow insights

know the city
inside out,
go beyond
the surface

Old Town, Wieliczka Salt Mine, Kalwaria Sanctuary, Auschwitz, wooden architecture

The Old Town central district, Historic district of Kazimierz, Jewish Town of Kazimierz, Nowa Huta, Podgorze,

Real estate and Krakow's property market, Flats and other residential property, Commercial property, List of real estate agents, Buying real estate in Krakow, Selling Krakow's real property

Business Visitor Kit, Conferences in Krakow, Investing in Krakow, Foreign Direct Investment, Krakow Technology Park, Taxes in Poland, Shopping in Krakow, Biggest corporations, Under construction: new city center, List of Krakow Lawyers

Hostels and other cheap lodgings, Holiday apartments for rent, Find free entertainment, Low-cost restaurants, Fast foods, Duty-free goods

New Stuff

Soon Holy Week's Misteria Paschalia music festival in Krakow April 10th thru April 17th

Sooner International Sea Song Festival Shanties in Krakow from February 23rd to February 26th

---


In the footsteps of Pope John Paul II
Krakow places once frequented by Saint John Paul

Get the photos of Krakow for free!