Krakow Glowny central railway station.
Krakow's main train station is blessed with a fairly central location: it practically abuts on the Old Town historic district, being situated just 1,000 meters northeast, on foot, from the city's central square. Though, a bit confusingly, apart from platforms the premises of the Krakow Glowny railroad station lie underground with entrances somewhat concealed.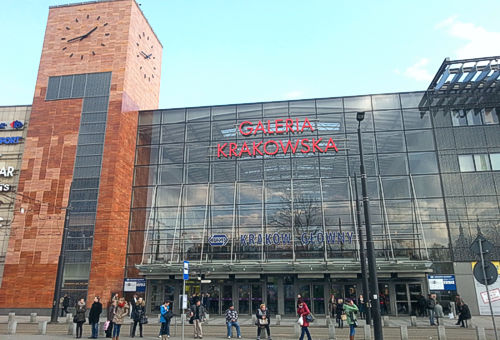 Main entry to the Krakow Glowny central train station leads thru a shopping mall.

The new train station in Krakow was opened in February 2014, proudly declared to be Poland's first entirely subterranean railway station, and in 2021 it has got the official name of the Marshal Jozef Pilsudski Station after Poland's national hero of the early 20th century. Its 10,000 square meters of floor space is divided into three parallel arcades, one of them raised and called entresol. The main mall contains shops, eating places, coffee shops, etc. South of it there is an arcade lined with ticket windows on one side where also luggage lockers, passenger services, and waiting rooms can be found. The southernmost mezzanine offers more waiting rooms and ticket windows plus a VIP lounge.

Krakow Glowny train station has five double-track platforms. Each of them is easily accessible from the underground station facilities via numerous staircases and elevators.

Train station is dworzec kolejowy in Polish.
Accessibility of the Krakow railroad station.
There are basically four gateways the Krakow Glowny station. Unfortunately none of them is obvious. The main entrance leads through the Galeria Krakowska shopping mall and the most convenient access route runs from Pawia street through the northernmost gate to the shopping center, then immediately downstairs and straight ahead past McDonald's restaurant.
Another approach route from the Old Town leads past the old station building at Lubicz street and down a passage behind the Galeria Krakowska mall.
The Krakow Glowny train station may also entered from the RDA central bus depot (and vice versa) at Bosacka street. From the same street a separate entrance leads to the mezzanine of the railway station.
Plus the Krakow central train station is accessible from above by an elevator at a car park on the roof over platforms. And from beneath via a short passage connecting it with an underground tram stops.
The physical, street address of the Krakow Glowny train station is ul. Pawia 5b.
Passenger services at the Krakow Glowny train station.
Capacity of the Krakow main train station is 5,000 passengers per hour and up to 100,000 a day (i.e. 24 hours). On an average day some 660 trains run its 12 tracks.
There are 28 ticket windows. Even if not all of them are open on any ordinary day, the management tries to anticipate peak hours and high seasons so long queuing is rare. Plus there are automatic ticketing machines.
Left luggage facilities consist of four banks of coin-operated lockers situated in four bays in the row of ticket windows as well as the manned "luggage room" open every day from 7 am to 10 pm and located next to last ticket window. The latter charges 3 zlotys (PLN) for a small piece of luggage, 4 PLN for a midsize one, and 6 PLN for a big bag or suitcase - per every calendar day and 3 zlotys per day for a coat or other item of clothing. As regards lockers, they cost 8 PLN and 12 PLN per day for a medium-sized and a large one respectively.
Passengers may shop at twelve stores including a pharmacy, bookstores, and a supermarket.
Toilets for the general public are located downstairs, in the southwestern corner of the station, together with showers and a diaper changing room. Lavatories for the disabled persons is situated in the station's southeastern corner.
Map of the Krakow central train station.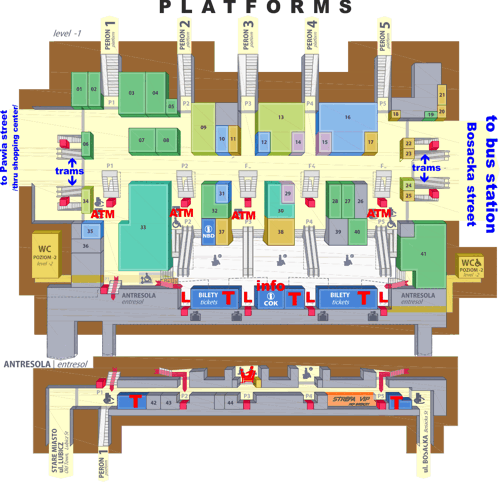 Red squares - elevators.
Letter "T" - ticket windows.
Letter "L" - luggage lockers.
ATM - cash dispensers.
info - railway information desk.
---
Select hotels near the Krakow Glowny central train station.
Any following information has been provided by respective hotels on their sole responsibility.
Address: 5 Lubicz street. Phone: (+4812) 4232510. Fax: (+4812) 4232529. E-mail: he@he.pl, www.he.pl Nice and cozy hotel near the city center (a five minutes' walk) and the main railroad station (a four minutes' walk) with prices for the impecunious as well as the rich, standard both modest and exclusive. Capacity 120. Single-room rate 142 zlotys, double rooms 186 zlotys, triple rooms 232 zlotys, suites 518 zlotys. All major cards accepted. For your convenience: restaurant, cafe, pub, fitness room, sauna, parking lot, conference facilities for 10 to 300 people, and garden open all year round.
---