Krakow's John Paul II International Airport.
The Krakow airport - IATA code KRK, ICAO code EPKK - is situated conveniently on the Balice outskirts of the city, just 15 km (about ten miles) west from its center, by the A4 expressway to Silesia province en route to Germany, at the elevation of 241 m above sea level. Its latitude is 50°04'21" N and longitude 19°48'21" E .
Krakow's Balice international airport is Poland's second busiest after Warsaw, Poland's capital city, and handles some 8 million passengers a year. Its terminal, considerably extended in 2015, has yearly capacity of ten million.
The Krakow airport boasts a separate cargo terminal that accommodates a 755-sq-meter warehouse, custom agencies, and shipping companies.
The Krakow Airport's International Terminal handles separately passengers of Schengen and Non-Schengen flights. Gates 6-10 are used for departures for destinations within the European Union's Schengen Zone of simplified border controls. Passengers boarding planes bound for airports beyond the Schengen Zone use gates 1-5.
The airport can boast 2550-meter-long and 60-meter-wide runway and apron for 19 passenger aircraft.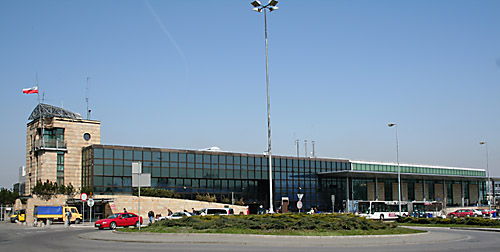 Krakow Airport, international Terminal (T1) prior to its 2015 expansion.
Air connections to and from the Krakow airport.
Krakow's John Paul II International Airport has regular air connections with 114 airport including major European hubs such as Amsterdam, Berlin, Brussels, Copenhagen, Frankfurt, London, Paris, Rome, and Vienna, as well as Barcelona, Belfast, Bergen, Bologna, Cork, Dortmund, Dublin, Edinburgh, Eidhoven, Leeds, Lyon, Milan, Munich, Oslo, Stockholm, Stuttgart, and Trodheim. Transit connections via Warsaw link Krakow with New York, Chicago, Los Angeles and Miami in the USA, and with Bangkok, Cairo, Damascus, Dubai, Istanbul, Kiev, Larnarca, Lyon, Minsk, Moscow, Nice, Beijing, Riga, St. Petersburg, and Vilnius among others.
There are also domestic lines to Poland's capital city Warsaw.
Over twenty carriers operate flights to and from Krakow. Alitalia, Austrian Airlines, British Airways, Brussels Airlines, easyJet, Finnair, Germanwings, Jet2.com, KLM, Lufthansa, Norwegian, Ryanair, and Swiss fly passengers to Krakow besides the Polish national carrier LOT.
See the schedule of flights from Krakow's Balice International Airport.
See the timetable of flights to the Krakow airport
Means of transportation between Krakow and the Balice airport.
One can easily get to the Krakow airport from the city or back by car, train, taxi, or bus.
The airport is a fifteen minutes' drive or so from the city center. Its multilevel car park is situated next to the international passenger terminal and accommodates 1243 vehicles.

Shuttle trains link the Balice Airport with the Krakow Glowny central station, located close to the Old Town historic district in the middle of the city (the main bus station of Krakow is situated next to the railway station). They run every 30 minutes and the journey takes under 20 minutes according to the timetable. The earliest train to the Krakow Airport leaves from the central station at 4:06 am and the latest one at 11:36 pm. The first and the last departure from the airport station are 5:16 am and 12:18 am respectively. A one-way ticket costs 12 zlotys (PLN). Ticket machines are in the airport terminal, at every station, and aboard the trains and they accept cash as well as plastic money.
Note: The trains run from the Krakow Airport to the center of Wieliczka, the Krakow Glowny central station being the fifth of 13 stops. A single ticket from the airport to Wieliczka (or back) costs 16 PLN.
Note: due to the overhaul of railways some trains of the line Krakow Airport-Krakow Glowny and/or Krakow Glowny-Wieliczka may be temporarily cancelled or replaced with buses between 9.30 am and 2.30 pm on weekdays.

Three municipal bus services are available at a stop situated about fifty meters from the International Terminal. Fare is an equivalent of roughly one euro. Line 252 runs to downtown Krakow every 30 minutes or so in daytime between 5:17 a.m. and 11:07 p.m. Line 208 connects the Balice airport with the central bus depot and Krakow Glowny central train station and runs every hour from 4:35 a.m. to 9:20 p.m. Nightly bus 902 operates the same route, leaving every hour or so between 11:20 p.m. and 4:50 a.m. "Fast" bus goes from the airport to the central train and bus stations with few stops in between and runs every hour from 7:50 am to 10:50 pm.

Taxi stands in front of the passenger terminals belong to cabbies employed by a subsidiary company of the Krakow Airport. They charge either 69 zloty (PLN) or 89 PLN for a journey to central Krakow. Also, you may phone one of Krakow's taxi calling centers and they will send the nearest cab available. Daytime fare for a ride to the center of Krakow should not exceed the equivalent of 20 euro, and 35 euro anywhere within the city limits but unauthorized taxis may be costlier.
See more on the city's transport and ways of getting around Krakow.
Airport facilities.
Ticket offices are located on the ground level in the public area of the terminal.

Information desks are situated in the passenger terminal, plus there is a public visual-info system in place.

Trolleys are available free-of-charge without deposit at the parking lot, at entrance to the passenger terminal, and in the arrival hall.

First aid is to be found in the public area of the terminal.

Fully equipped mother-and-baby room is available free of charge and round the clock on the mezzanine in the public area of the International Terminal.

Chapel is available to everybody on the mezzanine of the International Terminal and the Mass is said on Sundays at 10 a.m.

Eateries are situated on the mezzanine of the International Terminal (a restaurant and cafe), in its ground-floor public area (a snack bar), in the departure hall after ticket/passport control (a cafeteria).

Shops in the public area of the terminals sell souvenirs, jewelry, folk art, alcohol, tobacco, food, etc.

Newsstands at the terminal sell tickets for the city transport system, i.e. buses and trams.

Duty-free shops are available to passengers on international flights in the departure hall of Terminal T1 after ticket/passport control. It sells cosmetics, alcohol, tobacco, sweets, souvenirs, etc.

Branch of the BPH S.A. bank in the public area of the International Terminal is open on weekdays between 8 a.m. and 8 p.m. and on weekends from 9:15 a.m. to 8 p.m.

Currency exchange is provided by a desks in the public area of the International Terminal on weekdays and Saturdays from 7:45 a.m. to 8:30 p.m. and from 7:45 a.m. to 7 p.m. on Sundays as well as the branch of the BPH S.A. bank on weekdays 8 a.m. and 8 p.m. and on weekends from 9:15 a.m. to 8 p.m.

ATMs are available in the terminal.

Post office is open in the public area of the International Terminal on weekdays from 8:45 a.m. to 2:45 p.m.

Left luggage lockers are situated outside in front of the terminal.

Business Lounge allows passengers on international flights to relax and/or work for an equivalent of roughly 20 euro. It's outfitted with computer, internet connection, satellite TV, printer, copier, fax machine, public phone, the Polish and foreign press, visual information, plus sweets and soft as well as alcoholic drinks.

VIP Lounge with full catering services holds up to 15 people and is available for a fee by way of advance reservation (phone + 48 126393354).

Car rental desks are situated in the public area opposite the exit from the arrivals hall.

Yellow wall phones in the arrival hall connect free of charge to numbers within Poland, mobiles as well as landlines.
Lost Luggage
Lost luggage desk is situated in the public area on the ground floor of the International Terminal T1. Its phone number is (+48) 122855121.
Please note that the Krakow airport's main terminal handles all flyers now. The auxiliary air terminal, T2, has been shut down due to modernization.
Contact information of Krakow's John Paul II International Airport of Balice.
24-hour airport information phone service: (+48) 801055000 or 122955800
Postal address: Miedzynarodowy Port Lotniczy im. Jana Pawła II Kraków-Balice Sp. z o.o., ul. Kpt. M. Medweckiego 1, 32-083 Balice
gm. Zabierzow, woj. Malopolskie, Poland.
Email: lotnisko@krakowairport.pl
Web site www.krakowairport.pl
Lost Luggage phone (+48) 122855121
Customs phone (+48) 126393236
The manager of the passenger terminal phone (+48) 126393309
Company headquarters phone: (+48) 126393000, fax (+48) 124117977
Car park phone (+48) 126393456

See the flights from Krakow airport
Timetable of flights to Krakow's Balice International Airport
Over seven million visitors show up in Krakow every year. Many arrive by air, but most take advantage of the fact that Krakow lies at a major European road and rail junction.
---
There are over 26,000 beds in Krakow to choose from.
---
Krakow Transport
Getting around the city of Krakow.
Driving Car in Krakow
Parking zones and parking lots in the city center.
In the proximity of Krakow
Krakow is Poland's tourist mecca, and also a gateway to many other must-see sites in the region.
---
---
Map of the Main Roads in Krakow
Map of the Old Town Historic District
---
Train departures and arrivals at Krakow's central railroad station