When Krakow Fits Fitness
Modern gyms have become a fixture in the city even though fitness activities are part of everyday routine for relatively few Krakow residents. It's easy to find downtown places nearly as good as any health club in the US. Workout aficionados seeking the latest top-of-the-line equipment may be disappointed but the typical fitness center in Krakow provides all the usual facilities for calorie burn and/or bodybuilding.
Fitness clubs in Krakow, an overview.
The city's fitness centers are usually rather recent establishments situated in new or freshly converted buildings. Typically, they consist of a weight-training room, a cardio machines section, and an area for aerobics classes, Pilates exercises, and yoga. Plus a relaxation space, a coffee bar, separate locker rooms for each gender, and a reception area. Some health clubs can boast a small swimming pool and/or sauna. Some offer massages and other spa services.
As regards weight training, the range of free weights is often limited in Krakow gyms and they mostly rely on cable machines. On the other hand, the cardiovascular equipment gets due attention so rows of stationary bikes, elliptical trainers, stairclimbers, and treadmills wait ready to burn your fat.
Apart from changing rooms and bathrooms a few wellness centers in Krakow provide women-only spaces. Yet there are usually available aerobic or yoga classes meant for ladies only.
As a rule of thumb, fitness clubs in Krakow gladly admit walk-in customers. Rates range from 25 zlotys (PLN) to 95 zlotys for a day, and from 150 zlotys to 600 zlotys for a month.
Hotel gyms in Krakow.
Every four-star hotel in Krakow as well as all five-star ones should have fitness facilities on the premises. They are supposed to provide them free of charge to their guests. Yet in practice few offer decent gyms which are good enough to satisfy the needs of people accustomed to regular workouts.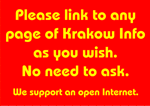 ---
Krakow's leisure time
Have good time in Krakow.
EVENTS
Updates on current and upcoming events.
---