The swine flu isn't a topic of the mass media in Krakow any more and the illness itself has made little impact on the city to date. Possibly the increased public awareness has sufficed to prevent the outbreak of an epidemic.
Official data regarding the occurrence of flu in Krakow and Malopolska region.
Poland has instituted various precautionary measures to safeguard the country against the pandemic of flu caused by A/H1N1 strain of the virus. Among other steps, the authorities mandated that doctors report every suspicious case of influenza. Reported cases are tested for the A/H1N1 strain.
The spread of this season's common flu.
As regards common influenza in Krakow this year there were 22,635 cases reported in the period between January 1st, 2018 and January 31st. In the corresponding period of the past year - i.e. January 1st to January 31st, 2017 - there had been 17,541 known cases of seasonal flu in Krakow. The flu incidence in Krakow peaked in mid-February, with over 9,000 cases reported between February 8th and February 15th, 2018,
Throughout year 2017 the total of 388 patients were hospitalized for flu and/or complications from it and there was just one confirmed fatality.
Kids prove most susceptible to influenza among the inhabitants of Krakow. In 2017 over 28,500 of the Krakow children under 4 were diagnosed as having flu, and about 24,000 aged 5 to 14.
Vaccination against flu in Krakow region.
Year ago 3.5 percent of the entire population of the Malopolska region opted to be vaccinated against common flu compared to 5.2 percent in whole of Poland. Current figures concerning inoculation against flu haven't been published yet.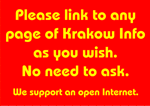 Krakow dentists and dental treatments
Health resorts in the Malopolska region
Basic Krakow info for visitors
---