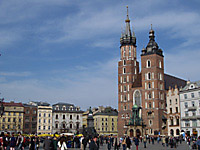 List of Yearly Outdoor Events on Krakow's Grand Square, Rynek Glowny
The central square of Krakow, Rynek Glowny, is a must for all visitors to the city. Diners value its countless restaurants and nobody can miss architectural glories and historical monuments of the famous plaza. Also, Rynek Glowny is the venue for Krakow's most important outdoor events such as open-air concerts, shows, and markets.
The following is a list of regular yearly events planned for Rynek Glowny, the central square of Krakow. It may also be a venue for other events on special permission from the municipal government.
January
March
April
May
Day of non-governmental organizations.

The Juwenalia student festival.

Science festival.
June
City of Krakow Festival.

Parade of the Cock Fraternity and the Enthronement of the Cock King.

Lajkonik historical pageant

The 'March to the Square' walk race.

Dragons parade.
July
New Orleans Sunday (a parade and concerts of traditional jazz).

Festival of street theaters.
August
October
November
December
Krakow Christmas Crib Contest.

Christmas feast for the poor.

Bethlehem peace light.

New Year's Eve's open-air party.
---
Krakow's central Grand Square, the largest plaza of medieval Europe and one of the world's finest with its spectacular landmarks, has remained the hub of the city since the 13th century. Krakow residents and visitors come here to meet each other, to do business, to shop, and to enjoy themselves.
Krakow Old Town Historical District
Poland's prime tourist attraction and a must-see in Central Europe boasts numerous world-class monuments, charming vistas, delightful atmosphere, and the best restaurants.
---
Hardly a month passes in Krakow without some time-honored occasion for common festivities or colorful celebration.
Krakow Folk Traditions
Krakow region has always been rich in colorful folk traditions, handed down from generation to generation.
---