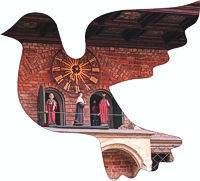 Events to watch in Krakow.
The city gets more than its due of concerts, festivals, shows, exhibitions, sporting events, and other entertainments. An array of happenings takes place in Krakow every single day so everybody stands a good chance to find something to his or her liking (see calendar of events in Krakow).
Krakow's musical life.
Concerts of classical music occur in Filharmonia Krakowska concert hall at 1 Zwierzyniecka street, Aula Florianka at 8 Basztowa street, Akademia Muzyczna conservatoire at 43 Sw. Tomasza street, and in other auditoriums such as ICE Krakow congress center. Popular venues for musical events in Krakow are the city's churches, notably the ancient temples of the Old Town such as St. Catherine's at Skaleczna street, St. Marys' at the central square, SS. Peter and Paul's at Grodzka street, and the Franciscan basilica at Franciszkanska street.
Apart from individual concerts and recitals some twenty festivals of classical music take place in Krakow every year. Most admired are Misteria Paschalia throughout the Holy Week and Easter, the Festival of Polish Music in July, 'Music in Old Cracow' in August, and Sacrum Profanum in September.
Note: A number of daily concerts for tourists, including piano recitals of Chopin's music, compete for the attention of Krakow visitors.
Jazz and rock clubs in Krakow typically have concerts a couple of days every week but a few offer live music practically every day. The number of jazz, rock, blues, and pop concerts in the clubs peaks on Fridays and Saturdays whereas Mondays often turn out short on them.
A brand-new venue for mass-audience musical events is Krakow Arena which may seat 15,000. Every year a number of open-air concerts take place on Blonia common from May through September while Krakow's squares, notably the Rynek Glowny central plaza, are venues for live music round the year.
Opera Krakowska, the city's opera company, usually give performances a couple of nights every week form October through June, in its modern playhouse at 48 Lubicz street. Plus its dancers perform several ballet shows per month. Other opera and ballet companies – local, Polish, and foreign – perform in Krakow from time to time.
Sporting events in Krakow.
The most popular spectator sport in Krakow is football and Krakow's two top soccer clubs, Wisla and Cracovia, have hordes of fans so tickets for their matches often prove hard to get. The city also boasts the country's top teams of male hockey and female basketball, namely Cracovia and Wisla respectively, whose games are more available. Other clubs and sports attract relatively few spectators.
Krakow theater.
Six repertory theaters in Krakow give performances practically every night save summer and holiday seasons. In Krakow there is also a number or active independent companies of players, more or less professional, which perform erratically. Except sporadic visits of foreign troupes, shows staged in other languages than Polish happen very seldom.
---
Krakow Festivals
Hardly a month passes in Krakow without some time-honored occasion for common festivities or colorful celebration.
Anticipated events in Krakow in 2018
---
News
Recent developments in Krakow.
Lodgings guide, Krakow hotels and other accommodations
---