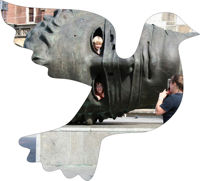 Where to stay in Krakow?
Some 35,000-plus guests at a time can find accommodation in Krakow's various hotels, motels, inns, hostels, B&Bs, vacation apartments and other lodging facilities whose number approaches 600. The city can already boast more welcoming beds than any other place in Poland and new guest rooms are added almost every day.
Hotels and other accommodations in Krakow.
One may find every type of shelter in Krakow. They come in every price range although generally Krakow's lodgings are considerably cheaper than comparable accommodation in other major tourist destinations in the European Union.
Krakow hotels.
Hotels in Krakow are rated from inexpensive one-star operations to luxury five-star establishments and priced accordingly albeit other factors, such as central location, also count. Most popular are mid-range, medium-sized, three-star hotels. The rates range from about forty euro to 250 euro per night (double rooms).
See details of the official hotel categories indicated by stars.
Full list of all hotels in Krakow
Hostels, dorms, and guest rooms in Krakow.
Numerous Krakow hostels offer cheap accommodation on a bunk in a dorm room from ten euro per night as well as pricier single rooms with en suit bathrooms (from about 30 euro). Rather spartan lodgings may still prevail but many of mushrooming new guest houses, often conveniently situated in the Old Town and Kazimierz historic districts, provide agreeable living quarters and a wide range of extras from free breakfast to free laundry to free internet.
Holiday apartments
There is a wide choice of vacation apartments in Krakow, from small studios to spacious four-bedroom flats, available to renting for any period from one day to a month or more. Most are newly refurbished and comfortably equipped. Rates start from about 25 euro for 24-hour lodging.
Selected hostels in Krakow, other guest houses, and vacation apartments
Any following information has been provided by respective establishments on their sole responsibility.
Hotele Studenckie w Krakowie
Address: ul. Piastowska 47. Website: www.hotele.studenckie.pl Email: rezerwacja@hotele.studenckie.pl We kindly invite you to take advantage of our one in its kind accommodation offer – Student Hotels. All four hotels provide rooms available for everyone looking for a budget accommodation. Guest rooms are available throughout the whole year. Individual buildings, though in different places, are situated near the center of the city. Thanks to a diversity of standard and room size, we can fulfill requirements of every client. We provide comfortable single and double rooms with a private bathroom and a kitchen, equipped with a radio, TV-set, telephone and the internet as well as modest multi-bedded rooms with bathrooms accessible from the corridor.
Youth Hostel PTSM Oleandry
Address: 4 Oleandry street. Phone: (+48) 126338822. Fax: (+48) 126338920. Email: schronisko@smkrakow.pl Website: www.smkrakow.pl Regular double-room rate is 45 zloty (reduced rate 37.50 zloty), regular rate in a 6-bed room is 37.50 zloty (reduced 30 zloty), regular rate in a 12-bed room is 30 zloty (reduced 23 zloty). Guests may take advantage of:
- 300 accommodation places
- self-catering and fully-equipped kitchen
- showers and toilets on every floor
- common room with TV
- free wi-fi connection
- friendly and professional service
---