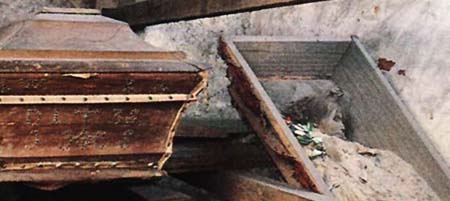 Krakow Mummies in the Crypts of a Franciscan Monastery
Bodies get mummified by themselves in the crypts of a picturesque Baroque complex of the Reformed-Franciscan monastery and the adjoining church of St. Casimir's in Krakow's central Old Town historical district. The scenic complex was built at the Reformacka Street between 1662 and 1673, and from 1667 till 1841 some 300 friars and 730 laymen of every status found their last home here. The former were laid to rest without coffin on the bare floor, their legs covered with sand and a block of wood under their heads.
Most visitors seem surprised how little the features of some mummies changed over centuries. Probably a peculiar microclimate of the crypts explains that strange phenomenon. The other Krakow place with the same properties are four-storied crypts of the 17th-century Cameldolite Bielany monastery atop Srebrna Gora.
The Franciscan crypts at Krakow's now quiet Reformacka Street are traditionally open to the public on the All Souls Day, November 1, and on November 2.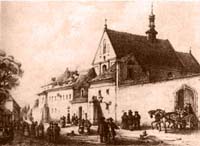 Krakow's church of St. Casimir's and the adjoining Reformed-Franciscan monastery in the mid 19th century.
---
Wawel Royal Castle
Home to three dynasties of Poland's monarchs. Its stately halls and exquisite chambers are filled with priceless art, best period furniture and rare ancient objects. The collection of the 16th-century monumental Flemish tapestries is matchless.
Wawel Cathedral
Poland's impressive national shrine shelters plenty of superb church art. Its giant bell of 1520 ranks with the world's largest. Most Polish kings and their family members are buried in the cathedral, its chapels and crypts.
Grand Square
Krakow's central Grand Square (Rynek Glowny), the largest plaza of medieval Europe and one of the world's finest with its spectacular landmarks, has remained the hub of the city since the 13th century.
Basilica of the Virgin Mary's
The immense Gothic church, Krakow's principal temple since the 13th century, shelters the world's greatest Gothic sculpture among its many excellent works of art
Cloth Hall
The world's oldest shopping mall has been in business for 700 years. The present Renaissance edifice dates from 1555.
Town Hall Tower
Krakow's leaning tower was built by the end of the 13th century.
City Walls
700-year-old main city gate with adjoining mighty walls and towers.
Great Barbican
Awesome 500-year-old unmatched masterpiece of medieval military engineering
Planty Garden Ring
Park of 30 varied gardens among old trees round Krakow's Old Town historical district
Collegium Maius
15th-century impressive Grand College of the Krakow university where Copernicus once studied.
Kanonicza Street
The most beautiful of Europe's ancient streets,arguably.