Krakow, the fine print.
Krakow has been the city of the men of letters since time immemorial. Long before the invention of the printing press it was a prominent center of publishing, courtesy of assiduous monks who copied volume after volume into parchment manuscripts. Gutenberg's revolution coincided with a period of intense intellectual and cultural activity in Krakow and very soon the city's bookish types eagerly adopted print media. Ever since Krakow has been a hub of publishing in Poland.
In 2013 UNESCO has named Krakow the City of Literature.
The first Polish printed publication was an astronomical calendar issued in Krakow in 1473 and produced by Casper Straube, a German migrant printer – seventeen years after Gutenberg's Bible and three years before the first British book would appear in print. The first book ever printed in the Cyrillic alphabet also was published in Krakow, in 1483. In 1491 the city's first paper mill was launched to supply local budding print shops.
In the first half of the 16th century a number of Krakow thriving printing houses competed with each other on Poland's expanding market. Jan Haller's publishing house printed 250 publication over two decades from 1505 to 1525. Other successful printing companies were owned by Florian Ungler, Hieronim Wietor, and Marek Scharffenberg.
In the second half of the 16th century Krakow can boast nine big printing companies. One o them belonged to the Piotrkowczyk family for nearly a century, from 1578 to 1676, and next it has continued as the university printing house till now. Other long-lived and highly regarded printing company was run in Krakow from 1875 to 1950 by three generations of the Anczyc family.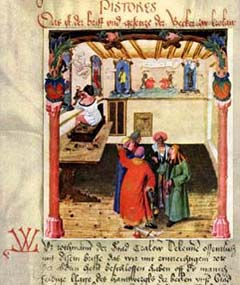 Krakow produced beautiful books also without the help of the printing press.
Baltazar Behem's Codex of 1505, one of the Jagiellonian Library's many unique treasures.
Printing business in today's Krakow.
The city has remained one of Poland's leading centers of printing industry. Krakow's big state-of-the-art printing plants flood the country with glossy magazines and books as well as leaflets, calendars, posters, textbooks, schoolbooks, or whatever. Plus a number of local newspapers are printed in Krakow. Owing to the competitiveness and quality of their services the city's leading printing companies also produce publications for export to other countries of the European Union and beyond.
At the same time hundreds of smaller printing houses and shops in Krakow cater for the needs of customers who seek lower volumes of prints, from low-circulation periodicals and books to company brochures to business cards.