Choice hotels of Krakow
On the one hand not every pricey five-star hotel provides value for money. On the other, some inexpensive lodgings may surprise you with the service quality.
There are Krakow hotels in every category and price range that lead the pack. See the following.
List of Krakow hotels endorsed by Krakow Info:
Any following information has been provided by respective hotels on their sole responsibility.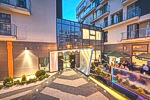 Aparthotel Vanilla Krakow
The Aparthotel Vanilla Krakow is an exclusively equipped facility situated in Ruczaj area in the fastest developing quarter of Krakow. Superb location in the neighborhood of the Jagiellonian University Campus, ICE Krakow Congress Center, a short distance from Kazimierz historic district (about 15 minutes by public transport) and Main Market Square (about 20 minutes by public transport), allows our guests to enjoy excellent relaxation and numerous sightseeing options. On the premises there is a bar, a restaurant, a conference room with a beautiful terrace, free Wi-Fi access, a parking lot, and a ground-floor small shopping centre.
The Vanilla Aparthotel Krakow guarantees cozy atmosphere as well as excellent and friendly service.
---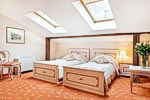 Hotel Amadeus ****
Address: 20 Mikolajska street. Phone: (+4812) 429 60 70. e-mail: amadeus@janpol.com.pl, www.hotel-amadeus.pl The boutique Hotel Amadeus is situated in the very heart of Krakow, just 200 m from the Main Market Square and other historical attractions. You can relax in 20 spacious, well-equipped rooms and 2 elegant intimate apartments with jacuzzi. Additional Facilities: restaurant, bar, conference rooms, air conditioning, free Wi-Fi access, sauna, mini-fitness, moreover Krakow city tours available at the reception. The helpful and always smiling staff of Amadeus hotel will make your stay comfortable and relaxing, especially if you plan a romantic stay in Krakow.
---
Hotel Europejski
Address: 5 Lubicz street. Phone: (+4812) 4232510. Fax: (+4812) 4232529. E-mail: he@he.pl, www.he.pl Nice and cozy hotel near the city center (a five minutes' walk) and the main railroad station (a four minutes' walk) with prices for the impecunious as well as the rich, standard both modest and exclusive. Capacity 120. Single-room rate 142 zlotys, double rooms 186 zlotys, triple rooms 232 zlotys, suites 518 zlotys. All major cards accepted. For your convenience: restaurant, cafe, pub, fitness room, sauna, parking lot, conference facilities for 10 to 300 people, and garden open all year round.
---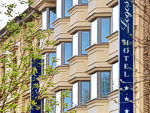 Hotel Logos
Address: ul. Szujskiego 5. Logos Hotel is a 3-star hotel recommended by the Polish Hotel Association and the Polish Commerce Chamber of Polish Hotel Industry. It is situated in the centre of Krakow, 600 meters from the Main Square. It's a small cosy building with 49 comfortably equipped rooms, a restaurant, a drink bar and a SPA area.
Apart from the basic bed & breakfast service, we organise:
- local trips (sightseeing tours of the city, trip to the Salt Mine in Wieliczka, sightseeing of the Oswiecim /Auschwitz/ Museum, the St. Mary's Sanctuary in Czestochowa and Lagiewniki and many other attractive programs),
- banquets and occasional parties, meals for groups in the restaurant at very attractive prices. Our restaurant offers a discount for hotel guests, recommends daily company dinners and organises occasional parties.
- transfers from the airport and the railway station in co-operation with a transport company.
Our prices are flexible and varied, depending on the customer, the form of payment and the length of stay.
---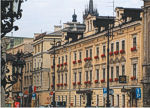 Hotel Pollera
Traditions from 1834. Address: 30 Szpitalna street. Website: www.pollera.pl Phone: (48 12) 4221044. Fax: (48 12) 4221389. E-mail: rezerwacja@pollera.pl
Hotel Pollera is situated in the very heart of Krakow. Most of top sights, including the Basilica of the Virgin Mary, Cloth Hall, the Jewish Quarter and the Wawel Royal Castle, are located within walking distance.
The hotel offers comfortable single, double or triple rooms and luxurious air-conditioned suites. All rooms with free Wi-Fi. All major cards accepted.
---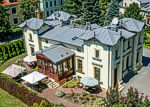 Hotel U Pana Cogito
Address: 6 Baluckiego street (a ten minutes' walk from the Wawel Royal Castle). Phone: (+4812) 2697200. Fax: (+4812) 2697202. Email: recepcja@pcogito.pl Website: www.pcogito.pl Off-season rates: double room 51 EUR, double room for one person 42 EUR, double room with an extra bed 60 EUR, apartment 60 EUR. High-season rates: single room 50 EUR, double room 62 EUR, triple room 72 EUR, apartment 63 EUR (all profits from our work are assigned for rehabilitation of the handicapped). Every room has en suite bathroom and is equipped with a satellite television, a refrigerator and 24-hour Internet access. Our restaurant offers dishes of Polish cuisine and its motto is: tasty but inexpensive. For your convenience: restaurant, room for the disabled, parking lot.
---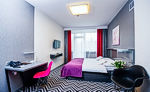 Hotel Wyspianski ***
Address: 15 Westerplatte street. Phone: (+4812) 4229566. e-mail: wyspianski@janpol.com.pl, www.hotel-wyspianski.pl
Ideally located in the city centre, close to the Planty Garden Ring surrounding the Old Town (5 minutes walk to the Main Market Square), it offers 231 comfortable rooms. Each one has a bathroom with shower and is equipped with a TV, a telephone, wireless Internet access (free of charge) and a hairdryer. The Premium rooms also offer a safe, an extra kettle, and a coffee and tea set. Furthermore you will find here an excellent restaurant and a bar, spacious guarded car park, fitness room, gift shop, casino, 5 fully equipped conference rooms.
The friendly and professional staff are happy to offer more personal suggestions about what to do in Krakow to ensure your stay will be extraordinary.
Krakow's other select hotels
Hotel Floryan
Address: 38 Florianska street (Krakow's Old Town historic district). Phone: (48 12) 4311418. Fax: (48 12) 4312385. E-mail: floryan@floryan.com.pl, www.floryan.com.pl Capacity 49 in 21 rooms. Hotel price list, 01.04-2016 -22.07.2016 and 03.08.2016-31-31.10.2016 rates in PLN zloties: twin room 450, twin room for 1 person 350, superior room for 4 persons 720 PLN, superior room for 3 persons 650, double superior room 590, single superior room 490, an extra bed in a superior room 100. Breakfast and VAT included. All major cards accepted. For your convenience: restaurant, conference facilities, air conditioning, and wireless Internet.
---
Hotel Rubinstein
Address: 12 Szeroka street. Phone (+48) 123840000. Web site www.rubinstein.pl Capacity: 65. Double-room rates from 85 euro. All major cards accepted. For your convenience: air conditioning, restaurant, conference facilities, suites, sauna, fitness center, facilities for the disabled, parking.
---
Want a Krakow flat for a night or two?
Hostels, guest houses and other cheap accommodation in Krakow
---
---
Travel to Krakow
Over four million visitors show up in Krakow every year. Many arrive by air, but most take advantage of the fact that Krakow lies at a major European road and rail junction.
Shopping in Krakow
The city's central Old Town historic district, turned into a pedestrian precinct, teems with stores of all sorts.
Conferences in Krakow
Practically all upmarket and mid-range Krakow hotels can boast their own conference facilities.
Krakow's Transport
How to move about the city.
Eating the Krakow way
It is hearty indeed.
Krakow's Communication
Keep in touch while in Krakow
Gift Ideas
Make everybody happy back home with a souvenir from Krakow.