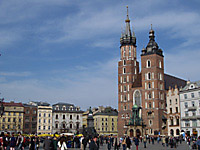 Hotels in the historic center of Krakow, Poland.
Strictly speaking, the central historic area of Krakow, known as the Old Town, corresponds with the medieval city, once surrounded by mighty fortifications. Now the Old Town proper lies within the limits of the Planty ring of gardens which has replaced the city walls and moats in the 19th century, with the addition of the Wawel Hill. Yet some stretch the name to cover also the adjoining neighborhoods. Others identify the Old Town with one of the 18 boroughs of Krakow, namely Dzielnica I Stare Miasto which covers some 5.57 square kilometers in the downtown and includes such historic districts as the Old Town proper, the town of Kazimierz, Kleparz, Piasek, Stradom, Nowe Miasto, and Nowy Swiat.
Any following information has been provided by respective Krakow hotels on their sole responsibility.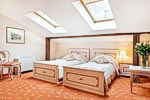 Hotel Amadeus ****
Address: 20 Mikolajska street. Phone: (+4812) 429 60 70. e-mail: amadeus@janpol.com.pl, www.hotel-amadeus.pl The boutique Hotel Amadeus is situated in the very heart of Krakow, just 200 m from the Main Market Square and other historical attractions. You can relax in 20 spacious, well-equipped rooms and 2 elegant intimate apartments with jacuzzi. Additional Facilities: restaurant, bar, conference rooms, air conditioning, free Wi-Fi access, sauna, mini-fitness, moreover Krakow city tours available at the reception.
The helpful and always smiling staff of Amadeus hotel will make your stay comfortable and relaxing, especially if you plan a romantic stay in Krakow.
---
Address: 5 Lubicz street. Phone: (+4812) 4232510. Fax: (+4812) 4232529. E-mail: he@he.pl, www.he.pl Nice and cozy hotel near the city center (a five minutes' walk) and the main railroad station (a four minutes' walk) with prices for the impecunious as well as the rich, standard both modest and exclusive. Capacity 120. Single-room rate 142 zlotys, double rooms 186 zlotys, triple rooms 232 zlotys, suites 518 zlotys. All major cards accepted. For your convenience: restaurant, cafe, pub, fitness room, sauna, parking lot, conference facilities for 10 to 300 people, and garden open all year round.
---
Hotel Floryan


Address: 38 Florianska street (Krakow's Old Town historic district). Phone: (48 12) 4311418. Fax: (48 12) 4312385. E-mail: floryan@floryan.com.pl, www.floryan.com.pl Capacity 49 in 21 rooms. Hotel price list, 01.04-2016 -22.07.2016 and 03.08.2016-31-31.10.2016 rates in PLN zloties: twin room 450, twin room for 1 person 350, superior room for 4 persons 720 PLN, superior room for 3 persons 650, double superior room 590, single superior room 490, an extra bed in a superior room 100. Breakfast and VAT included. All major cards accepted. For your convenience: restaurant, conference facilities, air conditioning, and wireless Internet.
---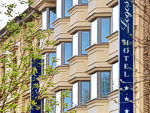 Hotel Logos
Address: ul. Szujskiego 5. Logos Hotel is a 3-star hotel recommended by the Polish Hotel Association and the Polish Commerce Chamber of Polish Hotel Industry. It is situated in the centre of Krakow, 600 meters from the Main Square. It's a small cosy building with 49 comfortably equipped rooms, a restaurant, a drink bar and a SPA area.
Apart from the basic bed & breakfast service, we organise:
- local trips (sightseeing tours of the city, trip to the Salt Mine in Wieliczka, sightseeing of the Oswiecim /Auschwitz/ Museum, the St. Mary's Sanctuary in Czestochowa and Lagiewniki and many other attractive programs),
- banquets and occasional parties, meals for groups in the restaurant at very attractive prices. Our restaurant offers a discount for hotel guests, recommends daily company dinners and organises occasional parties.
- transfers from the airport and the railway station in co-operation with a transport company.
Our prices are flexible and varied, depending on the customer, the form of payment and the length of stay.
---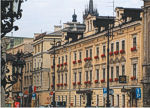 Hotel Pollera
Traditions from 1834. Address: 30 Szpitalna street. Website: www.pollera.pl Phone: (48 12) 4221044. Fax: (48 12) 4221389. E-mail: rezerwacja@pollera.pl
Hotel Pollera is situated in the very heart of Krakow. Most of top sights, including the Basilica of the Virgin Mary, Cloth Hall, the Jewish Quarter and the Wawel Royal Castle, are located within walking distance.
The hotel offers comfortable single, double or triple rooms and luxurious air-conditioned suites. All rooms with free Wi-Fi. All major cards accepted.
---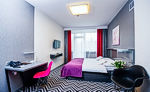 Hotel Wyspianski ***
Address: 15 Westerplatte street. Phone: (+4812) 4229566. e-mail: wyspianski@janpol.com.pl, www.hotel-wyspianski.pl
Ideally located in the city centre, close to the Planty Garden Ring surrounding the Old Town (5 minutes walk to the Main Market Square), it offers 231 comfortable rooms. Each one has a bathroom with shower and is equipped with a TV, a telephone, wireless Internet access (free of charge) and a hairdryer. The Premium rooms also offer a safe, an extra kettle, and a coffee and tea set. Furthermore you will find here an excellent restaurant and a bar, spacious guarded car park, fitness room, gift shop, casino, 5 fully equipped conference rooms.
The friendly and professional staff are happy to offer more personal suggestions about what to do in Krakow to ensure your stay will be extraordinary.
---
Other hotels in the Krakow Old Town proper.
Five-star hotels
Copernicus at ul. Kanonicza 16, phone 124243400
Grand at ul. Slawkowska 5/7, phone 124217255,
H15 Luxury Palace at ul. sw. Jana 15, phone 123711515
Stary at ul. Szczepanska 5, phone 123840808.
The Bonerowski Palace at 42 Rynek Glowny square. Phone: (+48) 123741300.
Four-star hotels
Francuski at ul. Pijarska 13, phone 126273777,
Grodek at ul. Na Grodku 4, phone 124319030,
Pod Roza at ul. Florianska 14, phone 124243300.
Polski Pod Bialym Orlem at ul. Pijarska 17, phone 124221144.
Unicus at ul. Florianska 35, tel. (+48) 12 433 71 11.
Three-star hotels
Classic at ul. Sw. Tomasza 32, phone 124240303.
Elektor at ul. Szpitalna 28, phone 124232317.
Jan at ul. Grodzka 11, phone 124301969.
Rezydent at ul. Grodzka 9, phone 124295410.
Royal at ul. Sw. Gertrudy 26-29, phone 124215500.
Senacki at ul. Grodzka 51, phone 124227686.
Wawel at ul. Poselska 22, phone 124241300.
Wentzl at Rynek Glowny 19, phone 124302664.
Wit Stwosz at ul. Mikolajska 28, phone 124296026.
Two-star hotels
Campanile at ul. Sw. Tomasza 34, phone 124242600.
Hotel categories: the real meaning of stars
---
Holiday Apartments in Krakow
Want a Krakow flat for night or two?
Hostels, guest houses and other cheap accommodation in Krakow
---
Basic Krakow info for visitors
---
Travel to Krakow
Over four million visitors show up in Krakow every year. Many arrive by air, but most take advantage of the fact that Krakow lies at a major European road and rail junction.
Krakow's Transport
How to move about the city.
Eating the Krakow way
It is hearty indeed.
Shopping in Krakow
The city's central Old Town historic district, turned into a pedestrian precinct, teems with stores of all sorts.
Conferences in Krakow
Practically all upmarket and mid-range Krakow hotels can boast their own conference facilities.