Poland's prime tourist attraction and a must in Central Europe, Krakow boasts numerous world-class monuments, charming vistas, delightful atmosphere, and the country's best restaurants.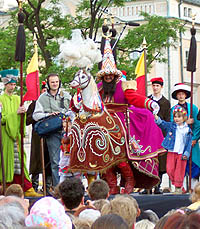 Hardly a month passes in Krakow without some time-honored occasion for common festivities or colorful ceremony. Krakow residents have their own unique way of celebrating Christmas, carnival, Easter etc. The city is also famous in Poland for its many spectacular festivals unknown elsewhere, such as the wild Lajkonik parade (see the picture above).
More on Krakow's festivals
---
There is a lot to see in Krakow: centuries-old impressive landmarks, lovely vistas, world-class works of art, and stunning curios.
More on Krakow's sights
---
There are many things in Krakow to find nowhere else in the world. And some of the city's curios are worth seeing at any rate.
More on the marvels of Krakow
---
Krakow boasts the best collections in Poland, and some of its treasures are the envy of every museum in the world.
More on Krakow's museums
---
Krakow features prominently on the theater map of Europe. Its legendary National Stary Theater counts among the continent's best companies of players. As the rest of the city's repertory theaters it runs several playhouses of varied capacity.
More on Krakow theaters
---
The city resounds with music of every kind. Its lively club scene is divided between hip-hop, house, funky, techno, traditional rock and still more traditional jazz. And demanding audience may choose among frequent concerts and recitals of classical music.
More on Krakow's music
---
There is no shortage of places to drink, eat, and stay merry late into the night in Krakow.
More on Krakow nightlife
---
Krakow has always been Poland's gourmet Mecca. And the recent decade brought about a genuine restaurant explosion all over the city owing to the hectic efforts of aspiring restaurateurs–native ones as well as immigrants. The Old Town historic district seems virtually stuffed with establishments catering to all kinds of diners.
More on Krakow's restaurants
---
Take a one-day trip from Krakow to visit some of Europe's most exciting must-see sites.
More on Krakow tours
---
In the footsteps of Pope John Paul II
Pope John Paul II used to stroll Krakow streets first as student, then priest, bishop and cardinal.
Follow the footsteps of John Paul II
---
The best way to enjoy Krakow is on foot. Every street and every square lives its own life manifest in its cafes, stores, galleries, assorted culture venues and public institutions.
Go for a stroll in Krakow
Take a virtual stroll down Krakow's streets:
Stroll Up the Royal Road
Stroll Round the Grand Square
Stroll through Krakow's Kazimierz District
---
Riding a bike in Krakow
Cyclists easily have their way in the city and its environs.
---
You can see the best soccer in the country. Or try paragliding instead.
More on Krakow sports
---
The city boasts some forty public parks, including the 1020-acre Las Wolski forest one.
More on Krakow's parks
---
From designer garb to jewelry, and from antiques to books and CDs–Krakow's central Old Town historic district, turned into a pedestrian precinct, teems with stores of all sorts, crammed into every available space.
More on shopping in Krakow
---
Thanks to its climate, spectacular architecture and rich traditions that enliven the holiday season, Krakow may well aspire to the title of the world capital of white Christmas. And the whole thing lasts longer in the Krakow region than anywhere else–Christmas market opens in November and then Christmas trees glitter in the city and carols resound till the end of January.
More on Christmas in Krakow
---
Krakow enjoys a long season of merriment that lasts from the New Year's Eve till the Shrove Tuesday some two months later. It is marked by feverish partying in Krakow's numerous clubs on the one hand, and charity balls on the other.
More on carnival in Krakow
---
Easter, the paramount Christian feast, has a special meaning and a distinct quality in springtime Krakow with its rich Catholic traditions and abundance of beautiful churches. In the ancient capital of Poland the festival spreads over four days.
More on Krakow's Easter
---
Krakow's three casinos lure gamblers with roulette, blackjack, poker, and slot machines round the week from afternoon till the dawn next day. It's perfectly legal as long as you are 18 or older.
More on gambling in Krakow
---
Any following information has been provided by respective establishments on their sole responsibility.

Amber Museum is located at 2 Jana Street (50 meters from Krakow's Rynek Glowny central square). At the museum we have collected unique exhibits to display amber's natural beauty, to show just how special it is, to provide valuable knowledge about its origin and the history of amber crafting and to make the public aware of how beautiful it is and how diverse its forms and colours are. How amber formed, where you can find it, how it was extracted, and what it was used to make - these questions and many more will be answered by the exhibition called 'Amber - Its beauty and history', developed by the PAN Museum of the Earth Warsaw.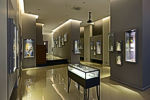 Boruni amber galleries
Boruni Amber Galleries are situated in heart of Krakow at 60 Grodzka Street and 2 Jana Street. Galleries offer customers wide range of quality products, from the simplest silver and amber earrings to the most beautiful pieces of jewellery made by the best Polish artists and leading Polish producers of amber and other gems jewellery. We present a free of charge movie in Polish, English, German, Spanish, Italian, Japanese, Chinese and Korean language, which reveals the secrets of amber.
Addresses: 60 Grodzka street and 2 Sw. Jana street. Website www.boruni.pl