The 2004 Selected Archive News Stories from Krakow Info
Year 2004 in News from Krakow Info
Fly Cheap
SkyEurope opens cheap air connections between Krakow and London (Stansted), Rome (Fiumicino), Paris (Orly Sud), Amsterdam and Milan by the end of September. It believes they will entice some 200,000 passengers a year. Other no-frills carrier, British EasyJet, is to fly daily from Krakow to London and Germany's Dortmund from late October. It's just for starters since the airline wants to launch regular air connection to Berlin in January and later on to other European capitals. It hopes its ticket prices starting from euro 19 for a one-way trip will lure 80,000 passengers per year to each destination. Two other budget airlines, Italy's Volareweb and Germany's Germanwings, have already launched flights from Krakow airport to Rome and Cologne/Bonn respectively.
Krakow Airport to Double Its Capacity
Krakow's Balice international airport has secured grants from EU and Poland's Ministry of Infrastructure to the tune of $3 million and $1.1 respectively for extension of its passenger terminal. Its construction, scheduled to start this September, is to be finished by next April. Once operational the enlarged terminal, with its floor space almost doubled to 18,000 sq. m from current 10,000 sq. m, will be able to handle two million passengers per year. Last year it received some 600,000 of them.
Czeslaw Milosz Dies at 93
Great Polish poet Czeslaw Milosz has died at 93 in Krakow on August 14. The winner of the 1980 Nobel Prize in Literature was both the honorary and the actual citizen of Krakow.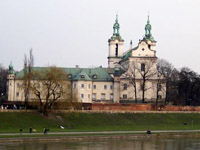 Late Poet Czeslaw Milosz Honored With a Tomb In the Skalka Sanctuary
Great Polish poet Czeslaw Milosz, the winner of the 1980 Nobel Prize in Literature, has been laid to rest in Krakow's Skalka Sanctuary's crypt alongside a handful of other Poland's luminaries that deserved the honor. The Skalka crypt is the country's second most prestigious burial ground after the nearby Wawel Cathedral where the Polish royalty and the greatest national heroes have their tombs. Czeslaw Milosz died at 93 on August 14. He was both the honorary and the actual citizen of Krakow.
Krakow's Robert Korzeniowski Confirms His Supremacy
Krakow's athlete Robert Korzeniowski has won in Athens his third Olympic gold in row in the 50-kilometer walk. In sum he is owner of four Olympic gold medals, the fourth one for prevailing in the 20-kilometer walk in the 2000 Games in Sydney.
Krakow's Square to Bear Late US President's Name
Krakow's city council has renamed central square of the Nowa Huta district to Ronald Reagan Pl. The square was meant once to be the heart of a model proletarian city that the communist regime had envisioned to be built from scratch on a greenfield site east of Krakow in the 1950s, next to giant steelworks.
The EU's Money Needed Elsewhere, Local Politicos Said
Krakow's municipality has failed this year in its bid for over $17.5 million of the EU's structural funds to finance six infrastructure projects in the city. The city hall sought the grants for street modernization, drainage of a fringe neighborhood, zoo improvement, construction of a culture complex in the Kazimierz downtown district, and creation of city information system. As the Krakow projects vied with 302 other presented by the rest of municipalities in the Malopolska province, whose capital as well as the biggest city by far is Krakow, they fell victim to regional pork barrel politics. The province's steering committee consisting of local politicos resolved that needy backwoods areas should be served first while the metropolis is rich enough to take care of itself. So no Krakow municipality's project has qualified among the 24 successful schemes that will tap an equivalent of some $58 million in the EU's structural funds appropriated for the Malopolska province this year. Nonetheless some $10.5 million is to go to the construction of a brand-new opera house in Krakow, the venture of the Malopolska province's government.
American Basketball Star Strengthens the Krakow Team
USA's Shannon Johnson, 30-year-old WNBA warhorse, has joined Krakow's Wisla Can-Pack women's basketball team after a season with the San Antonio Silver Star club in the States. She and Tangela Smith of Sacramento Monarchs, another WNBA team, have been signed up to help the Krakow side sail through Euro League and Sharp Torell Basket League this season as well as Poland's premier league. Johnson is this year's Olympic gold medallist with the USA team and the 2002 World Champion. She counted among the top ten WNBA players in 1999 and 2000. As the WNBA games end when the basketball season starts in Europe she managed to play with Turkey's Fenerbache Istanbul team in the years 1999-2001, with Spain's Valecia in 2002 and 2003, and in Russia's Dinamo Moscow earlier this year.
Architects Hold Their Feast in Krakow
Krakow's 10th Biennial of Architecture has drawn nearly 150 entries, from Poland and abroad, for its two competitions, one to design a downtown museum, the other to provide blueprint for a bridge-gallery over Wisla river. Poland's architectural couple Marcin and Katarzyna Charciarek won the former contest, while Germany's Tobias Eckert and Sabine Kukel prevailed in the latter. All entries are on display at the Bunkier Sztuki gallery at Szczepanski Pl.
Krakow to Attract Nearly 6.5 Million in 2004
This year the number of visitors to Krakow will total some 6.4 million, nearly a million more than in 2003–recent estimates say. Foreigners make for 57 percent of the figure–51 percent in 2003–and over three-fourths of them stay overnight or longer in the city. An average tourist from abroad spends roughly $230 in Krakow while a Polish one just $90 or so, and the aggregate windfall for the city amounts to $700 million yearly.

Krakow's Focal Square Is Half Done
Western half of Krakow's huge central Rynek Glowny square has undergone $3.6-million refurbishment of its pavement, long overdue. Over fifteen weeks till December 9 some 10,000 cubic meters of soil and mortar have been removed, old underground installations replaced and some new fixtures added, archeological excavations done, and 9,000-square-meter pattern of pale and dark granite slabs put in place. Similar renewal of the square's other half awaits the city next year.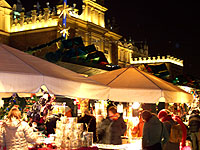 Square Charity
150,000 raviolis with wild mushrooms and cabbage filling, Polish traditional Christmas Eve's specialty, fed crowds that turned up at Poland's biggest Christmas party on December 19. Also six tons of hot sauerkraut with beans, 6,000 liters of wild mushroom soup with noodles, and 50,000 rolls featured prominently this year in the open-air free meal Krakow restaurateurs organize every December amid the city's central Rynek Glowny square. The charity event was an occasion, too, for distribution of warm clothes to the needy.
Party to Remember
This year's huge open-air New Year's Eve party amid Krakow's central Rynek Glowny square is to cost million zlotys (some $320,000), the bill split 50-50 between the municipality and commercial sponsors. The yearly party, Poland's biggest, has repeatedly lured up to 150,000 revelers to date but the record may be easily broken this time. The four-hour show, broadcast live by Poland's biggest tv network, starts at 9 p.m. and will feature Polish top pop stars of various generations among other attractions, to culminate in an eight-minute fireworks show.