Archive News Stories of 2018 from Krakow Info
2017: Nearly 13 Million Visited Krakow.
In 2017 Krakow received 12.9 million visitors, in that number over three million foreigners while 9.85 million tourists arrived from other parts of Poland. It's 750,000 more visitors compared to 2016. The largest contingent of foreign tourists came from Germany, namely 13.2 percent of the total figure. Close second were Britons who made up 13.1 percent of last year's foreign travelers in Krakow, followed by Italians (10.9 percent), Frenchmen (8.5 percent), and Spaniards (8 percent). In 2016 tourists left in Krakow 5.48 billion zlotys, an equivalent of about 1.3 billion euro, which amounts to roughly 4.5 percent of the city's gross product, with 40,000-plus people employed in tourism-related services.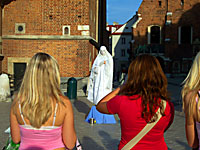 Local Elections This October.
Krakow local government elections are scheduled for Sunday, October 21st 2018, the same date as everywhere in Poland. The incumbent four-term mayor, Professor Jacek Majchrowski, seeks reelection as the spearhead of a center-left coalition. The Krakow voters will vote in the city's mayor for a five-year term and cast their votes for the lists of candidates to the city council, to the provincial assembly, and to the district councils.
Local Elections Produced City Council, Mayoral Runoff.
Local elections on October 21st, 2018 have upheld the current majority in the City Council in Krakow as a coalition of the centrist Civic Platform party (Platforma Obywatelska - PO) and center-left Nowoczesna party plus supporters of the incumbent mayor have secured 23 seats in the 43-strong body. Their opponents, the right-wing Law and Justice party (Prawo i Sprawiedliwosc – PiS), will have 16 councilors, while the remaining four seats went to a failed mayoral candidate and his three supporters. In the concurrent mayoral race no candidate won the outright majority of votes. In run-off on November 4th the incumbent Jacek Majchrowski will fight Miss Malgorzata Wassermann, a prominent member of Law and Justice party and a sitting Member of Parliament.