Selected Archive News Stories from Krakow Info in 2005
Year 2005 in News from Krakow Info
World Leaders Honor Auschwitz's Victims
Over 30 heads of state – Russia's Vladimir Putin, France's Jacques Chirac, and Israel's Moshe Katsav among others – as well as US Vice President Dick Cheney arrived to Krakow January 26-27 to commemorate the 60th anniversary of Auschwitz's capture by the Soviet army. Set up in 1940 for Polish political prisoners, the notorious Nazi death camp in the town of Oswiecim, 75 km west of Krakow, evolved in a couple of years into a mass-execution complex of three major camps – Auschwitz proper, Birkenau and Monowitz – and their more than forty sub-camps. Over million men, women, and children perished there during WW2, mostly Jews but also Poles, Gypsies, Russian POWs as well as other European nations.
One Mall Closer to the City Center
A brand-new 36,000-sq-m, four-story shopping mall has opened in downtown Krakow. 'Galleria Kazimierz' takes up block of streets Podgorska, Gesia, Masarska and Daszynskiego on the Wisla river bank. The mall boasts 150 shops of varied size, a supermarket, a ten-theater multiplex, its share of eateries, and a six-story parking garage for 1,800 vehicles. Currently it's situated closest to the central Old Town historical district of all Krakow's shopping centers.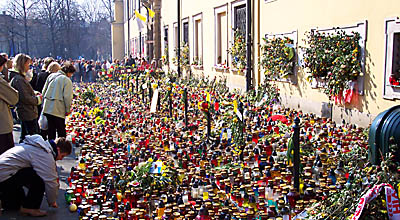 April 4, 2005, Mourners keeping vigil in front of the palace of Krakow's bishops where Pope John Paul II once lived.
Krakow Mourns Its Beloved Son Pope John Paul II
The citizens of Krakow keep grieving over the loss of the Pope whom they have seen as their Holy Father in the most literal sense. Their sorrow overflows households and churches and manifests itself powerfully in the streets as people pray and light candles and put flowers at all sites associated with John Paul II, one way or another. In the first place, the Bishop's Palace at Franciszkanska street where he resided as the Krakow archbishop for fifteen years before taking over the Holy See. And entertainment as well as some public events–from cultural to sports to political ones–may be cancelled even beyond the period of official mourning. Before he became Pope John Paul II, Karol Wojtyla had lived in Krakow from 1938 to 1978, first as a student then priest and academic and finally bishop and cardinal. As the Pontiff he always remembered his city fondly and visited Krakow as often as possible. Now the fellow citizens hope that at least his heart will be buried in the city one day.
Krakow's New-Old Basilica
Krakow has got its tenth basilica May 15 as pope bestowed that status on the 600-year-old Corpus Christi church (Kosciol Bozego Ciala) in the heart of the Kazimierz area that stretches southeast of the city's central Old Town historical district. Since 1405 the church has been in the possession of the adjacent monastery of the order of Regular Lateran Canons.
Taxpayers Make Krakow Second City in Poland
Krakow's last year's revenue of 1.81 billion zloty (an equivalent of roughly $0.55 billion) makes it the second richest municipality among Poland's provincial capitals after Warsaw, the country's biggest city and the seat of national government that doubles as the metropolis of the Mazowieckie province. Save Lodz all major Polish cities are capitals of Poland's 16 provinces.
Krakow Football At the Top, Again
Krakow's top soccer team, Wisla, has won Poland's 2005 football Championship. It's the third title the club secured in a row and the tenth one in its 99-year history. In Poland the professional football league plays from September to June with a winter break.
The Late Pope's Aide to Run Krakow's Archdiocese
John Paul II's lifelong assistant, Archbishop Stanislaw Dziwisz, 66, is taking over the Krakow archdiocese. Pope Benedict XVI named his predecessor's private secretary for 27 years and the Holy Sees' eminence grise to replace archbishop Franciszek Macharski who at 78 is three years past the Church's retirement age. In 1966 the then Krakow archbishop Karol Wojtyla, future pope John Paul II, made 27-year-old Father Dziwisz his chaplain and would take him to Vatican in 1978 as his closest aide till death last April. Archbishop Dziwisz is to take hold of his new Krakow duties at the end of August.
Most Serious Crime Stays Low
This year, till May 31, six homicides happened in Krakow, city of 800,000 with numerous visitors, all cases solved and killers arrested. In 2004 there were 24 murders of which three remain unsolved to date.
Krakow Teen Wins Wimbledon
Krakow's 16-year-old tennis player Agnieszka Radwanska won this year's Wimbledon women's tournament for juniors. It was the second competition on grass surface she ever played in. Krakow's teenage champ has played tennis since five and her father, once Poland's tennis champion himself, remains her coach.
Under Construction: Brand-new Steel Mill
Mittal Steel Poland, subsidiary of Indian international giant Mittal Steel Co., has awarded the contract to build a $350-million hot strip mill in Krakow to Austria's Voest Alpine. The state-of-the-art mill, due 2006, will churn out 2.4 million ton of top-quality steel sheets per year. Mittal Steel bought the bulk of Poland's steel industry, in that number Krakow's mammoth HiS steelworks on the city's eastern outskirts.
MAN Trucked Next to Krakow
Germany's truck maker MAN has decided to place its new assembly plant in Niepolomice, Krakow's satellite town to the southeast. The factory, due in mid-2007, is to employ 650 and produce up to 15,000 vehicles per year. It will cost 96 million euro to build, part of the amount covered by Polish government's grant. And the provincial government of Malopolska has pledged 142 hectares of land plus access road and railway.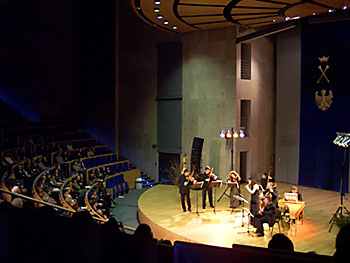 Centrally situated Auditorium Maximum of the Krakow university, 35 Krupnicza street,
often doubles as a music hall for 1,200
Auditorium Maximum, Address to Remember
Krakow's 650-year-old Jagiellonian University, has got a brand-new, state-of-the-art building for events with large attendance. The long overdue 14.3-million-dollar Auditorium Maximum at 35 Krupnicza street seats 1,200 in its main amphitheater-like hall whereas the smaller ones have capacity of respectively 250 and 100. The posh building, meant for everyday use as a set of lecture halls, is to serve as a venue for university gatherings on official occasions and double as a conference center, also available for performance arts and other events.
Krakow, the Detour City
Wholesale modernization of Krakow's crucial arteries plays havoc with the city's transportation system this summer and fall. Most consequential seems closing of the busy junction next to the Krakow Glowny central station where many of popular bus lines and tramways crossed, now having been rerouted. In consequence the nearest bus and tram stops are now to be found two blocks east and west from the train station. The junction is to stay closed till November.

Rynek Glowny, Half-closed Due to Modernization
Renovation of the eastern half of Krakow's huge Rynek Glowny central square is under way. The 5.7-million-dollar refurbishment of the city's unrivalled hub entails replacing of the entire surface, improvement of its foundations, and thorough overhaul of underground installations – all preceded by archeological excavations. Completion of the works is scheduled for May 31, 2006. For the meantime, Rynek Glowny's multiple functions – from everyday socializing to open-air concerts to traditional festivals – squeeze into the square's western half, already renovated last year.
New Bus Depot, At Last
Krakow has got a long overdue brand-new depot for long-distance buses. The modern bus station is situated at Bosacka street, just east of the Krakow Glowny main train station that abuts on the city's central Old Town historic district. One may get there by taxi or on foot, walking the underground passage that connects railway platforms.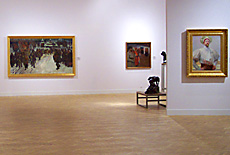 Modern Art Is Back at the Krakow National Museum, At Long Last
Krakow National Museum's Gallery of the 20th-century Polish Art has opened after a six-year-long, $ 2.3-million overhaul marred by financial shortages and technical glitches. The spacious 3,000-sq-m gallery takes up the entire third floor of the museum's flagship edifice at 1, 3 Maja street and houses nearly 500 outstanding works by Poland's modern artists, with a tilt towards those most important for Krakow. Arranged with regard to schools and trends rather than chronology the exhibits provide a wide cross-section of the Polish art, starting from the 1890s up to now.
Krakow Attracted 7,000,000+ in 2005
This year number of visitors, foreign and Polish, to Krakow totaled over seven million, nearly a million more than in 2004–recent estimates say. An average tourist from abroad spends roughly $200 in Krakow while a Polish one just $90 or so, and the aggregate windfall for the city amounted to about $250 million in the third quarter. The city attracted less Americans and Israelis than in 2004 but proved increasingly popular with Germans and Britons.