2010 Archive News Stories from Krakow Info
Year 2010
A Reincarnation: John Paul II Papal University in Krakow.
Pope Benedict XVI has turned Krakow's Papal Academy of Theology into John Paul II Papal University. Thus it becomes the seventh university among 25 institutions of higher learning in Krakow. Currently its 300-plus faculty members teach over 3,000 students. The university has five departments – theology, philosophy, history and cultural heritage, social sciences, and a theology department in Tarnow. Krakow's John Paul II Papal University (Uniwersytet Papieski Jana Pawla II) is the fifth incarnation of the institution of higher learning whose tradition dates back to 1397 when the faculty of theology was established at the Krakow University by decree of Pope Boniface IX. In 1954 the communist rulers of Poland chased the theologians from the state university. Since then the faculty has continued as a church institution of higher education, first as Department of Theology, renamed Papal Department of Theology in 1974, and made Papal Academy of Theology in 1981 by Pope John Paul II. The new university's headquarters takes up the historical building at 25 Kanonicza street, next to houses at 21 and 19 Kanonicza where Father Karol Wojtyla, future John Paul II, lived in the years 1951 to 1963.
Man Behind the Auschwitz Theft Awaits Extradition to Krakow.
A Swede implicated in the theft of the Auschwitz infamous "Arbeit Macht Frei" have been finally extradited from Sweden to Krakow on the 9th of April, 2010. 34-year-old Anders Hoegstroem was taken into custody in Stockholm on February 11th. Krakow's public prosecutor had issued a European warrant for his arrest a couple of weeks earlier. Mr. Hoegstroem is thought to have masterminded the larceny carried out on December 18th, 2009 by five rogues from northern Poland he had hired. Stockholm's prosecutor Agnetha Hilding Qvarnstrom had said that Mr. Hoegstroem could be transferred to Krakow before the end of February but he then challenged the extradition in the Swedish court. Nevertheless he didn't appeal against the court decision to send him to Poland for investigation and likely subsequent trial in Krakow. The Polish perpetrators, five men ages 25 to 39, have been arrested last December. On March 18th, 2010 three of them were sentenced to 30, 28, and 18 months in prison respectively plus 10,000 zloties of compensatory damages each after they had pleaded guilty to the theft. The other two Poles are accused of complicity. Polish police recovered the iconic Auschwitz sign on the third day after the theft but it wasn't possible to it put back into place before the solemn celebrations of the 65th anniversary of the liberation of Auschwitz death camp on January 27, 2010. An exact replica has temporarily replaced the stolen the 5-meter steel inscription over the main gate to the Auschwitz site turned into a museum commemorating victims of the Nazi atrocities. The original, cut into three pieces by the thieves, underwent forensic test and has been returned to the Auschwitz museum on January 21. The museum's management promises to do its best to renovate the "Arbeit Macht Frei" sign both thoroughly and quickly yet it will take months anyway. Auschwitz site is situated in the town of Oswiecim 70 kilometers west of Krakow. The theft sent shock waves through the world and in Poland the case continues to reverberate to this day.
World Leaders Did Not Come to Krakow for President Kaczynski's Funeral.
U.S. President Barack Obama, German Chancellor Angela Merkel, French President Nicolas Sarkozy, and Prince Charles of the UK are just four VIPs among many heads of state and government who failed to turn up at President Kaczynski's funeral in Krakow on Sunday, April 18th. They cited the cloud of volcanic ash that halted air traffic in Europe, including Poland, as the reason. President Kaczynski and his wife died in the presidential plane crash near Russia's city of Smolensk on April 10th, 2010 when all passengers and the crew were killed – 96 in total including many of Poland's political and military elite. The late presidential couple have been entombed in a hallway of the crypt of the Wawel Cathedral in Krakow where Marshal Jozef Pilsudski has been laid to rest since 1936. The decision to bury President Kaczynski and his spouse in one of the Wawel crypts resulted in a firestorm of controversy in Poland because the place is considered a national mausoleum meant for the burial of kings and the nation's greatest war heroes only. Besides the Polish royalty and Marshal Pilsudski just three other famous Polish military leaders have been interred here – Prince Jozef Poniatowski in 1817, Tadeusz Kosciuszko in 1818, and General Wladyslaw Sikorski in 1993. Plus the separate "Bards' Crypt" contains tombs of two 19th-century genius poets Adam Mickiewicz and Juliusz Slowacki buried in 1890 and 1927 respectively. The prospect of President Kaczynski's funeral at the Wawel Cathedral perplexed the residents of Krakow in the first place. Hundreds of them staged street rallies in front of the Archbishop Palace at Franciszkanska street to protest the decision of Cardinal Stanislaw Dziwisz.
Car Theft Is Up, Back.
After five years in a row of decline the number of stolen cars rose in Krakow last year. Recently published police statistics reveal 1,039 motor vehicle thefts in 2009 compared to 818 in 2008. Areas worst hit by the scourge are high-rise housing developments of Pradnik Bialy, Pradnik Czerwony, Prokocim, and Podgorze. German-built cars, notably Volkswagens and Audis, remain the most popular makes with car thieves in Krakow. Even more alarming is the sharp increase in the number of muggings that rose in Krakow almost by half in 2009 compared with year 2008.
Rain, Floods, And Disruptions
A few days of heavy rain all over southern Poland played havoc with transportation in Krakow and the entire Malopolska province starting on Sunday, May 16th. Enormous traffic jams paralyzed Krakow. At the same time travel to the city was hindered due to closed roads and bridges, gigantic tailbacks, train delays and cancellations. As many rivers and streams overflowed a number of towns as well as some rural areas in the Krakow region suffered serious damage from floods. Also such popular tourist destinations as the former nazi death camp Auschwitz and Wadowice, the birthplace of Pope John Paul II, were affected.
Krakow's Pizza Beats Italy's
World's biggest pizza ever has been baked and eaten in Krakow. Krakow's 450 cooks prepared the monster on August 29, 2010 with the Guinness Book of Records in mind. The record pizza was 1.1 kilometer long and about one meter wide. It consisted of 4,000 kilograms of flour, 1,500 liters of tomato sauce, and 1.6 ton of mozzarella.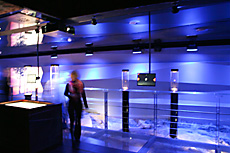 New Attraction in the City
An underground archeological museum beneath Krakow's Rynek Glowny central square combines excavations of medieval buildings, exhibitions of ancient artifacts, and multimedia presentations including holographic reconstruction of historical architecture. It opened in September 2010 and has become an instant sell-out with would-be visitors queuing at the box office every day. The museum cost about 14 million euro to launch.
Local Government, the Elections Outcome
In the wake of recent local government elections on November 21st, 2010 Poland's governing center-right party Civic Platform (Platforma Obywatelska - PO), won the majority of 24 seats in Krakow's 43-strong city council. It's got 42 percent of votes while its arch-rival, the right-wing Law and Justice party (Prawo i Sprawiedliwosc – PiS) came second with 27 percent which gave it 12 councilors. In the concurrent mayoral race no candidate won the outright majority of the votes. In the run-off on December 5th, 2010 the incumbent, Professor Jacek Majchrowski who stood as an independent, has secured himself the third consecutive term in office.