Archive News Stories of 2015 from Krakow Info
Year 2015
Nearly 300 Monuments In Need of Repair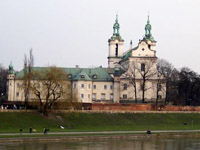 Committee supervising restoration of Krakow's historic buildings expects some 300 of them to undergo extensive renovation till the end of 2015, at a cost of 513 million zloties (about 122 million euro). Besides the Wawel Royal Castle and Cathedral the list of historic buildings earmarked for renovation in the first half of this decade includes such Krakow's famous ancient monuments as St. Mary's basilica, the Dominican monastery, the Franciscan monastery, Corpus Christi church, St. Catherine's church, Skalka Sanctuary, High Synagogue and Remuh cemetery, Tyniec Abbey, Cistercian Abbey in Mogila, and Bielany monastery. Fortunately, none of the city's top landmarks requires comprehensive restoration.
Ice hockey world championship Krakow 2015.
April 18th-24th, 2015 Krakow will host the IIHF World Championship Division I A in ice hockey. Originally the tournament was to take place in Donetsk in eastern Ukraine but hostilities there made the International Ice Hockey Federation to found another location and Krakow has fortunately come to their rescue. Six national hockey teams - representing Italy, Japan, Poland, Hungary, Kazakhstan, and Ukraine – will vie for promotion to the top sixteen teams to compete the actual world championship in 2016. All matches are to be played in the brand-new Krakow Arena, capacity 15,000.
Krakow, the rugby Capital of Poland.
Rugby 7 National Center has opened in Krakow at Osiedle Lubocza in Nowa Huta district. The sports complex consist of a rugby stadium with a playing field 100 meters long and 70 meters wide, a training ground, a club building, and a playground. The facilities are used as the base of Poland's national team (the 2016 Olympic Games in Rio de Janeiro feature rugby, the first time ever). The rugby complex will also double as the home turf of Nowa Huta Rugby Club, one of Krakow's two pro teams, and will serve the needs of the locals. Krakow's Rugby 7 National Center cost 6.8 million zloty to build, 3.7 million covered by the Krakow municipality.