2013 forum of Krakow-watchers and visitors.
Authors of the entries to the Krakow Forum take full responsibility for their content. The following does not necessarily represent opinions of the Krakow Info editors.
2022 Winter Olympics in Krakow, maybe.
/2013-12-30/ Krakow carries on with its bid to host the Winter Olympic Games in 2022. Polish government estimates that organization of the Krakow Olympics may cost taxpayers at least 4 billion euro but it fully backs the idea.
Kasia
---
2014, the year of the Krakow University.
/2013-12-23/ Senate of the Republic of Poland has proclaimed 2014 The Year of the Great Jubilee of the Jagiellonian University. Poland's King Kazimierz (Casimir) the Great established the Krakow University on May 12, 1364. Thus next year it celebrates its 650th anniversary.
Mark
---
Christmas events.
/2013-12-16/ Alfresco productions of nativity play take place in front of St. Francis basilica, 4 Franciszkanska street, on December 24th at 10 pm, December 25th at 2 pm, and December 26th at 2 pm and at 3 pm. Also caroling the same place at 4 pm and 8:30 pm on Christmas Day and at 4:30 pm and 6:30 pm on Boxing Day. Free admission.
Barbara
---
One city, two Christmas markets.
/2013-12-02/ Actually, there are two rival Christmas markets in Krakow now. A central one on Rynek Glowny main square, and another called Galicyjski Kiermasz Adwentowy and situated conveniently next to the Krakow Glowny central train station and Galeria Krakowska shopping mall. The former lasts through December 26th, the latter ends December 24th. Open daily between 10 am and 9 pm.
Kasia
---
New Year's update.
/2013-11-28/ The upcoming New Year's massive open-air party on Rynek Glowny central square is scheduled from 7 p.m. on December 31st to 1:30 a.m. on January 1st, with a concert featuring some Poland's top pop acts and rock bands as the main attraction. Its lineup includes such national star performers as Perfect, Lady Pank, Andrzej Piaseczny, Brodka, Wilki, and Feel. Admission is free but expect all glass containers to be confiscated at entry so better transfer your bubbles to a plastic bottle.
Mark
---
Christmas market till December 26th.
/2013-11-27/ This year Krakow Christmas market starts on November 29th and will end on December 26th, according to plan, Venue as usual: Rynek Glowny central square.
Barbara
---
No solid-burn zone.
/2013-11-25/ The Malopolska provincial government - namely its legislative body, Sejmik - has prohibited the use of solid fuels such as coal and wood in heating in entire Krakow. The move, meant to improve air quality in the city, applies to private properties and businesses save heating plants. A last-minute concession excluded wood-burning fireplaces from the ban.
Kasia
---
Every museum for free, one Sunday.
/2013-11-14/ On Sunday, November 17th all Krakow museums welcome visitors free of charge. Also, most prepared some little special attractions courtesy of this Krakow Museums Open Door Day.
Muse Goer
---
Unprecedented.
/2013-11-04/ Israel's parliament, the Knesset, plans to organize its overseas session at the Auschwitz Museum in the city of Oswiecim, some 70 kilometers west of Krakow, on January 27th, 2014. The date marks the 69th anniversary of the liberation of the Auschwitz nazi concentration camp. There is no known precedent for any parliament convening on the territory of a foreign country.
Mark
---
Czartoryski Museum stay closed next year.
/2013-10-26/ Most probably the Czartoryski Museum will not reopen before 2015. And its crown jewel, Leonardo da Vinci's Lady with an Ermine, is to remain exhibited at the Wawel Royal Castle throughout 2014.
Barbara
---
Royal Castle for free again.
/2013-10-24/ There is at last the official confirmation that this year as yesteryear November is a month of free admission to the Wawel Royal Castle in Krakow, courtesy the Ministry of Culture and National Heritage. Every visitor is entitled to complimentary tickets for any exhibition, permanent or temporary, first come first served.
Muse Goer
---
Krakow - City of Literature no. 7
/2013-10-21/ Today UNESCO has designated Krakow, Poland as a member of the UNESCO's Creative City Network in the category of Literature. Thus it has become the world's seventh City of Literature alongside Edinburgh in Scotland, Melbourne in Australia, Iowa City in the USA, Dublin in Ireland, Reykjavik in Iceland, and Norwich in England.
Mark
---
Soulful jazz.
/2013-10-14/ 58th All Souls Jazz Festival (Krakowskie Zaduszki Jazzowe) takes place from Saturday, November 2nd through Saturday, November 9th with daily concerts in Krakow but some also in its satellite towns.
Kasia
---
Book fairyland.
/2013-10-08/ The 17th Krakow Book Fair is planned for four days, October 24th through October 27th, 2013 at 41 Centralna street in Nowa Huta district. The fair has attracted 562 publishers and other sellers. Opening hours are 10 am to 5 pm and a regular ticket costs seven zloty per day.
Barbara
---
Art market.
/2013-10-02/ This weekend, October 5th and October 6th, the city's 2nd Art Fair takes place at Trade Fairs in Krakow, 41a Centralna street. Open from 10 a.m. to 5 p.m. Admission fee is ten zloty. The Sunday auction of over 100 works by Poland's accomplished artists starts at noon.
Muse Goer
---
Old Town at 100+.
/2013-09-24/ Official data reveal that 42 people aged one hundred years or more live in the Krakow's central Old Town district (Dzielnica I). Most of them are still pretty agile for a centenarian according to social workers who provide care to the elderly in the area.
Mark
---
Festival of cinematic music.
/2013-09-23/ 6th Film Music Festival starts this Thursday, September 26th. Concerts of the world's acclaimed cinematic scores take place every day. See details at our online calendar of culture events in Krakow.
Kasia
---
Contemporary opera treat.
/2013-09-14/ Opera aficionados rejoice at the rare occasion to enjoy live three instances of operatic tour de force by Krzysztof Penderecki in a week. Production of 'The Devils of Loudun' takes place on September 27 and again on September 29th, followed by 'Ubu Rex' on October 3rd and 'Paradise Lost' on October 5th. The same venue: Krakow Opera House at 48 Lubicz street.
Barbara
---
Mounted.
/2013-09-10/ Amateur cavalrymen camp on Krakow Blonia common till Sunday, September 22 when they will stage a military review with some 200 horsemen parading on the common itself and on the Rynek Glowny central square. For the meantime the participant educate the locals and tourists about the long and glorious history of cavalry in Poland.
Mark
---
Guide to the best of Krakow.
/2013-08-26/ "The Best of Krakow" guidebooks are tailored to the needs of visitors planning a city break in Krakow. This year's edition now available also at Amazon.com as an e-book guide.
Kasia
---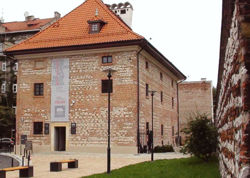 New old art museum.
/2013-08-23/ A brand-new museum opens in Krakow on September 13th, 2013. Europeum, a branch of the National Museum in Krakow, is located in a converted granary of the 17th century at Plac Sikorskiego street, a couple of blocks west from the Rynek Glowny central square. It will exhibit over one hundred paintings and sculptures from the National Museum's collection of western European art, from medieval through Baroque, formerly shown at the Czartoryski Museum.
Muse Goer
---
Classical and August.
/2013-08-14/ The second half of August has traditionally belonged to classical music in Krakow. Also this year the Music in Old Cracow festival fills the city's old churches and other historic monuments with orchestral and vocal masterpieces every day from August 15th through August 31st.
Barbara
---
Village at the heart of Krakow.
/2013-08-09/ The 37th Folk Art Fair starts on Rynek Glowny central square on Wednesday, August 14th and lasts through Sunday, August 25th. An occasion to purchase village handicrafts in the first place, the fair also offers other attractions from traditional foods to live performances.
Kasia
---
2016: the Holy Father meets the youth in Krakow.
/2013-07-29/ The locals and the rest of Poles rejoice at the news that the next World Youth Day will take place in Krakow in 2016. The city looks forward to Pope Francis visit and brace itself for arrival of millions of young Catholics from all over the world. At the same time the municipality expects to get lots of free publicity and hopefully some nice windfall as well.
Mark
---
Heat hit.
/2013-07-20/ Forecasters foretell a heat wave to engulf Krakow in the last week of July, with day highs hovering up to 34 degrees Celsius which translates into 95 degrees Fahrenheit. Pretty usual for midsummer but take care anyway.
Weatherman
---
Giro/Tour de Pologne.
/2013-07-16/ This year's 70th Tour de Pologne pro cycling race starts - surprise, surprise - in Italy with two initial stages: from Rovereto to Madonna di Campiglio and from Marilleva Val di Sole to Passo Pordoi respectively. The third stage begins in Krakow on July 30th and the whole race ends also in Krakow on August 3rd with competitors finishing one by one on the city's Rynek Glowny central square.
Mark
---
September music festival, the lineup.
/2013-07-15/ In 2013 the Krakow Sacrum Profanum festival of contemporary music starts on Sunday, September 15th and consists of eight concerts in as many days. The organizers try to fuse contemporary classical music and today's ambitious pop. For starters, they succeeded in signing top performers. Again.
Barbara
---
Escape to the continent, be on the show.
/2013-07-10/ Do you dream of a new life in Continental Europe? Let us help you! The UK's longest running relocation show, BBC's 'Escape to the Country' is expanding and we're looking for people currently living in the UK who are thinking of embarking on an adventure in Poland! If you are interested in taking part in the show, please email your name, telephone number and a little bit about your move to our team at: escapetoeurope@boundlessproductions.tv We look forward to hearing from you.
The Escape to the Continent team
---
Canonization of John Paul II in autumn.
/2013-07-05/ The Vatican experts expect Pope John Paul will be canonized on October 20 this year or in December at the latest. Obviously, Krakow is eagerly awaiting its most famous son to become officially a saint.
Mark
---
Jazz up the night.
/2013-07-01/ The Jazz NIght on July 20th, part of the Krakow Summer Jazz Festival, consists of an open-air concert with an international lineup on Maly Rynek square starting at 6 p.m. plus late-night concerts in Krakow's jazz clubs.
Barbara
---
Salt heritage doubled.
/2013-06-24/ Bochnia Salt Mine has joined the Wieliczka one on the UNESCO list of the World Heritage Sites. Bochnia is situated 50 kilometers east of Krakow. The town's salt mine dates back to the 13th century and now is a tourist attraction in the first place. The mine's historic nine underground levels resemble its better known twin in Wieliczka. Since June 23rd, 2013 the two salt mines near Krakow have been listed by UNESCO together as The Royal Salt Mines of Wieliczka and Bochnia.
Mark
---
July jazz festival.
/2013-06-21/ Krakow Summer Jazz Festival starts on Sunday, June 30th to end July 28th. Daily concerts take place in Piwnica Pod Baranami club, 27 Rynek Glowny (central square), July 1st through July 27th, at 9 p.m. The festival highlights are concerts featuring USA's saxophonist Branford Marsalis in Kijow.Centrum playhouse on July 16th and Al Jarreau's gig in the Krakow Opera House on July 26th.
Barbara
---
Newly coined.
/2013-05-29/ Krakow National Museum's fine collection of coins goes public at last! Some 2,500 of its numismatic treasures will grace the permanent exhibition at the brand-new European Center of Polish Numismatics in a freshly refurbished palace at Pilsudskiego street, a stone's throw from the Old Town proper. Opening June 27th, 2013.
Muse Goer
---
Traditional June pageants, an update.
/2013-05-27/ This year Krakow's traditional colorful Lajkonik parade takes place earlier than usual, namely on the first Thursday of June. On Saturday, June 1st, there is another yearly historical pageant, Enthronement of the Cock King, on Rynek Glowny central square at noon.
Kasia
---
Auto-Armageddon is coming.
/2013-05-17/ Mayor of Krakow is adamant that controversial changes to traffic in the city center will take effect this summer. They are meant to dissuade motorists from driving near the Old Town and are certain to drastically reduce accessibility by car to any place in downtown Krakow. At the same time proponents expect the resultant increase in traffic jams on central thoroughfares will not exceed 30 percent while opponents predict total paralysis during rush hours.
Mark
---
2013 midsummer Garlands festival.
/2013-05-08/ This year Krakow's traditional Wianki (Garlands) midsummer festival is extended from one to three days, namely Friday June 21st, Saturday June 22nd, and Sunday June 23rd. Apart from a firework display it consists of six open-air concerts - classical music to jazz to pop - on Wisla river bank opposite the Wawel Hill. Free admission.
Barbara
---
Night at the Museum for free, almost.
/2013-05-02/ This year the Krakow Museum Night starts at 7 p.m. on May 17th and lasts till 2 a.m. on May 18th, usually. It boils down to a token charge for admission to 26 museums in the city and crowds of enthused visitors. Plus special attractions at some places.
Muse Goer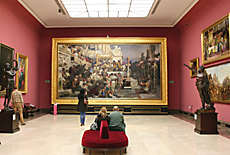 ---
Juwenalia festival this year.
/2013-04-23/ Krakow's traditional Juwenalia student festival takes place in the week Monday, May 6th through Sunday, May 12th, 2013. Its climax, a student parade with the finish on the Rynek Glowny central square, is planned for Friday, May 10th at noon.
Barbara
---
Airport revamp.
/2013-04-11/ Krakow Airport undergoes major overhaul, modernization, and expansion which will double its capacity by 2016. Till then brace yourself for various surprises when flying to Krakow.
Mark
---
Ebook guide to Krakow.
/2013-04-06/ The bestselling guide to Krakow is now available as a reasonably priced e-book from Amazon.com. Look for The Marvels of Krakow 2013.
Kasia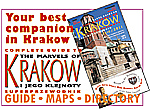 ---
No Auschwitz sightseeing this Monday.
/2013-04-05/ The site of Auschwitz death camp is to be off-limits to tourists next Monday, April 8th, because of the March of the Living, a major commemorative event scheduled for that day.
Mark
---
Easter at leisure.
/2013-03-23/ The city's tourist attractions stay closed on Easter Sunday but nevertheless there is a number of entertainment events available on that day so Krakow visitors may opt for other amusements beside strolls and dining out. Please see details at www.krakow-info/events.htm
Barbara
---
Michelin guide steady on Krakow restaurants.
/2013-03-14/ Michelin's 'Main Cities of Europe' yearly edition for 2013 features the same list of restaurants in Krakow as the yesteryear's one except one eatery has been dropped. And again not a single Krakow place has been honored with a Michelin star. This year a triple pair of cutlery are printed next to three Krakow restaurants, namely Copernicus, Trzy Rybki, and Wentzl. Two spoons and two forks distinguish the following nine establishments: Ancora, Jarema, Pod Baranem, Resto Illuminati, Studio Qulinarne, Szara, Szara Kazimierz, and Unicus. The remaining seven Krakow restaurants mentioned in this year's Michelin guide are Del Papa, Farina, Kawaleria, La Campana, Miod Malina, Trufla, and Wesele.
Yors Tastycles
---
Krakow Easter market.
/2013-03-06/ This year the Easter market in Krakow takes place on Rynek Glowny central square from March 22nd to March 31st. Its beginning coincides with the Malopolska Easter Taste, a food festival on the same square on Friday, March 22nd and throughout the ensuing weekend.
Barbara
---
Jewish festival this year.
/2013-03-02/ The 2013 Jewish Culture Festival in Krakow is planned for ten days, from Friday, June 28th through Sunday, July 7th.
Kasia
---
Nudity pays.
/2013-02-21/ Two visitors to Krakow - one Englishman, the other an American, both in their twenties - have been fined 500 zloties, an equivalent of about 120 euro, for running on the central square of Krakow last night. They raced stark naked despite subzero temperature which got the attention of a police patrol. Stags, you have been warned.
Mark
---
Hit a tank!
/2013-02-15/ From now on visitors can shoot Soviet and Nazi tanks with a period armor-piercing rifle at the Home Army Museum, 12 Wita Stwosza street. Tanks are virtual avatars of T-28 and Panzerkampfwagen II respectively, the firearm a lifelike copy of Ur-35 gun, and the experience as realistic as possible.
Muse Goer
---
Train of change.
/2013-02-09/ Energetic modernization of Poland's railway system plays havoc with Krakow train connections. Expect some trains cancelled for some time, other to be detoured and delayed, timetables frequently changed.
Mark
---
Sweet and fat.
/2013-02-05/ Tomorrow is Fat Thursday, Tlusty Czwartek in Polish, Poland's traditional day of sugary overeating that marks the start of Ostatki or the last week of carnival. Don't forget to buy paczki, the local incarnation of donuts, a must-eat in Krakow on that date.
Barbara
---
Cost cutting.
/2013-02-02/ Over years of visiting the city regularly on business I used to stay in many of hotels in Krakow. Now I'm basically in the same job but I've changed my status to the self-employed. So presently I'm more cost-conscious and I've decided to switch to cheaper lodgings. I've found hostels in Krakow often match tourist hotels in standards while their informality may be refreshing.
Axel N.
---
A late visit.
/2013-01-29/ Today I was turned down at a popular museum in central Krakow called Rynek Underground (situated under the Cloth Hall). They are officially open till 4 p.m. on Tuesdays and I appeared ten to three. A very resolute lady ordered me out explaining the entry is possible to 14.45 p.m. at the latest. I said it's a difference of just five minutes and assured her I needed only half an houre to see the place but she adamantly refused to let me in.
Banister
---
Free Museums.
/2013-01-27/ We visited four branches of the Krakow National Museum for free over the last two days. It's a pity that from tomorrow on they'll charge for admittance. Publicly funded museums in the UK are accessible free of charge. Krakow, too, should adopt that model.
Bo
---
Less frequent flyer.
/2013-01-24/ Some connections to and from Krakow Airport featured in this winter's original timetable have been cancelled to date. Krakow Info service publishes the updated schedule of flights from Krakow.
Mark
---
Taxed.
/2013-01-20/ My hotel in Krakow has billed me for a tourist tax besides the usual items. Not much but I thought the room rate includes everything except the contents of minibar and videos on demand.
Molto
---
Easter music festival.
/2013-01-14/ The 2012 Easter festival of music in Krakow called Misteria Paschalia lasts throughout this year's Holy Week, i.e. from Monday, March 25th through Easter Sunday, March 31st. Concerts take place every evening and they feature European accomplished soloist singers and ensembles from France, Italy, Spain, and Switzerland performing Baroque music.
Kasia
---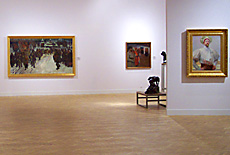 Krakow online museum visits.
/2013-01-12/ Now it's possible to take quick video tours of Krakow museums online at will. See yourself at www.krakow-info.com/video-museums.htm
Muse Goer
---
Tropical jungle in winter.
/2013-01-05/ Tropical rainforest has been recreated in the Museum of Natural History (Muzeum Przyrodnicze) at 9 Sw. Sebastiana street. Actually just the flora as the museum's new temporary show consists mostly of plants, representing some sixty species, brought from the Krakow Botanic Garden. Exotic fauna is restricted to fishes swimming in a pond though taped birds and monkeys are heard. The exhibition will last till springtime.
Muse Goer
---
Eatable.
/2013-01-03/ I was afraid restaurants in Krakow would be closed on the New Year Day. Actually I've found them all open. At least those on my itinerary (eatinerary?).
John Giovanni
---
Read this year's Krakow blog