The 2006 blog of Krakow, Poland visitors and residents.
See recent postings in the Krakow current blog.
Click here to write your contribution to our Krakow-watching common blog.
Authors of the entries to the Krakow In-Forum take full responsibility for their content. The following does not necessarily represent opinions of the Krakow Info editors.
Unheard Local Tunes
Last November I visited Krakow with my wife. After sightseeing we wanted to hear some local folk music. No way. There were thirty-plus concerts on that weekend–classical, rock, jazz, Jewish, flamenco, reggae, blues, pop, whatever. Except a Krakow folk dance and song. As if there was no traditional music in that part of Easter Europe, which obviously isn't true. Hey, people, we tourists want to hear it, at least some of us.
Carl
---
The Nativity Shows
I have seen the show of the Nativity scenes in the Historical Museum at the main square. In fact, there are two displays, one exhibits the Krakow 'szopkas', the other – their Italian counterparts. The latter, though beautiful, can surprise nobody. The former, I think, do not resemble any Nativity scenes found elsewhere in the world. Actually, the Nativity hardly manifests itself in those wild architectural fantasies. Unfortunately, possibly the best part eludes foreigners. My Krakow friends looked ecstatic discovering various features of the city's historic buildings familiar to them.
Jose
---
Thanks for the welcome
Christmas Day falls on December 25. It is preceded by Christmas Eve on December 24, and in some countries is followed by Boxing Day on December 26. Some Eastern Orthodox Churches celebrate Christmas on January 7, which corresponds to December 25 on the Julian calendar. December 25 as a birthdate for Jesus is merely traditional, and is not thought to be his actual date of birth. Sincerely.
Felician
---
Christmas Spirits of Krakow
This year I spent my first Polish Christmas, with a family in Krakow. Quite an experience as they said everyone should eat all twelve dishes served for Christmas Eve's dinner, which I duly obeyed. Little consolation, compote and sweets counted among the twelve. The downside was I'm not fond of sauerkraut with peas, nor beetroot sour soup, nor breaded fish (the jellied one–carp?–was fairly tasty). Personally, two things won me over on that evening. The custom of oplatek, sharing a wafer with each other among universal good wishes, is a winner. Another are the Polish carols – beautifully tuneful, notably when the whole family sings, and there are so many of them.
Joe
---
Information Gap
Krakow is such a lively scene, concerts of music take place every single day. If only I knew what is going on in the time of my visit in mid-April! How can I plan my stay in the city without any information about concerts, shows, etc? Krakow Info at http://www.krakow-info.com/events.htm is the most comprehensive and best-written listing of Krakow's events yet it doesn't look beyond next month. Other sites are even more shortsighted as they stick to the current month. True, both opera and the philharmonic society post their schedules well into 2007, respectively at www.opera.krakow.pl and www.filharmonia.krakow.pl but that's all. Krakow has a festival bureau but don't waste your time on visiting its website – they don't publish details of upcoming events.
Sven
---
Surprise! Surprise!
My first surprise in Krakow – weather. I arrived on the 6th of December and it was warm even for an Italian, fifteen degrees centigrade. It had been colder in Milan the day before. I asked the hotel staff if it was normal for Krakow this time of the year and they said no, in December the norm is frost and snow. My second surprise – shit. The first afternoon in the city I noticed excrements on of the central square. Two fairly large lumps of feces lay on the sidewalk swarming with shoppers and tourists and nobody cared. And next day on a sightseeing tour in the Kazimierz district I found it really distracting to watch my every step for foul matter. Apparently the locals don't mind cleaning up after their pets. But otherwise Krakow is delightful.
Marcello
---
Krakow Is Magic
What do I fell about Krakow? Magic feeling, it's the city where I dream to live. The city I would be proud to belong. I guess today is one of the days I miss Krakow very much. Congratulations for this space.
Ana Ferreira
---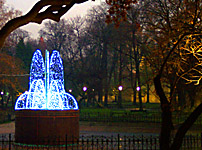 A Fountain of (De)lights
What a nice idea those fountains of light in Krakow. I spotted one at dusk on my last day in the city, which was November 27. I had just finished a sightseeing tour – the Royal Road backwards, i.e. from the castle to the barbican after visiting the former and the cathedral that afternoon. And there was some glow in the park to the left. It was rather a warm evening, so we walked closer. And, wow, it was blinking strands of light, fiber optics or something, that imitated a fountain. Nothing really stunning but pretty pleasant to watch for a while. But what made the moment truly special was some classical music filling the air. My goodness, no seasonal noel crap tunes, what relief!
Jacqueline
---
The Desert in the Heart of Krakow
Why a good deal of the central square remains closed for so long? It's a pity that the beautiful part of the plaza around the monument is off limits to the general public. I keep coming to Krakow almost every month for business and I remember the square's fragment now being fenced off as the most lively in the past, with the young flocking to the monument like doves. I understand that the area was closed for renovation something like a year ago. But for months the restoration job has appeared finished and nothing happens on the site. Or perhaps I've missed something? Possibly the place is teeming with construction workers when I'm off and they disappear as soon as I'm back in Krakow? Anyway, it's saddening to see the focal area of the city's delightful Old Town deserted and abandoned.
Jacques
---
Krakow Is Full of Mysteries
We were in Krakow last week and it is an absolutely wonderful city. There's a sculpture of a head near the clock tower in the city square. It is on its side and has two bands around the face, one across the bridge of the nose and one right under the nose. What it represents? When we were at the Krakow castle there was a room that had a ceiling that had a number of heads from the townfolk sculpted into it. One of them had a band of cloth over its mouth. What the significance of that is?
David
---
Missing Global Refund in Krakow
I'm in Krakow now and I think that there is a scam going on here. I found only one downtown shop that honestly will help with the proper VAT refund forms. Most say 'I don't know or understand', 'Global Refund is bankrupt', 'We did up to 2 months ago', or 'We don't do that here'. When I was here 2 years ago, I spent some 5,000 zl and received a VAT refund for most of this. I did have to get a real certification that was tied to a specific business. I did not have any issues back in May 2004. Now, perhaps it's the peak tourist season?
Jeff
---
Those Annoying Cheques
We are just back from Krakow. Before we left i sent an email asking if it was easy to change American Express travellers cheques. And they said it was in a bank, well it is not! We spent a few hours trying to do this. Our hotel seemed to think we could change them in any bank too. We finally discovered that Kantors only dealt in currency and only one bank in the main square would do this. I think it was the BCF bank. Please put this information on your website as it was extremely annoying.
Maureen
---
Those Yob Countrymen of Mine
I am from England and I work permanently in Krakow. I wish the Krakow authorities would empower the police to crack down hard on the British yob countrymen of mine I am so ashamed of, that invade this wonderful city with their disgraceful drunken behaviour. The authorities in Prague had a similar problem maybe advice can be sought from them.
John
---
Wanted: Good Photos from Krakow
Had a thoroughly enjoyable visit to your wonderful city last week. The sights and people were fantastic. To round off our visit to Auschwitz and the Jewish areas we decided to find Oskar Schindler's factory. Of course, we photographed the wrong part of the building and wondered where we could find or obtain GOOD, worthwhile, photos. I have spent ages trawling the internet with little success.
Chris
---