Blog of Krakow-watchers and visitors, year 2015.
Click here to write your contribution to our Krakow-watching common blog.
Authors of the entries to the Krakow Forum take full responsibility for their content. The following does not necessarily represent opinions of the Krakow Info editors.
Bad air = free ride.
/2015-12-28/ Krakow city council decided that motorists, native and foreign, as well as their passengers will be entitled to journey free of charge on the city's public transport (i.e. local buses and trams) when the air pollution reaches a certain level. The municipality will be announcing days of free transport for motorists online as well as at bus and tram stops. No tickets required, a valid car registration document.
Kasia
---
New Year in Krakow on the cheap.
/2015-12-18/ New Year's open-air concert on Krakow's Rynek Glowny central square is planned from 7 pm to 1 am, December 31 (of course). Poland's pop acts Agnieszka Chylinska, Patrycja Markowska, Future Folk, Kozak System, Mrozu, Magda Steczkowska, Natalia Kukulska, Ania Wyszkoni, Afromental, and Maciej Malenczuk will perform among others. No bottles and other risky objects are allowed.
Thoma
---
Franciscan Christmas goodies.
/2015-12-03/ The Franciscan live Nativity scene with breathing animals plus caroling take place in front of St. Francis Basilica, 4 Franciszkanska street, at 10 pm on December 24th and from 2 pm to 9 pm on December 25th and December 26th. Friday and Saturday also Nativity plays.
Barbara
---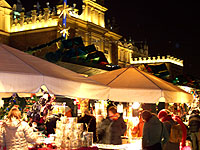 Christmas markets in Krakow.
/2015-12-01/ The prime Christmas market of Krakow goes on on the Rynek Glowny central square, officially till December 27th though actually maybe a couple of days longer. Its somewhat smaller yet smarter rival called Advent Market takes place on the Plac Jana Jezioranskiego-Nowaka square in front of Galeria Krakowska shopping mall next to Krakow Glowny central train station till December 26th.
Mark
---
Good riddance tourist tax.
/2015-11-26/ The tourist tax paid on every overnight stay in the city is to be abolished in Krakow on January 1st, 2016. Thus, from the next year on, hotels and other accommodation providers will no longer charge it.
Kasia
---
Museums free of charge this one day.
/2015-11-20/ This Sunday, December 22nd is the Open Door Day of Krakow Museums which means free entry to the city's museums, including all branches of the National Museum, plus varied special attractions.
Barbara
---
Warning: atmospheric particulars.
/2015-11-04/ Unusually long period of balmy, windless weather has caused accumulation of particulate matter over Krakow since November 1st. Environmentalists blame coal heating and cars. The officials have infuriated the public when they suggested that millions of memorial candles, burned on November 1st (All Saints Day) and November 2nd (All Souls Day) exacerbated the problem. As a temporary measure vehicles over 3.5 tons are banned from central Krakow and other steps are under consideration.
Mark
---
Smashing success.
/2015-11-02/ Krakow tennis player Agnieszka Radwanska won the 2015 WTA Finals and has again become the local hero.
Thoma
---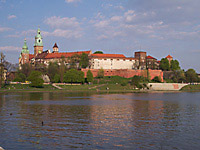 Wawel Royal Castle for free.
/2015-10-29/ Throughout November visitors may see the Krakow Royal Castle permanent exhibitions free of charge. Complimentary tickets are available at the Castle's ticket offices.
Mark
---
Book fair Krakow.
/2015-10-20/ Krakow Book Fair 2015 starts this Thursday, October 22nd and ends Sunday, October 25th. Its main venue is EXPO Krakow at 9 Galicyjska street in the Nowa Huta district.
Kasia
---
Jose Carreras vs. Glenn Miller.
/2015-10-17/ Sunday December 20th, 2015 looks like a great day for music lovers to visit Krakow. Spain's legendary tenor Jose Carreras will sing operatic music and carols in Tauron Arena Krakow at 7 pm (admission from 95 zlotys to 449 zlotys). Whereas the USA's Glenn Miller Orchestra will play swing jazz in the ICE Krakow Congress Center at 6 pm.
Barbara
---
Handball Euro 2016 in Krakow.
/2015-10-08/ Throughout the second half of January Krakow is to host the EURO 2016 European Handball Championship. It starts on January 15th, 2016 with France playing Macedonia in the Krakow Arena at 6 pm, followed Poland vs. Serbia at 8:30 pm. The final is scheduled for January 31st in the same venue.
Thoma
---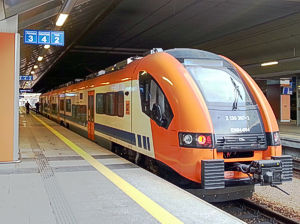 Fares on the train to the Krakow airport.
/2015-10-05/ Krakow airport train fares. A one-way ticket from the airport to central Krakow or back costs 8 zlotys (PLN), 14 PLN return. Luggage is free of charge. The fare for a dog or a bicycle is three zlotys. Ticket machines are installed in the airport terminal, at every station, and aboard the trains. They accept cash as well as the most popular cards.
Mark
---
All Souls jazz.
/2015-09-29/ The 60th All Souls Krakow jazz festival starts on October 29th, 2015 with the USA's saxophonist Branford Marsalis playing in Kosciol sw. Katarzyny church at 7 Augustianska street and Skaleczna street. The festival ends on Monday, November 9th.
Kasia
---
New airport terminal plus train to the city center.
/2015-09-28/ The new terminal of the Krakow Airport in Balice suburb has opened today September 28th, 2015. The 55,000-square-meter facility will eventually feature 18 gates and 46 check-in desks. A brand-new railway station is located behind the building of the multilevel car park with a covered footbridge connecting it with the main terminal of the airport.
Mark
---
When the dogs march on.
/2015-09-09/ This year Krakow's famed parade of dachshunds (aka "sausage dogs") takes place on Sunday, September 13th. At noon it starts by Barbakan (a barbican) behind Brama Florianska gate at the end of Florianska street and dogs plus their masters will march to Rynek Glowny central square. Yet the whole event next to the Barbakan begins at 10 am.
Thoma
---
New season of the Krakow Philharmonics.
/2015-09-02/ Krakow Philharmonic program for the new season 2015/2016 has been published. Sounds interesting.
Muse
---
Trains to the Krakow airport back soon.
/2015-08-28/ The train service to the Krakow Airport and back is said to restart on September 15th at last. Every 30 minutes trains are to run from the airport to the Krakow central station and next further on to Wieliczka. And the same the other way.
Barbara
---
Eat the local best.
/2015-08-27/ Malopolska Taste Festival of food will take place on Plac Wolnica square in the Kazimierz historic area this coming weekend, August 29th and August 30th. From 10 am to 6 pm you may try foods voted the best ones of the Malopolska province, including Krakow. Also live performances of local bands.
Yors Tastycles
---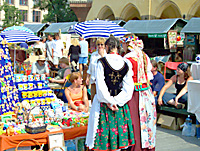 Folk Art Fair this August.
/2015-08-12/ The 2015 Krakow Folk Art Fair takes place on Rynek Glowny central square August 13th through August 31st. Stalls sell traditional village crafts and arts – pottery, wickerwork, embroidery, woodcarving, metalwork, etc. – mostly of Poland's Malopolska region surrounding Krakow. Some craftsmen are to demonstrate their skills. Plus gigs by some 160 bands and other acts performing traditional village tunes, songs, dances, and the like. Special events: Krakow Day August 16th, Ukraine Day August 19th, Slovakia Day August 21st, Hungary Day August 25th.
Kasia
---
Heat hits Krakow, Poland.
/2015-08-10/ A prolonged heatwave and drought afflict Poland, causing power cuts and water shortages. The latter doesn't trouble Krakow, sufficiently awash with tap water, at least for now. Yet outages affect factories and some services. For instance some Krakow shopping malls have temporarily turned off air-conditioning, stopped escalators, etc. A few shops stay closed due to power limitations for businesses.
Mark
---
The new airport terminal arrives.
/2015-08-01/ A brand-new terminal of the Krakow airport opens this September, with 15 departures gates initially and three more to be added later. The arrivals hall will be equipped with four carousels, the largest of them able to handle 1,200 pieces of luggage per hour.
Kasia
---
Krakow football galaxy for sale.
/2015-07-28/ The current owner of the Wisla Krakow football team is forced to sell the club before the end of 2015. Unfortunately no viable suitor has materialized to date. Wisla has been always one of Poland's top soccer clubs but now it's reputedly burdened with debts.
Thoma
---
Courtly dance festival.
/2015-07-15/ Cracovia Danza court dance festival takes place July 26th to August 2nd, 2015. The venue of the inaugural show is ICE Krakow (congress center). Other shows and workshops are planned at Villa Decius while two final shows will grace the Rynek Glowny central square on August 1st and August 2nd.
Barbara
---
Best of Krakow 2015 ebook is up for grabs now.
/2015-07-08/ The Best of Krakow ebook guide, the updated edition for 2015, is available at Amazon online store. Published as recently as July 6th, 2015.
Muse
---
Summer jazz festival, Krakow.
/2015-07-05/ The 20th Krakow Summer Jazz Festival lasts through the entire July of 2005. It's summit comes at the Krakow Jazz Night, July 18th with an open-air concert on Maly Rynek square at 6 pm followed by scores of concerts at 10 pm.
Mark
---
Tour the royal gardens.
/2015-07-02/ Krakow's Wawel Royal Castle has recreated the Renaissance gardens of the residence of Polish monarchs. Visitors may tour them plus Baszta Sandomierska tower at the cost of 18 zlotys (PLN). It's a guided tour lasting 1h30 or so, available in English till the end of September, every day from 11 am to 3 pm.
Muse
---
Krakow festival of Polish classical music.
/2015-06-26/ Festival of Polish Music takes place in Krakow July 8th to July 18th. Ten concerts feature esteemed soloists, ensembles, and orchestras performing classical music by Polish composers, from the Renaissance till contemporary.
Barbara
---
Mid-September musical magnet.
/2015-06-20/ Sacrum Profanum Festival 2015 program is published. Every night from Sunday, September 13th through Saturday, September 19th concerts will take place at the ICE Krakow Congress Center, 17 Konopnickiej street and Monte Casino street, at 8 pm plus one afternoon concert on the last day at 4 pm. The lineup includes These New Puritans, stargaze, Synergy Vocals, Bryce Dessner, yMusic, Olafur Arnalds and Alice Sara Ott, Matmos, So Percussion, Johann Johannsson, ACME ensemble, Theatre of Voices, Saskia Lankhoorn and Ashley Bathgate. The underlying idea is to blend artsy pop and rock with modern classical music.
Kasia
---
Midsummer weekend fair.
/2015-06-16/ Medieval-themed midsummer Saint John Fair takes place on the Wisla embankment next to the Wawel Royal Castle on Friday, June 19th from 1 pm till sunset and on Saturday, June 20th and Sunday, June 21st from 10 am..
Mark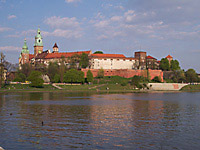 ---
The August Music in Old Cracow.
/2015-06-15/ Festival Music in Old Cracow starts on Saturday, August 15th 2015 to last throughout the second half of the month and it'll end on Monday, August 31st. It's the 40th edition of the festival. Concerts of classical music, scheduled every night and sometimes two per day, take place in historic buildings of Krakow such as churches, monasteries, and synagogues. The festival features European ensembles and soloists of international renown as well as young musicians.
Barbara
---
Theater Night in Krakow.
/2015-06-01/ Theater Night in Krakow takes place on Saturday, June 13th. Krakow thespian companies invite to their playhouses for late shows and other events. Special theatrical attractions also on the Blonia common, Rynek Glowny central square, and at culture centers.
Muse
---
Polish president from Krakow.
/2015-05-25/ Native of Krakow, 43-year-old Andrzej Duda, has been elected the President of Poland in popular vote May 24th, 2015. The right-wing candidate of PiS party has unexpectedly defeated the incumbent president Bronislaw Komorowski supported by the governing PO centrist party. A lawyer by education, Mr. Duda was a faculty member of the Krakow University before joining politics in 2006.
Barbara
---
Crafts to buy and look at.
/2015-05-15/ The arts and crafts fair takes place on the central square through Sunday, May 24th. Fifty stalls sell mainly handicrafts and products of the artisans of the Krakow region. Also some foodstuffs available, including Hungarian sausages and cheeses. Amateur bands perform village tunes from time to time.
Kasia
---
Museum Light Night.
/2015-05-09/ The Museum Night takes place this Friday, May 15th. Krakow museums will keep long hours, admit free of charge, and offer special attractions. This year's theme is "The Night of Light". Visitors may purchase a token for one zloty that will allow to travel on the municipal public transport for free.
Muse
---
Off film festival.
/2015-05-04/ This year's PKO Off Camera Festival, once Off Camera International Independent Cinema Festival of indie films takes place in Krakow May 1st to last through Sunday, May 10th. There are two parallel competitions: the first or second movie of directors from over the world and the Polish feature film. They are accompanied by varied themed screenings. This year's best known guest of honor is Claudia Cardinale, the famous Italian sex bomb star of the 1960s.
Barbara
---
2015 summer opera festival in Krakow.
/2015-04-27/ The 19th edition of the Krakow Opera Summer Festival starts on June 14th and its last event is planned for Sunday, July 5th. Productions of the Krakow Opera Company fill the festival program except on Sunday, June 28th Poland's tenor of international renown, Piotr Beczala, will sing opera arias at the concert on the courtyard of the Wawel Royal Castle.
Muse
---
2015 Krakow e-guidebook.
/2015-04-11/ The Marvels of Krakow 2015 guidebook ebook in English is available now on all Amazon Kindle stores. Up to date, expanded, and competitively priced.
Mark
---
St. Mary tower reopening.
/2015-04-07/ The taller tower of St. Mary's church at the Old Town's central square, the one with a golden crown on its roof and a trumpeter playing from the windows of the highest floor, reopens after renovation on April 9th. Visitors will have to climb up 271 steps - and afterwards return the same way - to reach the trumpeter's room 54 meters over the Rynek Glowny central square. Accessible on Thursdays, Fridays, and Saturdays except winter, from 9 am to 6 pm. It's free on the first day but later the regular ticket will cost 15 zlotys.
Kasia
---
Tourist sites this Easter.
/2015-04-02/ Except churches the rest of Krakow tourist attractions stay closed on Easter Sunday, April 5th. Next day, on Easter Monday, April 6th the Wawel Hill looks like the best destination apart from the Emaus traditional market (on Kosciuszki street, next to the St. Norbert convent). At Wawel you may visit the Krakow Cathedral as well as two exhibitions of the Royal Castle, namely The Crown Treasury and Armory and The Lost Wawel, both accessible 10 am to 5 pm and it's free of charge. Also all branches of the Krakow National Museum are open on Monday, from 10 am to 1 pm. As regards the Historical Museum of the City of Krakow, some of its branches will open, notably Schindler's Factory 10 am to 2 pm, Rynek Underground 10 am to 6 pm, and The Old Synagogue 10 am to 2 pm. Both the Archeology Museum and the Aviation Museum they closed throughout this Easter.
Barbara
---
2015 Easter market goes on.
/2015-03-30/ Krakow Easter market is open on the Rynek Glowny central square through Saturday, April 4. Visitors may buy Easter decorations, food, and handicrafts. Also performances of village artists.
Kasia
---
Delayed still more.
/2015-03-16/ The Czartoryski Museum will stay closed this year. The reopening is now planned for an unspecified date in 2016. That is, fingers crossed. The museum's masterpiece "Lady with an Ermine" by Leonardo da Vinci most probably will remain on show at the Wawel Royal Castle.
Mark
---
Cinematic music late in May.
/2015-03-03/ 2015 Film Music Festival in Krakow is scheduled for May 27th to May 31st. One concert each night - melodies of computer games in Kijow playhouse, Polish scores in ICE Krakow Congress Center, Shakespeare cinematic music for a symphonic orchestra and a choir in the same venue, TV serial themes in the Tauron Arena Krakow, and Star Trek (2009) in the Krakow arena again. Tickets cost from 30 zlotys to 120 zlotys.
Kasia
---
Lajkonik pageant.
/2015-02-23/ In 2015 the Krakow Lajkonik parade, the city's hallmark pageant, takes place on Thursday, June 11th.
Barbara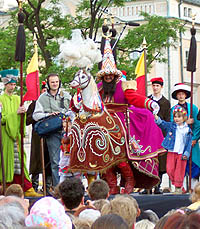 ---
Pope Francis to say Mass in Wieliczka.
/2015-02-14/ Most probably the key event of the 2016 World Youth Day in Krakow, an open-air Holy Mass to be celebrated by Pope Francis, will take place in nearby Wieliczka on Sunday, July 31st, 2016. The vast Brzegi wetland can easily accommodate five million people shoulder to shoulder.
Mark
---
Easter heavenly music.
/2015-02-02/ Misteria Paschalia 2015, yearly Easter festival of music in Krakow, takes place over the Holy Week, from Monday March 30th through Easter Sunday April 5th. Concerts of Baroque music are planned for every night featuring accomplished European ensembles and singers.
Barbara
---
Krakow Arena goes Tauron.
/2015-01-30/ The Krakow Arena has been rechristened due to a sponsorship deal recently executed with TAURON Polska Energia, an electricity distribution company. Now please call it Tauron Arena Krakow, effective from February 1st, 2015. It is to stay so named at least till February 2018.
Mark
---
Fed Cup tie Poland vs. Russia, soon in Krakow.
/2015-01-27/ Lineups of Fed Cup first round tie of women tennis teams Poland vs. Russia in the Krakow Arena on February 7th and February 8th, 2015 are as follows. Sisters Agnieszka Radwanska and Urszula Radwanska will play singles for Poland against Russia's Maria Sharapova and Anastasia Pavlyuchenkova. Doubles, respectively, Klaudia Jans-Ignacik/Alicja Rosolska vs. Svetlana Kuznetsova/Vitalia Diatchenko. Tickets still available but expect to be sold out pretty soon.
Thoma
---
Krakow guy wins 2015 Dakar Rally.
/2015-01-17/ Quad bike driver Rafal Sonik, a native of Krakow, has won this year's Dakar Rally in his category, Poland's first ever.
Thoma
---
Downloadable goodies for free.
/2015-01-15/ Need a free printable Krakow maps for your personal use? Krakow Info service has started to provide them.
Kasia
---
The Auschwitz summit.
/2015-01-12/ Europe's kings, presidents and political leaders plan to arrive to Oswiecim near Krakow on January 27th, 2015 to commemorate the 70th anniversary of the liberation of the Auschwitz death camp. At the same time Russia's president Vladimir Putin has tellingly declined the invitation.
Barbara
---
Krakow's player beats US tennis superstar.
/2015-01-10/ The icon of tennis in Krakow, Agnieszka Radwanska, has won the 2015 Hopman Cup, often dubbed "the unofficial world championship of tennis mixed doubles". In the final match the Polish team of Aga Radwanska and Jerzy Janowicz defeated Americans Serena Williams and John Isner 2-1, with Radwanska prevailing over WTA no. 1 and Radwanska/Janowicz crushing Williams/Isner in the decisive doubles confrontation in Australia's Perth.
Mark
---
Skating dome.
/2015-01-03/ Krakow Arena has been turned into a huge indoor ice rink till January 25th, open 10 am to 8:30 pm. Tickets cost ten zlotys (PLN) regular and five zlotys reduced for kids, parking is free. Entrance is at Dabska street i.e. on the south side.
Thoma
---
This Tuesday is holiday too.
/2015-01-02/ Christian feast day of Epiphany, January 6th, is a public holiday in Poland. Expect all shops closed as well as museums and tourist attractions except churches.
Kasia
---