Entries to Krakow blog of 2011.
Museums & the Festive Season
/2011-12-20/ All Krakow museums close for December 25th and January 1st with the notable exception of the Aquarium and Nature Museum at 9 Sw. Sebastiana street. But some of the city's top museums, namely all branches of the National Museum in Krakow and the History Museum keep shortened hours on December 24th. And three popular places – Wawel Royal Castle, Schindler's Factory, and Rynek Underground – stay opened on December 26th.
Kasia
---
Europe's Knockout Football in Krakow
/2011-12-17/ Krakow's Wisla football team has advanced to the Europa League's last 32. Its first match of the knockout stage will take place in Krakow on February 16th, 2012 when Wisla will host Belgium's Standard Liege on its soccer stadium at Reymonta street. A rematch is scheduled for February 23rd. If successful Wisla Krakow is to play either Hannover or Brugge in the last sixteen.
Mark
---
JP II's Blood in the Salt Mine
/2011-12-07/ A phial with the blood of Pope John Paul II has been permanently placed in the altar at the Wieliczka Salt Mine's underground chapel of St. Kinga. That stunning church carved in salt rock possesses also relics of its patron saint.
Kasia
---
New Year on the Cheap
/2011-11-26/ Famed New Year's open-air free party on Krakow's Rynek Glowny central square will have to make do with canned music instead of live pop this year. City hall have jumped the cutbacks bandwagon rolling through Europe and trimmed the event from a two-million-zloty extravaganza down to a 150,000-zloties fill-in. At 11:45 p.m. on December 31, 2011 the central plaza will be reverberating with dance sets for a quarter of an hour, followed by a ten-minute firework display at midnight. Otherwise merrymakers are left to their own devices.
Mark
---
I have to write a complaint.. unfortunately..
/2011-11-22/ On 18th of November 2011 I have been to Museum in Oskar Schindler's Factory at ul. Lipowa 4. I would like to say that the exposition is one of the best expositions that I have ever visited. I definitely have to recommend visiting, BUT..
We have started the exposition at around 13:00, we have checked the time of closing, on the wall of entrance was written 18:00 (later we got to know from one worker that it was till 16:00). So we were going through the incredible rooms and corridors and suddenly it was 15:50 when one woman from the staff started to be really rude with us and saying that they are closing (I am not exaggerating using the expression "rude"). She was pushing us out in a really really rude way! So the last rooms we could not see. In the end of exposition there were two other couples - Japanese and Australian. All of them were shocked with such a behaviour! The woman (she could be 38, rather short brown hair) was so much impolite and rude kicking us out that I have decided - for the first time in my life - to write about it. I am doing that for the sake of the future visitors - please, that woman should NOT be in contact with the tourists / visitors. She is destroying the work of others - I am sure the designers, architects of the exposition would not be happy to know that the impression which they tend to make (and they really did) is gonna be destroyed by a rude and impolite worker! PLEASE, DO SOMETHING ABOUT THAT!!!! IT IS NECESSARY! THANK YOU!
Eva Petlakova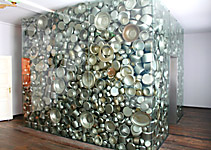 ---
Xmas Fair
/2011-11-20/ Christmas market starts on Krakow's Rynek Glowny central square on Friday, November 25 to last through the Christmastide. Expect as usual rows of stalls selling Christmas decorations, a diverse range of gifts, varied handicrafts, sweets and foodstuffs, and other Christmassy goodies. The organizers promise also other attractions such as live performances of folk artists and children's bands, craftsmen demonstrating their skills, etc.
Janine
---
Euro 2012 Update
/2011-11-12/ The England squad has announced details of its stay in Krakow during the Euro 2012, Europe's football championships next summer. Since the city's best training facilities have been taken up by rival teams headquartered in Krakow, Fabio Capello's side will use a second-rate stadium of the Hutnik club. The England squad will live in a fancy five-star Stary Hotel at the very heart of the bustling Old Town historical center saturated with nightspots of all sorts. That is to say players, because their wives and girlfriends will be lodged in other hotels in Krakow.
Mark
---
"Not Good Enough"??? Revisited & Revised
/2011-11-10/ "Not Good Enough" must have been walking around blindfolded. I have never had better, more reasonably priced food that when I stayed in Krakow. Ask the locals. Fancy looking up a guide, just ask. Most Poles speak several languages and are delightfully helpful when you show an interest in their country. Krakow and district is one of the most beautiful, hospitable places in Europe. Almost as good as Australia. :)
Elizabeth from Sydney
---
All Saints Feast
/2011-11-02/ Was to a Krakow cemetery yesterday, All Saints. Wow! Those crowds, chants, prayers, fresh flowers, and millions of flickering candles. Spectacular!
Annabel
---
Euro 2012: Krakow Connection
/2011-10-19/ The Dutch has been the first soccer team to announce Krakow as their base for Euro 2012, Europe's football championships co-hosted by Poland and Ukraine. The Dutchmen will live in Radisson Blu hotel and practice on the sports grounds of Wisla club. The English and the French squads are to follow suit and also set up their headquarters in Krakow. Yet otherwise the city will stay soccer-free as matches are scheduled to take place elsewhere.
Mark
---
Eye Turner
/2011-10-14/ A show of paintings by J.M.W. Turner, the 19th-century famous English landscapist, has opened in the main hall of the National Museum in Krakow at 1, 3 Maja street. The exhibition 'Turner And the Elements' consists of 84 watercolors and oils and will last till January 8, 2012, by courtesy of the British and American collections which have leased the works.
Kasia
---
Bike to Rail
/2011-09-22/ Cyclists may now leave their bikes at Krakow Glowny rail station (i.e. the central one) when they board a train. A bicycle rack installed on one of platforms holds twenty two-wheelers.
Mark
---
Twin Shrines
/2011-09-16/ John Paul II Sanctuary in Krakow is meant to become the world's chief shrine to the late Pope who has been recently beatified as the prelude to his canonization. Strategically situated within easy walking distance of the famous Sanctuary of Divine Mercy, the sprawling complex is still under construction but it already attracts pilgrims. The focal point for the visitors is an octagonal chapel, windowless and brightly lit, built around central altar containing a phial with the precious relic of the blood of Blessed John Paul II displayed in a glass case.
Kasia
---
The Highlanders Are Coming
/2011-09-08/ About 150 sheep with due contingent of shepherds descend on downtown Krakow on September 10th. The herd will stay on the Blonia common till the end of October, weather permitting, to promote the traditions of animal husbandry of the Podhale highlands south of Krakow. On weekends shows of milking and cheese making will take place from 1 p.m. to 7 p.m. Other attractions include performances of village bands, presentations of handicrafts, food tastings, etc. In October representatives of other Carpathian shepherds from Slovakia, Romania, Ukraine, and Czech Republic are to join their Polish comrades.
Mark
---
A Break within a Break
/2011-08-21/ Visiting Krakow midweek we managed to squeeze in a getaway in Tatry mountains. Our one-day excursion from Krakow allowed for a long hiking in the national park and we still had a couple of hours for a stroll through Zakopane in the afternoon. Perfect outing.
Sophia in Berlin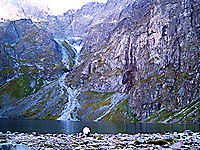 Czarny Staw (Black Pond), one of many mountain lakes in the Tatry National Park.
---
Stars-And-Stripes Music
/2011-08-17/ This year Krakow's Sacrum Profanum festival of contemporary music takes place from September 11th to September 17th. The 9th edition of the festival is devoted primarily to the American contemporary classical music by such composers as Steve Reich, David Lang, Julia Wolfe, and Michael Gordon. There are usually two daily concerts, one at 7 p.m., another at 10 p.m. Billed artists include well known performers – Asko/Schonberg Ensemble, Ensemble Modern, KlangForum Wien, Alarm Will Sound, and Bang on a Can All-Stars among others. The trademark gimmick of the festival is bringing pop acts of international renown to perform contemporary classical music and this September the lineup consists of Adrian Utley of Portishead, Tom Verlaine, Will Gregory, and Envee due to pay their tributes to Steve Reich.
Kasia
---
Sunny Goes Rainy
/2011-08-12/ Nice city, good restaurants, friendly people. Only weather quite fickle. Pretty sunny days abruptly yielded to torrential rain.
Jens
---
Good One Hour
/2011-08-06/ Drivers on Krakow's public transport sell only hourly tickets for 3.6 zloty (PLN) now. The ticket is good for all buses and trams within the city limits during the next sixty minutes after stamping it.
Mark
---
Not Good Enough
/2011-07-28/ Lots of eating choices yet it isn't easy to find good restaurant in Krakow. Was to one place, recommended in Michelin they said. Passable food and sluggish, annoying waiters.
Morty
---
Ideal Hotel Wanted
/2011-07-25/ Looking for a hotel in Krakow. Should be centrally located at a quiet street. Four star or better, with big bathrooms. A gym with a swimming pool a major advantage. Any ideas?
B Traveler
---
Watch Krakow's Jewish Spots on Video
/2011-07-21/ Videos of Jewish sites in Krakow are available online at www.krakow-info.com/video-Jewish.htm
Mark
---
Plane Fun
/2011-07-16/ I was to Aviation Museum in Krakow. Aficionados of flying machines will enjoy.
Macho Mucio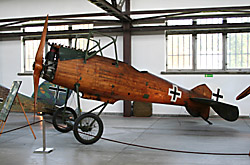 ---
Old Music at Historic Sites
/2011-07-10/ Music in Old Cracow festival takes place as usual from August 15 to August 31 with daily concert of classical music. Noted ensembles, orchestras, and soloists usually perform in Krakow's churches, synagogues, and other historic buildings.
Kasia
---
The Mystorin Theater Group
/2011-06-25/ The Mystorin theatre group from Israel is proud to present the world premier of our new outdoor performance "Baalei Shem" (Masters of the Name) Hebrew letters, Hasidic stories, ancient texts and monumental puppets come to life at Krakow's Main Square in a fantasy of visual theatre, traditional singing and dance. Join us to experience the spiritual Jewish history of Eastern Europe! Between the 7th and 10th of July, Mystorin theatre group from Israel, is proud to present the world premier of the new outdoor performance "Baalei Shem" at the International Street Theatre Festival "Ulica 24" The performance at Krakow"s Main Square, will offer a new poetic narrative in which Hebrew letters, Hasidic stories, traditional singing and Talmud and Midrash texts will be interwoven using innovative techniques of visual theatre, monumental puppets, live singing and more. "Baalei Shem" (Masters of the Name) on 07.07- at 9pm, 09.07 –at 8pm, Main Square, 10.07at 6pm, Square near the Train Station Through a partnership with the Jewish Museum, the performance will be combined with discussions with the audience and creative workshops where texts that inspired the project will be studied in connection to the spiritual Jewish history of Eastern Europe. Workshops Saturday 02.07 and on Sunday 03.07 at 11:00- 14:00 Theatre Workshop ""Exploring contemporary sacred theatre through movement and voice""(Movement theatre with elements of traditional singing and dance) In this workshop we will explore time and space through movement theatre using the body and simple objects as we try to understand how everyday actions become special when they are performed on stage. Together with the participants of the workshop actors of Mystorin group will create the final scene in the performance "Baalie-Shem" .Several participants of the workshop will be able to take part in our performances during the festival. The workshop is open to anyone who likes to participate, actors, students, just people interested in theatre, people can also participate in the workshop as spectators (like an open rehearsal). Duration: 3 hours each day. People can come for one day or both days. Location: SCKM (Staromiejskie Centrum Kultury Mlodziezy ul. Wietora 13/15) Friday, 08.07at 4:00- 5:30pm "Hasidic tradition as a way of Jewish sacred theatre" (Mini seminar that will be open to the general public) Hassidism is one of the most important branches of the powerful and ancient Jewish mystical tradition. Hasidism originated in Galicia and flourished in Poland and Eastern Europe from the 18th century onwards. Hasidism stresses the importance of holiness in everyday life and actions such as singing and dancing. In our theatrical work research of movement and voice, we found it to be an enriching source of inspiration. In this workshop we will discuss selected Hassidic rites and concepts and will try to understand them from a theatrical point of view. Location: - the Galicia Jewish Museum/Zydowskie Museum Galicia. Saturday, 09.07.2011, at 2:00- 4:30 pm "The mysterious dance of the Hebrew letters" (Mini seminar that will be open to the general public) From Creation of the World and Jewish mystical tradition to Hasidic singing and visual art: The Hebrew letters have been a source of inspiration for many generations. We will share with the audience some insights into the creative process behind our performance "Baalei Shem" and ideas from Jewish texts and themes that inspired us. Similar to the many layers that can be found in Jewish texts, every image in the performance can be interpreted in many ways, making the viewer into a collaborator in the interpretation of the performance narrative. Following the mini seminar we will open the ""stage"" to hear the ideas and thoughts of the audience and to initiate a multicultural discussion. The participants can ask the actors and creators questions and share their own ideas. Duration: - mini seminar at 2:00-3:30pm discussion 3:40 – 4:30 pm. Location: - the Galicia Jewish Museum/Zydowskie Museum Galicia.
Mystorin theater
---
Jewish Festival in Krakow
/2011-06-14/ Don't forget about this year's Festival of Jewish Culture in Krakow, June 24 to July 3. As usual it's packed full with concerts, workshops, discussions, and other events. For everybody, Jewish or not.
Aaron
---
July Music Festivals
/2011-06-07/ Two notable musical festivals take place in Krakow in July, namely the ten-day 7th Festival of Polish Music, July 15th to July 25th (moved from October) and the 16th Summer Jazz Festivals, July 4th through July 31st. Both consist of daily concerts and both can boast a lineup of superb performers.
Kasia
---
Parking in Kazimerz Area
/2011-05-27/ Krakow's city council has expanded the central zone of paid parking to Kazimierz district just south of the Old Town historic center, an area famed for its vibrant nightlife as well as former Jewish quarter. The so called Zone C now extends south as far as the left bank of Wisla river. Unfortunately parking meters will not materialize in the Kazimierz district before mid August or later so for the time being motorists need to purchase ticket forms somewhere and fill in intended parking time themselves.
Mark
---
The Latest Art Museum
/2011-05-22/ Museum of Contemporary Art in Krakow (MOCAK) has opened in a brand-new, concrete-and-glass buildings at 4 Lipowa street. Yes, it's the same address as the popular museum of WW2 launched last year in so-called Schindler's Factory. No doubt situation back-to-back with a trendy tourist spot is a major advantage. MOCAK shows its yet modest collection of recent art, mostly by Polish artists. At the same time the museum concentrates on temporary shows. And contemporary in its name means post-modern with a predilection for video and photography.
Kasia
---
Local Michelin Stars
/2011-05-12/ Michelin guide scouts apparently haven't revisited the city last year so they've left untouched the previous list of Krakow restaurants referred to in the latest 'Main Cities of Europe' 2011 yearly edition. No place added, none removed. Sadly, no eatery in Krakow has been awarded any Michelin star ever to date. Currently just five restaurants – namely Copernicus, Cyrano de Bergerac, Pod Roza, Trzy Rybki, and Wentzl – rejoice in three pairs of cutlery printed next to their names. The five which can boast two spoons and two forks each are Ancora, Jarema, Pod Baranem, Szara, and Szara Kazimierz. Other seven restaurants in Krakow mentioned in this year's Michelin guide are C.K. Dezerter, Del Papa, Farina, Kawaleria, La Campana, Miod i Malina, and Wesele.
Yors Tastycles
---
Videos of Krakow
/2011-05-06/ A brand-new web site devoted to Krakow videos shows online short unadulterated movies of the city's various tourist sights and other places of interest.
Kasia
---
Train Station's Conundrum
/2011-04-23/ Overhaul of Krakow's central rail station, now under way, brings chaos to train services as some long-distance trains are being redirected to the city's another station, Krakow Plaszow, with passengers left to their own devices to get to the center. Also, a number of trains leave from Plaszow stead of Krakow Glowny main station. Besides, even if your train still departs from the central station, finding the right platform and reaching it on time is often quite challenging.
Mark
---
Krakow & Zakopane Pics
/2011-04-15/ I visited Krakow and Zakopane in January. I had a lovely time there. I will visit again this summer to enjoy the summer weather there. I am a amateur photographer. Posted some pictures from my trip into my site and in facebook page. Feel free leave comment. Regards
Dhruba
---
Tainted
/2011-04-14/ Nice city Krakow. Except dirty train and bus stations.
Hi Joe
---
Travel from Prague to Krakow
/2011-04-02/ Hello everybody !! i need your help, Krakow visitors. Firstly, I have a plan to go Czech Republic on 6th of April and then I will pass to Krakow from there but how can I go to Krakow? Are Buses better than trains as price I don't know so could you help me immediately?
PATROCKK
---
Krakow Legends for Sale
/2011-03-29/ Colorful, shiny, and fabulous Krakow szopka nativity scenes are glaring symbols of the city. Every December their makers bring them on the central square for a yearly contest which is one of the highlights of the festive season. Best entries go on show in the City of Krakow History Museum at 35 Rynek Glowny central square. Afterwards, some of them are permanently included in the museum's collection. And some are put up for sale at the museum shop, prices ranging from 300 zloties upwards rather steeply.
Kasia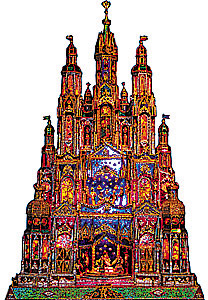 ---
Planning Krakow
/2011-03-26/ Evening, I am at the stage of planning a few days in Krakow but must go from there to Brussells, any suggestion reasonable time and cost. 2 older adults- well travelled-budget hotels/hostel stayers. Any suggestion much appreciated.
Hennessy's Mum
---
Lost
/2011-03-20/ My pocketbook is gone with my money: plastic and Polish bills. The wrong place at the wrong time for me and the right place at the right time for the Krakow pickpocket I guess. Must happened in the shopping mall near the Jewish district.
BJ
---
Blessed John Paul
/2011-03-10/ Krakow eagerly anticipates the beatification of its most famous son, Pope John Paul II, on May 1st. Thousands plan a journey to Rome to celebrate the event on St. Peter's Square. But most will rejoice in Krakow churches, notably in the Sanctuary of Divine Mercy where Poland's main ceremonies are to take place. Huge crowds are expected to arrive from all over the country for the occasion.
Kasia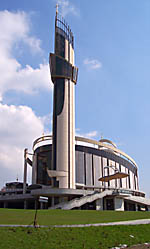 Krakow's Lagiewniki's Basilica of Divine Mercy.
---
Hostel Expertise
/2011-03-07/ Visited the city four times over the past two years. Hostels in Krakow are usually better than other European places. Far better also than the norm in the US.
Frequent Backpacker
---
Ten-day Easter Market in Krakow
/2011-03-02/ This year's Easter market opens on April 15th to last through April 25th. It take's place on the Old Town's central square, Rynek Glowny (sometimes called incorrectly a Market Square).
Kasia
---
Holy Week's Music
/2011-02-18/ Heard this year's Easter Misteria Paschalia festival of Krakow is sold out. Is it true? And if so, are there possibly other classical concerts in the Holy Week?
Joachim, Germany
---
Bad Guidance
/2011-02-06/ It's difficult to buy reliable and up-to-date guides to Krakow abroad. Since the city has become a popular tourist destination various foreign publishers rush to turn out Krakow guidebooks. Unfortunately they often employ foreign authors with only fleeting acquaintance with the place. For many of them Wikipedia is evidently the main – if not the single – source of information about Krakow. As a result, most of those self-proclaimed Krakow guides prove grossly misguided. I have just put myself through a review of guidebooks to Krakow available via the Kindle Store. All produced by foreign publishers, they are dubious at best and sometimes patently incorrect.
Mark
---
Entertainments Galore
/2011-02-03/ Surprised to find how many events in Krakow happen every day. Ten or more different concerts of varied music on one night looks like the norm.
Joan
---
Price Rises
/2011-01-18/ Local minibus operators have raised their fares due to an increase in the price of fuel and higher expenses generally. And thus a one-way ticket from Krakow to Wieliczka, a destination most popular with tourists, costs now two zloties on most lines – an equivalent of 0.5 euro or so.
Mark
---
Dinner's Query
/2011-01-06/ Looking up good restaurants in Krakow. Any ideas?
Me
---
Lady in Hiding
/2011-01-04/ It looks like Krakow's most famous piece of art, Leonardo da Vinci's 'Lady with an Ermine', won't be displayed in its home city for another year. Its domicile in the Czartoryski Museum under sweeping modernization, the famous Renaissance masterpiece has been out of sight for months deposited in the Bishop Ciolek Museum. Now it's due for an exhibition in London's National Gallery opening this autumn.
Kasia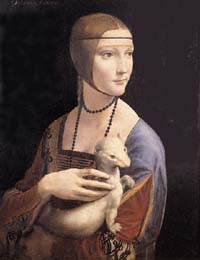 'Lady with an Ermine' by Leonardo da Vinci in Krakow's Czartoryskich Museum
---
Hotel Value
/2011-01-03/ Stayed in a hotel in Krakow at the central square opposite St. Mary's church. Luxury in style, worth the money.
Joey
---