Krakow Forum of Residents and Visitors
Click here to write your contribution to our Krakow-watching common blog.
Read recent entries in our Krakow-watching web log
Authors of the entries to the Krakow In-Forum take full responsibility for their content. The following does not necessarily represent opinions of the Krakow Info editors.
Online Tickets
/2007-06-19/ I've found it rather cumbersome to purchase online a ticket for a train from Krakow. The Polish railway may learn from airlines. Buying a train ticket online should be as easy as booking a plane or easier.
Roger
---
Guest Privilege
/2007-06-09/ Booking hotel in Krakow center allows you to drive and park car in the Old Town's restricted zone that is off limits for other motorists.
Monika
---
A Motorist's Haven
/2007-06-03/ We arrived to Krakow by car from Germany only to learn that it's virtually impossible to find a place to park the vehicle anywhere near the city center. That is with the exception of a large car park we discovered above the shopping mall next to the train station. The first hour is free, the next 60 minutes costs two zloty, and for every ensuing hour you pay four zloty.
Hans
---
Old or older?
/2007-06-02/ I've read Krakow has history that stretches back to year 1000 or earlier. And right now the city celebrates its 750th anniversary. Actually, how old is Krakow?
Karl
---
Film and Food
/2007-05-22/ SZTUKA cinema on Ulica Sw Jana (off the main square) is a gem. It is made up of several units which show various films with Subtitles: British, American, French, Italian, Japanese, Korean, Russian etc. There are about six films running simultaneously each day and usually something which has been nominated for awards in Cannes. The place is clean, central & our favourite when in Cracow on a wet evening. Price about UK pound 2.50. Plenty of info on each film. Friday night is a Blind Date: you pay your money & it is pot luck! Quite often these are previews.
Food is plentiful & prices varied depending on what you fancy & what you are prepared to pay for. For those who hanker for fresh fruit or salads (like me) go to the massive outdoor market which has a phenomenal selection of fruit, veg, meats, bread & cheese. Brits always hanker for fresh veg if staying longer - believe me this is the place! RYNEK KLEPARZA. It is on the other side of the Planty circular road - carry on from ulica Slawkowska & across the tram lines. It is in front of you. Food is organic & seasonal fruit is brilliant-even nuts & wild mushrooms.
Theresa Rzepa
---
Krakow vs. Prague
/2007-05-21/ I've heard that Krakow is nicer than Prague and the best restaurants in Krakow are better than eateries in the other city. Is it true? Can anybody confirm that first-hand? Next September I want to visit either Krakow or Prague.
Sean
---
Handicapped in Krakow
/2007-05-15/ We took my wheelchaired mother to Krakow and I know first-hand the city isn't particularly friendly to the disabled visitors. Firstly, there was no place to rent a wheelchair and we had to bring one for mum. OK, our Krakow hotel had the sufficient facilities but places of interest were hardly accessible, even the most popular landmarks. Also eating out was a problem. Why all Old Town's eateries operate in cellars, upstairs, or other locations off limits for the disabled – the area's ever-present sidewalk restaurants are a solution in good weather only. And looking for a public toilet that a handicapped person can use comfortably was a nightmare.
Jack
---
Stay Put on Long Weekends
/2007-05-07/ Last week I traveled by car from Zakopane in the Tatra Mountains. Fine getaway among scenic country except on our way back to Krakow we were stuck in a giant jam for hours. So when visiting Krakow never leave the city during one of those Polish week-long long weekends.
Bobby
---
Family Search
/2007-05-02/ I am searching for the birthplace of my grandmother, born in Poland. My mothers birth certificate lists Novsha as the place and as a child I remember the vicinity of Kracow as being where she lived. Novsha apparently no longer exists. I am seeking help from someone who might be familiar with the City or Town of Novsha and where exactly it might be. I am making this search for a genealogical record of my family. My email address is bud.sparky@gmail.com
Charles E. Leaf
---
Great party!
/2007-04-29/ Hello everybody. Just want to say that Krakow is perfect destination for the weekend for everybody who likes to party a lot. So many clubs, so many parties, beautiful girls and everything is so cheap! And I recommend Polish Vodka Tasting Party - I've never seen and never tried such great liquors. Just don't remember the name of the club, but you will find it for sure - it is quite popular event. Also recommend to stay in Krakow more than one day, because it is not enough. At least three days! I love this city! Regards
Rick
---
Dear Sir or Madam
/2007-04-24/ We are happy to inform and invite you and all the Krakow blog users to an incoming event - on the 20th of May 2007 several concerts and a big festival are going to take place at the Main Market Square in Cracow. The festival is called Laurealia and is a special festival celebrating university graduation. Naturally not only university graduates are invited! All students, Cracowers and tourists are welcome to attend and enjoy PresentPerfect and T-LOVE concerts and watch fire shows performed by Mandragora Fire Theatre at the Square in the evenning of the 20th May! Please let Your Readers know about the event. For the detailed programme please contact promocja@fundacja.uj.pl
Yours sincerely Foundation for Jagiellonian Univesity The Organizer of Laurealia
---
Don't Miss the Show
/2007-04-17/ On one of guided tours of Krakow we were brought to the courtyard of the old university college, the one where Copernicus had studied. It's positively delightful place, medieval and pretty. At 1 p.m. the clock struck high on the wall and just below it two doors opened to a tiny gallery. Next loud music filled the courtyard and a procession of brightly painted statues paraded from one little door to the other. I recognized queens and kings followed by priests or professors. It was a surprise to me, no guidebook I've read mentions it. I was told that the clock event takes place just three times a day, at 11 a.m., at 1 p.m., and at 3 p.m.
Rose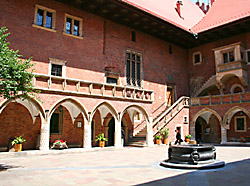 ---
Too Short
/2007-04-10/ Actually I arrived to Krakow to visit Auschwitz. Staying overnight I had a glimpse of the city. Just a short walk through the old town and a meal in the restaurant at the square that's what I had. And I immediately regretted I hadn't planned a longer stay in Krakow. Now I think about a two-day break in the city with my fiancee.
Joseph
---
Unforgettable
/2007-04-3/ I came to Krakow for the second anniversary of John Paul II 's death and I wasn't disappointed. It was an unforgettable day.
Juan
---
Touring Krakow
/2007-03-31/ I took a few Krakow tours on my latest visit to the city last week. Previously I had been to Krakow two years ago so I thought I already knew the central square and the castle. The communist-built Nowa Huta is a bore but Kazimierz area turned out to be worthwhile and somewhat exotic. Next time – in another two years? – I will do even more Krakow sightseeing.
Chris
---
Ancestral Home
/2007-03-28/ My great-grandfather left Poland for New York in 1896. For September I plan to travel to Krakow, his native city.
Josh
---
The Easter Market
/2007-03-26/ Yesterday I saw stalls that had been set up on the Old Town's central square. It means the Easter market may start any day. Poland's seasonal specialty are boiled eggs painted in colorful ornaments.
Anna
---
Bon Appetit
/2007-03-23/ I'm an expat based in Warsaw but I never miss any opportunity to visit Krakow. The city is wonderful for a weekend break but even a business trip could be fun owing to Krakow's fine restaurants. You don't need to be a big gourmet to appreciate the choice and quality of its eateries. For people who just enjoy good food dining out in Krakow is most rewarding. The city beats any other place in Poland and possibly anywhere east of Berlin and north of Vienna. Plus Krakow prices are a fraction of Berlin's.
Frederic
---
The Airport Apart
/2007-03-20/ Some airlines advertise planes to the Katowice airport as flights to Krakow. Last November that happened to me. I was surprised to land in altogether different city. Maybe it isn't any great distance, 50 miles or so, but there are some transportation riddles. A taxi to Krakow from the Katowice airport isn't cheap and no regular buses run between the two. So I had to get to the local train station to catch a long-distance train to Krakow that run via Katowice – delayed, by the way. No wonder it took hours to reach finally Krakow.
Mia
---
Warm Krakow
2007-03-18/ I was delighted to visit a relatively warm Krakow in late December 2006, a city whose grandiose architecture reminds me of Praha, but on a larger scale. During my short stay, I had the pleasure of hearing the Krakow Syphonic Orchestra, two Polish and Ukrainian choirs and in particular visiting an exhibition of the work of the controversial Polish artist the late Dido Gratz. I've since searched unsuccessfully for information about him, and I wonder if someone could help me find some?
Martyn Jutsum
---
Venture Beyond the Obvious
/2007-03-16/ The Old Town in Krakow is pretty delightful and no wonder one sticks to its cafes and shops, especially on a 48-hour city break. But be sure you will miss much of Krakow's goodies this way. Encouraged by balmy weather I ventured a walk along the riverside from the Royal Castle. Wide and easy tarmac path, sun, blue river, grassy bank peppered with resting people, swans and wild ducks. In half an hour I reached a complex of centuries-old buildings /St. Norbert's Convent – editors/. As I tried to bypass it I found two more picturesque churches across the street – one wooden, the other of white stone – flanking a leafy alley. It's a very scenic, very peaceful corner devoid of tourists or crowds.
Jane
---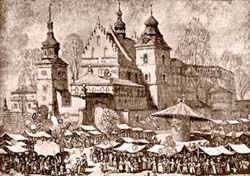 Krakow's traditional Emaus festival takes place next to the St. Norbert's convent on Easter Monday.
Stay for Easter
/2007-03-14/ Good idea, Clara. The city of Krakow commemorates the anniversary of John Paul II death with various events such as concerts of classical music, exhibitions, etc. And consider staying over for Easter. Besides an Easter music festival there is a string of traditional festivals – Emaus and Dyngus on Easter Monday, Rekawka on Easter Tuesday.
Marek
---
Commemorating
/2007-03-12/ I'm definitely coming to Cracow in the beginning of April to commemorate Pope John Paul second on the anniversary of his death. With every passing month it becomes more evident what great loss it has been. John Paul II was both a living saint and the world's guiding light. Personally, I miss him terribly. I think his native Cracow the best place to make the memory of him more vivid.
Clara
---
A Motorist in Anguish
/2007-03-10/ I recently tried getting around Krakow in my Toyota Cruiser. Downtown it was a nightmare. Parking in the street anything this size seems impossible. And navigating those narrow streets – many of them one-way, some blind alleys – gave me cold sweat. Beyond the city center streets are wide enough but often terribly pot-holed so I was happy that I drove an off-roader. Plus beware of local drivers – they seem to disregard, even disdain, traffic signs, notably speed limits.
Teddy Bear
---
The Fabulous Lady
/2007-03-08/ Visiting Krakow at least once every year I never forget to see again "Lady with an Ermine" of Leonardo da Vinci in the Czartoryski Museum. That marvelous portrait of a fabulous young female is a sufficient reason to keep coming back to Krakow.
Jan
---
Sorry
/2007-03-08/ sorry... just wanted to write something at first time...
JONSMITG
---
Bus Buzz
/2007-03-05/ Buses from the Krakow airport are completely inadequate. I boarded number 192 at noon. It was small and packed like sardines. Next time if I were to make it again from the airport I'd take a taxi or the train.
Ana
---
Hey You!
/2007-03-04/ Hey Alejandro! Cops have better things to do than shepherd you in getting around Krakow!
Jan Bluecoat
---
Krakow Blues
/2007-03-02/ Elsewhere in Europe one may ask a street policeman for directions, a good course of action in places swarming with tourists – the police are surely local anywhere. So I tried the same in Krakow. I saw patrolmen and asked them about the way back to my hotel but they spoke no English at all. Next day I inquired a policeman about a restaurant address and zero English again. Later the same day I asked another officer for directions to a museum and, wow, this one spoke some basic English but apparently he didn't know his city well enough to help me. I hope they do better when catching criminals.
Alejandro
---
Fallen In Love
/2007-02-24/ Have visited twice now, love the place, in fact loved it so much have bought an apartment to rent out. Can recommend the Radisson as a good place to stay, right by the main square and all the bars etc, and also have fallen in love with the barmaid there!!. If your going to Auschwitz hire a taxi for the day (pound 30) rather than going on an organised trip you will have a lot more time to look around. Going back in April, hope she still works there!!.
leeds 3232
---
Deer Ryan
/2007-02-23/ I've got an email from Ryanair to the effect that they have stopped flying to the Krakow airport because the local deer pose a threat to landing aircraft. Next I've learned that no other airline cancelled flights to Krakow. EasyJet, British Airway, Lufthansa, Air France and all the rest fly there as ever. Does anybody out there know if the Krakow deer are really dangerous?
Robert
---
Get a Pick-Up
/2007-02-19/ My plane from Brussels landed late in the night in the Krakow airport and I had worried about getting to the city center. I asked for assistance my Krakow hotel. Do you know what? They said no problem, they had a fleet of cars to ferry their guests from the airport and back. As it has turned out hotels in Krakow often may collect their customers from the airport or the train station.
Petite
---
A Pity
/2007-02-17/ Why there is no museum of modern art in Krakow? It's a pity.
April
---
Cheers
/2007-02-16/ Wow, people you have problems, really. Myself in Krakow I spent two nights just drinking, bar after bar, club after nightclub. Next time try it my way, simply boozing away your time in Krakow. And leave the city happy.
Sean
---
Museum Closed
/2007-02-14/ I remembered the museum of art in the Cloth Hall on the central square from my previous visit to Krakow in the 1990s and I wanted to show it to my wife. We have been really disappointed to learn that the museum has closed for modernization. I've been told its pictures are displayed in the Niepolomice castle east of Krakow. They say it's a nice place. So why there is no convenient transportation there by public means? We flied to Krakow and had no car.
Jules
---
Housing Blues
/2007-02-14/ Some eighteen months ago I bought a flat from a Krakow developer. Or, rather, I thought so. The housing project was still under construction to be completed June, 2007. I paid the amount due for the property according to the contract. Now the developer wants to cancel our deal and give me my money back. The trick is I was able to purchase a nice two-bedroom apartment in Krakow with that sum back in 2005. Now the same flat costs twice that amount. No wonder I've sought a legal advice. My Krakow lawyer says that actually, under the contract with the developer, I have never purchased the flat. The developer only promised me to sell it when completed for the sum I paid. And now they have used a clause in the contract to invalidate it and sell my flat to somebody else for more money.
Jo
---
Lodging Tips
/2007-02-12/ We have planned travel to Krakow for this May. Imagine our disappointment when looking up Krakow hotels we found it's difficult to book any in the city centre (Old Town). So remember to book early! Krakow hostels were still available but being middle-aged we didn't feel like a company for backpackers. Fortunately there is no shortage of vacation apartments in Krakow. We've booked a nice flat (if one may believe the photos), reasonably priced, and conveniently situated (if I can read street maps), and now we look forward to seeing the city.
Kate
---
Barren Sex in Krakow
/2007-02-06/ Krakow is Sahara of sex tourism. You see pretty girls everywhere, streets, shops, cafes, but they are like those desert mirages – visible but inaccessible. And one must look really hard to find any brothel, pardon an 'escort agency'. Hidden in seedy no-go areas, those shabby places are inhabited mostly by imported Ukrainian matrons turned sex workers. Little fun, serious hazards. I had had enough after visiting four such establishments in two days. And you'd better always watch you back. I was fortunate to escape with my wallet, my pants, and just few bruises when I wanted to leave without making use of the services offered.
Rudi
---
Station Toils
/2007-02-04/ Just one tip. One needs not use public toilets at the Krakow central train station which are as shabby as most such facilities can be in Poland. Better go to the shopping mall next door – an underground passage connects it with the station – where toilets are new and clean, at least the ladies' room.
Karin
---
Winter Special
/2007-02-03/ Visit Krakow in winter and avoid crowds. I was in the city by the end of January. Everything is open and quiet (I don't mean shops, those are pretty busy). No queuing, no elbowing, no noisy mobs. Plus sort of deja vu as they still had Christmas season there – trees, street decorations, carols, etc.
Londoner
---
Magical Krakow
/2007-01-26/ I love you people, your food, and your shopping malls, and the interesting nites at the market square the 26 December 2006 when it was minus degrees and they were frying meats and sausages on the spot. I loved eating those. Polish People have their way with food which makes me coming back for more. I wish I could move to Poland 4 ever
Margaret Pajaczek
---
Carnival Gloom
/2007-01-23/ I've heard of Krakow as a carnival city. Yet I've failed to identify any street events such as parades or masquerades like in Venice. Actually nothing special, not even big balls. Just clubbing and partying with friends.
Juanita
---
Hunting a Bargain
/2007-01-12/ Shopping isn't my primary reason for visiting the city but I was happy to find the sales season in full swing in Krakow in early January. Soon my enthusiasm has ebbed. Forget massive markdowns across the board. Many Krakow shops advertise 70-percent-off on the dubious pretext of selling miniscule range of cut-price goods, usually unattractive. Hardly a bargain. And it seems next to impossible to buy quality products of any leading brands at discount prices in Krakow's shopping malls and downtown stores.
Sophia
---
Krakow's Museum of Archeology, Mixed Feelings
/2007-01-06/ The Archeology Museum in Krakow isn't what I expected. Only its little Egyptian department has attributes of a modern museum. The rest, Poland's prehistory, looks more like a theme park–good for schoolchildren, disappointing for any serious amateur. Also the downside is information deficit. What exhibits are genuine finds and which ones are copies or dummies? Where and when the authentic artifacts were discovered? Etc. Plus bad organization – impossible to find the right way through disconnected shows without the help of the staff. I liked the exhibition showing recreated excavations of various prehistoric graves as if just unearthed by an archeologist – cute.
Anthony
---
Season's Greetings
Happy new year !-! -:o)))))
Sandraissa
---
Read earlier entries in the Krakow blog. They are only a click away !
See the Krakow blog for the second half of 2007 / Read Krakow bloggers in 2008