Year 2014 in the eyes of Krakow-watchers.
Click here to write your contribution to our Krakow-watching common blog.
Authors of the entries to the Krakow Forum take full responsibility for their content. The following does not necessarily represent opinions of the Krakow Info editors.
Winter weather at last.
/2014-12-27/ Yesterday, on the second day of Christmas in Krakow, fine winter weather has finally arrived to the city. And it is to stay for a couple of weeks or longer. Mostly sunny, some snow, somewhat below freezing point daytime and above minus ten Celsius at night - forecasters.
Mark
---
Krakow museums at the festive season.
/2014-12-16/ Museums in Krakow mostly close for Christmas (i.e. December 24th, 25th, and 26th), New Year day, and January 6th (Epiphany), notably all branches of the National Museum in Krakow which also keeps shorter hours on December 31st, namely 10 am to 1 pm. The Wawel Royal Castle, Schindler's Factory, Old Synagogue, and Ethnography Museum open on December 26th.
Barbara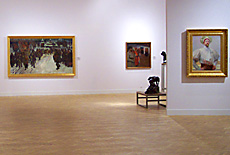 ---
2015 NY Eve on Krakow central square.
/2014-12-05/ Again New Year's Eve's open-air party on Rynek Glowny central square of Krakow, Poland's biggest, hijacked again by TVN television network. Rock concert will feature some Poland's top acts - Agnieszka Chylinska, Maciej Malenczuk, Kayah, Zakopower, IRA, Wilki, Feel, Grzegorz Hyzy, Red Lips. and Future Folk. The start planed for 7 pm with live transmission beginning an hour later.
Kasia
---
Krakow mayor holds on.
/2014-12-01/ Composition of the local government in Krakow has changed just a bit in the aftermath of this year's elections. Yesterday, in Sunday run-off, the incumbent mayor Jacek Majchrowski has secured his fourth term in office. The centrists of PO party have lost the majority in the 43-member City Council and won 18 seats (compared to 23 in the previous vote in 2010) while their rivals of the rightist PiS party hold the plurality of 19. The mayoral faction run again on an independent ticket and lost one seat but its six councilors are set to tip the balance under the circumstances.
Thoma
---
New Year @ Krakow.
/2014-11-28/ Want to meet the approaching New Year in Krakow? Better hurry to book your favorite place. New Year's Eve's parties at the most popular Krakow clubs are already sold out, or they say so at least.
Mark
---
Christmas market 2x.
/2014-11-17/ This year the main Christmas market of Krakow, the one on Rynek Glowny central square, starts November 28th and will last to December 26th, possibly longer. Its younger and smaller rival called Advent Market opens on November 30th to close on January 6th, 2015 and it takes place on the square in front of Galeria Krakowska shopping mall next to Krakow Glowny central train station.
Kasia
---
The Nativity extreme.
/2014-11-15/ Like it or not, street art in Krakow is on the rise, notably in the downtown districts of Kazimierz and historic Podgorze.
Barbara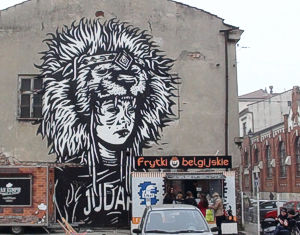 ---
2015 Tour de Pologne race bound for Krakow.
/2014-11-08/ Next year's Tour de Pologne bicycle race, Poland's equivalent of Tour de France and Giro d'Italia, will traditionally finish in Krakow on August 8th, 2015. The 7-stages road race will start in Warsaw September 2nd.
Thoma
---
Krakow is the best - the people vote.
/2014-11-03/ Brits have just voted Krakow the best destination for a weekend break. Last month the UK's consumer magazine "Which?" with over million subscribers surveyed its readers and the majority have pointed to Krakow as their favorite city break outside Britain. Krakow has outstripped Munich, Barcelona, Paris and the rest.
Mark
---
Poland vs. Russia in Krakow: Fed Cup.
/2014-10-21/ Fed Cup first round tie of women tennis teams Poland vs. Russia will take place in Krakow Arena on February 7th and February 8, 2015. Poland's star player Agnieszka Radwanska and a native of Krakow is a pillar of her national team. But her Russian opposite number Maria Sharapova seems rather unlikely to appear on the court in the Krakow Arena next February as she very seldom plays for Russia.
Thoma
---
Thick ICE.
/2014-10-16/ ICE Krakow Congress Center has officially open. Renting it for a one-day event costs 70,000 PLN (Polish zloty), an equivalent of about 16,700 euro.
Kasia
---
All Souls Jazz Festival.
/2014-10-10/ 59th Zaduszki or All Souls Jazz Festival takes place October 30th to November 9th, 2014 although one additional concert is scheduled on October 19th and features trio of USA's jazzmen - trumpeter, keyboardist, and vocalist Nicholas Payton plus bassist Vicente Archer and drummer Joe Dyson .
Barbara
---
Trains to KRK airport: back in autumn 2015.
/2014-10-01/ Some news about the renewal of the train service to the Krakow Airport. The line will reopen in September 2015, fingers crossed, after a thorough rebuilding. They promise a faster, more dependable service and the station close to the airport terminal.
Mark
---
2015 ice hockey world championship in Krakow.
/2014-09-20/ Krakow will host next year's ice hockey World Championship Division I A. Six teams - Italy, Hungary, Kazakhstan, Japan, Ukraine, and Poland - will compete in Krakow Arena April 18th to April 24th, 2015. The championship tournament was transferred to Krakow from Donetsk in eastern Ukraine.
Thoma
---
Krakow autumn jazz fest.
/2014-09-15/ Krakow Jazz Autumn Festival starts with a free concert on Plac Nowy square September 28th. Its program consists of sixteen concerts, most of them in November, usually featuring known Western European jazzmen playing free jazz.
Kasia
---
The Nativity extreme.
/2014-09-01/ Giant szopka traditional Krakow Nativity scene is displayed at the cloister of the Franciscan monastery, Plac Wszystkich Swietych square at Franciszkanska street, free admission. It's an ultimate specimen indeed: even bigger than usual and showing more Krakow landmarks than usual.
Barbara
---
Sausage dogs march on.
/2014-08-16/ Dachshunds aka sausage dogs parade is scheduled for Sunday, September 7th. At noon it is to leave the Barbacan (barbican) and proceed down Florianska street to its culmination on Rynek Glowny central square.
Thoma
---
Village visiting.
/2014-08-12/ Folk Art Fair starts on Rynek Glowny, Krakow's central square, on Wednesday August 13th to last through August 24th. Stalls selling the Polish traditional village crafts and craftsmen presenting their skills plus occasional gigs of amateur ensembles performing traditional tunes.
Kasia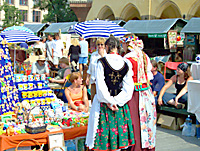 ---
National Museum at Kanonicza out of reach for now.
/2014-08-07/ Permanent exhibitions of the Bishop Erazm Ciolek Palace museum (Palac Biskupa Erazma Ciolka) at 17 Kanonicza street, a branch of the National Museum in Krakow, will stay closed till the end of next February. Visitors may see free of charge a temporary show in the same building called "Krakow within your reach. Architectural sculpture in the collection of the National Museum in Krakow", open everyday except Monday from 10 am to 4 pm.
Mark
---
New philharmonic season.
/2014-08-02/ New season of the Krakow Philharmonic begins Saturday, September 27th with a concert featuring music by Tchaikovsky and Szymanowski.
Barbara
---
Stained glass for individuals.
/2014-07-28/ Krakow's Stained Glass Museum opens up to individual visitors. English tours start on Thursdays and Fridays half past noon and on Saturdays at noon, 2 pm and 4 pm. Though Saturdays aren't good if you want to get a glimpse of stained-glass window making in progress.
Kasia
---
WSJ: the world's prettiest lake is near Krakow.
/2014-07-19/ The Wall Street Journal has featured five most beautiful lakes of the world and Morskie Oko in the Tatry Mountains, two hours' drive south of Krakow, is among them. Actually, it comes at the top. How nice we aren't alone in our fondness for Morskie Oko. Other four top freshwater beauties of the WSJ ranking are USA's Lake Powell, Kenya's Nakuru, Switzerland's Lake Lucerne, and Finland's Saimaa.
Thoma
---
Festival Music in Old Krakow, August.
/2014-07-14/ Concerts of classical music, usually in various historic buildings of Krakow, will take every night throughout the second half of August. Classy European and Polish soloists and ensembles performing most likeable works by top composers of the past.
Barbara
---
Contemporary music feast in mid-September.
/2014-07-05/ Sacrum Profanum Krakow Festival of contemporary classical music takes up the third week of September, namely September 14th to September 20th. This year's festival lineup includes USA's Kronos Quarterly in the first place. The famous string quartet promised to play at three concerts in Krakow.
Kasia
---
Krakow Summer Jazz Festival in July.
/2014-07-04/ Summer Jazz Festival in Krakow takes place from July 6th through August 1, 2014 with daily concerts in Pod Baranami club, 27 Rynek Glowny central square at at 9 pm and occasionally elsewhere. As many as 16 jazz concerts are planed for "Jazz Night", July 12th. Other highlights include New Orleans' Sunday, July 6th with a traditional jazz parade and an open-air concert on Rynek Glowny central square.
Mark
---
Festival of Polish classical music on July weekends.
/2014-06-24/ 10th Festival of Polish Music in Krakow takes place on three consecutive weekends July 4th through July 20th with concerts every night on Friday, Saturday, and Sunday. The festival features mostly Poland's classical music of the 20th century.
Barbara
---
Handy e-guide to 2014 Krakow.
/2014-06-20/ Cut-price ebook guide to Krakow, The Best of Krakow 2014, is available through Amazon.com
Kasia
---
Midsummer one-night music festival.
/2014-06-14/ This year Krakow's traditional Wianki midsummer festival takes place on Saturday, June 21st. Apart from the usual festivities on the Wisla river bank opposite the Wawel Royal Castle, there are planned open-air concerts on Rynek Glowny central square and Plac Szczepanski square.
Barbara
---
Games in Krakow? Forget.
/2014-05-26/ Winter Olympics in 2022 not in Krakow. The locals voted 70 percent against in the referendum May 25th, the turnout was just 36 percent. City government has abandoned the project in the aftermath.
Thoma
---
Krakow Film Festival.
/2014-05-23/ This year's Krakow Film Festival is the 54th in a row. Expect 230 movies, mostly documentaries, to be screened from May 25th to June 1st. In that number 98 films compete in four categories: best documentary, best short feature film, best Polish movie, and lastly the cinematic music. The main festival venue is Kijow.Centrum cinema at 34 Krasinskiego avenue.
Barbara
---
Stars to appear in the Fall.
/2014-05-21/ To date two international stars have confirmed their concerts at Krakow Arena. Smooth jazz singer Michael Buble will perform on Tuesday, November 4 followed by rocker Bryan Adams on December 16th. Cheapest tickets cost 225 PLN and 169 PLN respectively.
Kasia
---
Student revelries this week.
/2014-05-12/ Wild and colorful traditional student pageant, Juwenalia, takes place on Krakow's Rynek Glowny central square this Friday, May 16th.
Barbara
---
Museum Night, May 17th.
/2014-05-09/ This year the Museum Night takes place on Saturday, May 17th. Expect museum exhibitions in Krakow to stay open late, busier than usual courtesy of free admission as well as special attractions here and there.
Muse Goer
---
Smooth driving to Prague, soon.
/2014-05-08/ Polish government says motorway A1 linking Krakow with the Czech Republic is finished and its last part will be opened just in a few days. Thus driving from Prague to Krakow will take under four hours soon.
Kasia
---
Wisla Krakow is the champion.
/2014-04-28/ Krakow's women's basketball team, Wisla Can-Pack, has secured Poland's 2014 championship. It's the 23rd such title the Wisla basketball players have won to date.
Thoma
---
Readying for Saint John Paul.
/2014-04-23/ Canonization of John Paul II will take place in Rome this Sunday, April 27th but Krakow will also celebrate. In Krakow the main venues for ceremonies are the Sanctuary of Divine Mercy and the adjacent John Paul II Sanctuary.
Barbara
---
Worse than Bangkok
/2014-04-16/ Past two years a business has been developed where students offer cards in Florianska street and on the Rynek to visit a strip club or bunga club as they call it. This business has increased over time and is now out of proportion and in my opinion destructive for the image of Krakau. One cannot walk on the Rynek without being approached by at least 10 - 15 people that offer their service. I visited the centre with some business associates and they found it is worse than Bangkok. In my opinion not a good commercial for the city.
DJ
---
Go-go broke.
/2014-04-15/ Police raided Krakow's biggest go-go club, newly opened at the heart of the city's Old Town historic center, after a number of customers had complained they had paid huge sums for drinks they hadn't remember ordering. One of them spent an equivalent of about 250,000 euro in one night by courtesy of a corporate card without a spending limit.
Mark
---
Easter Monday openings.
/2014-04-11/ All branches of the National Museum in Krakow will open on Easter Monday this year, from 10 am to 2 pm. Some other Krakow museums will be also open on that day, notably Schindler's Factory and Rynek Underground.
Muse Goer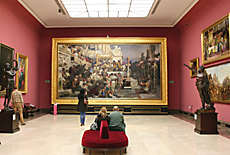 ---
Foodie get-together.
/2014-04-04/ Food festival Najedzeni Fest, most cherished by local foodies, takes place this Sunday, April 6th from 11 am to 6 pm. The venue is defunct Hotel Forum at 28 Konopnicka street, on Wisla riverbank. This year's motto is Slow Food. The organizers have marshaled some 90 participants, from maverick restaurateurs to inventive cooks to niche food producers.
Yors Tastycles
---
Krakow Easter market.
/2014-03-29/ Easter market takes place on Rynek Glowny central square from April 11th to April 21st. Starts with a food festival featuring traditional village cooking of the Krakow region, April 11th through April 13th.
Kasia
---
Krakow Olympics: locals to vote soon.
/2014-03-26/ Municipal government, i.e. mayor as well as the city council (namely the majority), want the 2022 Winter Games in Krakow but now they also want local citizens to vote in a referendum on the subject. The plebiscite will probably take place May 25th, 2014 together with elections for European Parliament.
Thoma
---
Pope John Paul II museum opens soon.
/2014-03-18/ John Paul II Museum in Wadowice, the saintly Pope birthplace, reopens after major refurbishment and enlargement on April 9th, 2014. It's situated next to the church of the town's central square.
Barbara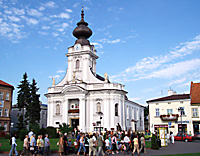 ---
Bus station in turmoil.
/2014-03-12/ Renovation of the upper platform of Krakow's RDA central bus station has started to last till mid June at least. The lower platforms works as usual but anyway many buses leave from and arrive at makeshift stops situated on a nearby street. Expect confusion for a time being.
Kasia
---
Pope Francis to visit Krakow in July 2016.
/2014-03-08/ The 2016 World Youth Day in Krakow will take place from July 26th to July 31st. Pope Francis will arrive to Poland on the first day of the young Catholics festival and will stay in Krakow throughout its length.
Mark
---
Krakow marathon.
/2014-03-05/ Cracovia Marathon is scheduled for Sunday, May 18th. Both its start and finish will be on the Krakow central square, Rynek Glowny.
Barbara
---
No trains to Zakopane for now.
/2014-03-03/ Trains to Zakopane have been cancelled to June 18 or maybe longer due to a replacement of a fragment of the railway tracks. Fortunately there are frequent buses from Krakow.
Mark
---
Golden opportunity.
/2014-02-27/ Jewelry and Minerals Exchange, a trade fair, takes place in Krakow on weekend March 8th and March 9th. Jewelry, gems, and collector minerals will be on display and on sale at the University of Economy's sports hall, 27 Rakowicka street, from 10 am to 6 pm.
Kasia
---
Krakow airport. Take your time.
/2014-02-22/ Expansion and modernization of the Krakow airport is under way so till mid 2015, hopefully, it'll more than double its capacity - from 3.8 million to eight million passengers a year. In the meantime a traveler should expect jams and long queuing, notably at peak hours between 9 am and noon, and on Fridays and weekends. The airport management advises passengers to check in two hours prior to departure time.
Mark
---
Jewish Festival program expected in March.
/2014-02-20/ This year's 24th Jewish Culture Festival in Krakow starts on Friday, June 27th and lasts through Sunday, July 6th. Its program should be published before the end of March, no doubt jam-packed with events as usual.
Barbara
---
Long live feasting!
/2014-02-18/ Wierzynek is arguably the best known restaurant in Krakow. This year it celebrates the 650th anniversary of the famous Wierzynek feast thrown by the city council for European monarchs who arrive to Krakow for a summit.
Yors Tastycles
---
Krakow Olympic hopes.
/2014-02-12/ Watching Sochi? Be ready for Krakow Winter Olympics in 2022 .
Mark
---
Get 2014 Krakow guide online.
/2014-02-11/ Up-to-date 2014 ebook guide to Krakow, The Marvels of Krakow 2014, is now available online - competitively priced - at Amazon.com
Barbara
---
Ready for music.
/2014-02-10/ Krakow's long-awaited Congress Center will finally open in October 2014, fingers crossed. Its main hall is to seat nearly 2,000. The center is also meant as the city's top venue for concerts in Krakow and the architects promise the best acoustic possible.
Kasia
---
Euro 2016 in Krakow.
/2014-02-05/ Krakow will host Euro 2016 men's championship tournament in team handball alongside Wroclaw and a couple of other Polish cities to be announced in March. Still finals will take place in Krakow Arena which will also hold six matches of the group stage and some of the second stage. 2016 Men's Handball European Championship are scheduled for January.
Sportie
---
By road to the airport.
/2014-02-01/ Train service between the city center and Krakow Balice Airport has been stopped owing to the modernization of the railroad line. Probably it will be renewed no sooner than August 2015.
Mark
---
Easter festival of classical music.
/2014-01-31/ This year's Misteria Paschalia, Easter festival of music in Krakow will last seven days from April 15th through April 21st. Concerts of Baroque music, planned for every night, feature Europe's top performers and ensembles. Single tickets cost from 80 PLN to 160 PLN. Price of a seven-concerts pass is 750 PLN.
Kasia
---
One more month.
/2014-01-29/ Paid parking zone expansion to the rest of downtown Krakow has been postponed until March 1st.
Mark
---
Sailor singing.
/2014-01-27/ Poland's premier festival of sailor songs, Shanties, takes place Krakow February 20th through February 23rd with daily concerts in Rotunda club at 1 Oleandry street. It's the 33rd edition of the festival.
Barbara
---
Deep under: Krakow central train station.
/2014-01-23/ Krakow Glowny central train station goes underground on February 15th, 2014. Its passenger hall, ticket offices and other operations as well as services are being moved to brand-new subterranean spaces built at a cost of 40 million euro beneath the tracks and platforms. The historic station building is to be converted into a multiplex (or a shopping center or something else).
Kasia
---
Krakow Arena: finishing touches.
/2014-01-16/ It looks like the brand-new Krakow Arena may be ready to open this April as expected. The giant all-purpose domed hall will be able to seat maximum 18,000 people and 15,300 at at standard sport event such as a tennis match. Or an ice hockey game if Krakow Olympics were to materialize in 2022.
Mark
---
Soon no trains to Krakow airport.
/2014-01-14/ Trains linking the Krakow airport with the city center probably will be cancelled this February due to modernization of the railway line. As planned the revamp will take eighteen months. Taxis and buses are to continue as usual.
Mark
---
Dreaming about white.
/2014-01-08/ Springtime weather continues in Krakow this winter. Sunshine, day temperatures hovering above ten degrees Celsius, and green grass instead of snow have untypically prevailed in the city since mid December. Forecasters foretell it may change in the second half of January.
Mark
---
Nativity scenes until late February.
/2014-01-07/ Newly built Krakow szopka nativity scenes are exhibited in the City of Krakow History Museum, 35 Rynek Glowny central square, till February 23rd, 2014. Admission fee is eight zloty.
Barbara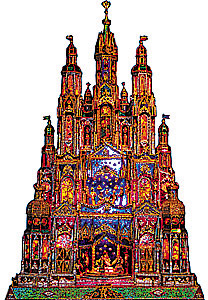 ---