See what Krakow insiders and visitors wrote about the city in 2009.
Click here to write your contribution to our Krakow-watching common blog.
Authors of the entries to the Krakow In-Forum take full responsibility for their content. The following does not necessarily represent opinions of the Krakow Info editors.
White Christmas, the Global Warming Notwithstanding
/2009-12-16/ There is bitter cold in Krakow now, and no global warming in sight. On the other hand the white Christmas seems inescapable in the city.
Juanita Suarez
---
Parking Galore
/2009-12-12/ Now you may easily park your car near the Krakow Royal Castle in the very city center – at a price. A brand-new subterranean car park is situated under Plac Na Groblach square, next to Sheraton Krakow hotel, a stone's throw from the Old Town historic district. It's the city's first spacious underground parking lot in the downtown. Your car will stay safe under constant surveillance but it'll cost an equivalent of nearly two euros per hour. The upside is the cost drives away most local motorists so the parking is always available.
Mark
---
Heavenly Stagecraft
/2009-12-05/ Krakow's theater festival called Boska Komedia (Divine Comedy) presents Poland's best stage productions of the year. Simultaneously, it displays outstanding achievements of the Polish young theatre directors. The festival takes place from Monday, December 7th through Monday, December 14th.
Kasia
---
Alternative Lodgings
/2009-11-29/ Self-catering accommodation in Krakow is a good alternative to a hotel. I'm frequent visitor to the city since 1995 on business trips, staying for two to four days every time. Over the last four years I have never needed to book a hotel room in Krakow. I prefer to rent a holiday apartment. There is a wide selection available and apart from one place the service has never failed.
Hans K
---
Big Shopping
/2009-11-21/ The biggest shopping mall in Krakow opened on the postindustrial site of Bonarka some four kilometers southeast from the city center. It boasts 270 shops, a multi-level parking garage for 3,200 cars, and a 20-theater multiplex (also the biggest cinematic complex in Krakow).
Mark
---
Buoyant Food
/2009-11-20/ I found a good restaurant in Krakow in rather unexpected place. There is a barge turned into a floating eatery, moored on the riverbank a couple of blocks from the Jewish district.
Jean
---
Christmas Market in Krakow Starts Soon
/2009-11-12/ Krakow's Christmas market starts on the Old Town's Rynek Glowny central square on Saturday, November 28th to last through December 24th. It's open between 10 a.m. and 8 p.m.
Kasia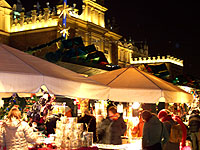 ---
Unearthing Music Treasures
/2009-11-07/ The 5th Festival Of Polish Music consists of daily concerts from November 9th through November 15th. Outstanding orchestras and soloists, including such renowned artists as Midori and Ivo Pogorelich, will perform the best classical music by Polish composers which is little known abroad.
Kasia
---
Coach Park Close to the Old Town
/2009-11-03/ Coaches may park on 3 Maja street alongside Blonia common which is quite within walking distance from the Old Town historic center of Krakow.
Mark
---
No Coach Parking
/2009-10-28/ I brought a foreign tour, a busload of German retirees, to Krakow as I do a couple of times every year. But now the coach park we used till recently, one conveniently situated next to the royal castle in Krakow, is off limits with access streets closed. What is worse, it looks like there is no place a coach can park in the Old Town or within walking distance.
Wolfgang
---
Ghost Skyscraper
/2009-10-23/ Krakow would be much nicer if they got rid of oppressive eyesores that pervade the city. The tallest structure there, visible from almost any place in the downtown, is a derelict gray concrete skeleton of a bloody forsaken skyscraper stripped of its walls. They plastered giant billboards on it but this doesn't help.
Stephanie
---
Party Den
/2009-10-20/ Going out yesterday have discovered a stag party heaven in Krakow. Halfway down the street from the main post office there is a gray derelict building holding a dozen or so nightclubs, cellar to roof. Weird place where anything goes.
Fatboy
---
Music for Tourists
/2009-10-12/ Almost every evening young local artists give concerts of classical music in Old Town's churches – SS. Peter and Paul church at ul. Grodzka 56, St. Giles church at the end of the same street, and at St. Adalbert's church on the central Market Square. Admission costs about 12 euro per person.
Jadzia
---
Caution: Taxi Doubles
/2009-09-21/ Watch out for fake taxis. In Krakow and Poland's other cities self-employed enterprising drivers transport people for money. They don't need to meet standards nor requirements set for cabs but also they don't enjoy their privileges such as the use of taxi ranks and access to areas closed to vehicular traffic (e.g. the historic center of Krakow). Some of those quasi-cabbies are fairly decent operations and many undercut taxi fares. Some dupe passengers into excessive charges as their fares aren't regulated. The boldest ones make their cars to resemble regular cabs and even set up mock taxi stands.
Mark
---
Closed Circuit
/2009-09-19/ Main gallery of the National Museum in Krakow at 1, 3 Maja street is closed on September 23rd and 24th due to the Congress of Polish Culture.
Mark
---
By the Lakeside
/2009-09-14/ I had enjoyable weekend on the lake among hills south of Krakow. It was rather hot in late August so we spent most of Saturday on a little beach near the castle of Niedzica, opposite the ruins of Czorsztyn fortress on the other bank. We visited both castles on Sunday. Also, I rented a canoe and paddled around the lake for a couple of hours. Much fun despite pleasure boats rocking your kayak now and then. I think of revisiting the place soon and trekking through the Pieniny Mountains National Park that stretches just east of the lake.
Jean
---
Dinos En Route to Auschwitz
/2009-09-10/ There is a dinosaur thematic park in Zator some 70 kilometers west of Krakow. A path meanders through wetland among scores of life-size robotic beasts that move, bellow, wag tails, etc. in truly realistic way. The park sits next to the road, en route to Oswiecim (Auschwitz). The site includes also a sort of little museum of paleontology, a funfair, and a muddy quad track.
Mark
---
Some Luck
/2009-09-04/ I was luckier than Patricia. I landed in a good hotel in Krakow and all local people I met were nice. I already think about coming back rather soon.
AC
---
Lovely Sights But the People
/2009-08-23/ Just returned from Krakow. Taxi driver nor the hotel could tell us where some of the paces we ante to visit on your website was even though we printed them off they just laughed at us, after 1,30 please beware you have to pay for a tour guide in Auschwitz and then did not see all was rushed, best going early morning or late afternoon no-one knew where the famous mummy's was, the hotel staff was not helpful at all, breakfast was not very nice and after that if you wanted a cup of tea you had to pay for it some lovely sights but the people spoilt it, stayed in the hotel Matejko although was in a great spot not much to write home about the hotel, would not go back again.
patricia
---
Restaurant Finder
/2009-08-15/ It's easy to find a good restaurant in Krakow. Just walk to the old town and avoid crowded places that look cheap.
Austin
---
Broken Pilgrimage Train
/2009-08-14/ "Papal train" connecting cities associated with Pope John Paul II is to be cancelled by the end of this month, August 2009. It was launched with much fanfare three years ago to link Krakow and its Sanctuary of Divine Mercy with the late Pope's birthplace in Wadowice via Kalwaria Zebrzydowska where a famous calvary shrine is situated. The purpose-built shuttle train ferried up to 160 pilgrims in comfortable cars and they could watch documentaries about John Paul II and places en route. Yet train service has failed to attract enough passengers to break even. So another seemingly bright idea has misfired.
Mark
---
Festival Attractions
/2009-08-10/ Two festivals – one in August, another in September – should attract lovers of music to Krakow. Music in Old Krakow festival, August 15th to August 30th, features European ensembles and soloists performing classical music from early Dutch musters to the 20th-century composers. Daily concerts mostly take place in Krakow's old churches and other historical buildings. From September 13th through September 19th the Sacrum-Profanum festival offers series of daily concerts of contemporary classical music sandwiched between an opening performance of The Cinematic Orchestra, the UK's nu jazz band, and the closing triple show by the UK's electronica act Aphex Twin plus Hecker.
Kasia
---
By Guidebook
/2009-08-06/ I had ordered a guide to Krakow by mail and it arrived sooner than expected. It's good value for money - full of information, nice photos.
Steven
---
The Downside of Conversion
/2009-08-02/ As usual we rented a self catering apartment in Krakow for our stay in the city. The three-bedroom flat was clean and comfortable enough. Also, it was situated just a few of minutes walk from the square. The downside? It was really hot. The apartment was a converted attic without any air conditioning. No lift either.
Martha D
---
Cream of Ice Creams
/2009-08-01/ I love the city. I enjoyed mostly the central square. We had delicious ice creams in a street cafe nearby.
Muriel Spark
---
Hot Stuff
/2009-07-24/ I'm just back home from a city break in Krakow. My visit coincided with a heatwave and the fact a bit spoilt the otherwise enjoyable time in the city. Unfortunately, a tourist has few occasions for respite from torrid air because most places such as shops, cafes, museums, etc. have poor air conditioning and often there is none at all.
Magnus
---
Watch Out for Loose Horses
/2009-07-18/ In the recent months Krakow has been plagued by accidents caused by cab horses. Popular with tourists, Krakow's 'dorozkas' are safe to ride but their usually stoical live 'engines' may bolt when frightened by bangers, fireworks, or other sudden noise. It happened a couple of times in this June and July. Unfortunately, several people were trampled; fortunately, nobody was killed but.
Mark
---
Keeping the Change
/2009-07-06/ Motorists should keep change to park their vehicles on the streets in central Krakow. New, shining and computerized, parking meters accept only coins. Namely they take 50-grosz, one zloty, two zloties and five zloties. And – mind, you've been warned – they don't give you your change.
Mark Show
---
American Dreams of Krakow
/2009-07-01/ New exhibition in the National Museum in Krakow at 3 Maja street shows the American pop art of the 1970s and the 1980s. The show, called 'American Dream', consists mostly of photorealist paintings enhanced by clever installations and screening of rock concerts of the period. It lasts through October 4th.
Kasia
---
Krakow under Any Name
/2009-06-30/ I know Krakow is the correct English spelling of the city's name. But there are numerous other versions, i.e. Cracow, Krackow, Crakow, Crackow, Krakov, and probably more. I wonder if there are any reasons for that confusion apart from ignorance and carelessness.
Cary
---
Driving among Pitfalls
/2009-06-19/ Krakow streets have always been notorious for potholes. Yet this year those traps for motorists have become even more common. Also, they are more dangerous. Driving in Krakow I keep spotting holes in tarmac that are knee-deep or worse. And some of them wait for you in the middle of the city's main arteries. One reason is poor quality of road works. At the same time the local government now seem to care less than ever. Even the worst potholes often stay unattended for days and weeks. As if the city hall has decided it'd rather pay compensation to unlucky motorists than bother to fix the streets.
Waclaw
---
A Sphere of Influence
/2009-06-14/ I hate that big white globe of balloon looming in the air close to the Royal Castle in Krakow. And I'm not alone. It's positively an eyesore visible from every corner of the Old Town. That ugly sphere clashes with historic architecture.
Expat resident of Krakow
---
Fairy-tale Krakow
/2009-05-29/ If you're travelling to Krakow, be sure to take a copy of Richard Monte's excellent and very funny collection of Polish Folk Tales, The Dragon of Krakow and other Polish Stories (it's available on amazon). Here's what they say about it: Interesting, well-written, imaginatively illustrated and designed book… there are rich rewards for those who enter the fascinating stories inside. (Ibby Link ) Well worth buying if you're visiting this fascinating city.
James
---
Storm of Bad Publicity
/2009-05-25/ I bought tickets for an open-air concert of cinematic music on Krakow's common field but it was moved due to storm. Unfortunately the new venue didn't have sufficient capacity and a good number of people were left out, including myself. Apart from spoiled evening I have no idea how to recover my ticket money.
Giorgio
---
Church of Divine Mercy
/2009-04-26/ Was to Divine Mercy sanctuary in Krakow last Sunday. Revealing experience.
Adam Schmidt
---
Deserving Zakopane
/2009-04-18/ My girlfriend talked me into visiting the mountain resort of Zakopane near Krakow when in Poland recently. The bus ride was long owing to its snail's pace but the Tatra Mountains deserve the effort. We had planned it as a day-trip from Krakow so we had to find lodgings on arrival in Zakopane to stay there overnight. Fortunately there were available guestrooms, comfortable enough for such uncritical couple.
Max
---
Ballooning View
/2009-04-14/ The curious and courageous may pay to ascend 150 meters up in a gondola attached under a helium-filled balloon to take a look at downtown Krakow from the high. The balloon goes only up and down and is moored on the Wisla river embankment near Most Grunwaldzki bridge, some 300 meters south of the Wawel Royal Castle. Apart from the trills of tethered ballooning the unrestricted view of Krakow is better from the top of Kosciuszko Mound, Kopiec Kosciuszki (elevation 329 meters). Climbing the mound is also much cheaper even if it requires greater effort and the hilltop barrow isn't close to the Old Town historic district of Krakow.
Kasia
---
Schindler Revisited
/2009-04-04/ Oskar Schindler's factory at 4 Lipowa street is open to visitors who may see a temporary show until the opening of a permanent exhibition in the fall of this year. The current exhibits largely consist in photos that document the fates of the plant, its wartime German owner Oskar Schindler, and his Jewish laborers during World War II.
Kasia
---
Easter in Krakow
/2009-04-03/ I go to spend Easter in the city and hope that hostels in Krakow operate as usual. I want to stay from Saturday to Monday because I know there is a local Krakow festival on that day.
Anna
---
Nature Nurture
/2009-03-26/ I know this historic city is full of ancient monuments but I'm more interested in the Polish national parks near Krakow. As a wildlife enthusiast, fervent hiker, and keen bird-watcher I favour an hour walk in woodland over a whole day in a museum. I've heard that there're a few national parks in the area, some as close as an hour's drive from the downtown. So I plan to split my May break in the city between sightseeing tours of Krakow and visiting one or more national parks. In the first place, I'm keen to see Tatra Mountains.
Mary
---
With Compliments
/2009-03-20/ Krakow is the most fascinating city I have been to in the last six months. Seriously!
John Li
---
Michelin Restaurants 2009 in Krakow
/2009-03-18/ This year's edition of the Michelin red guide, Main Cities of Europe 2009, mentions sixteen restaurants in Krakow. They are as follows, in alphabetical order, Ancora at 3 Dominikanska street, C.K. Dezerter at 6 Bracka, Copernicus at 16 Kanonicza, Culd-de-Sac at 4 Na Grodku, Cyrano de Bergerac at 26 Slawkowska, Del Papa at 6 Sw. Tomasza, Farina at 16 Sw. Marka, Leonardo at 20 Szpitalna, Miod Malina at 40 Grodzka, Pod Roza at 14 Florianska, Szara at 6 Rynek Glowny, Szara Kazimierz at 39 Szeroka, Tesoro del Mar at 6 Jozefa, Wentzl at 19 Rynek Glowny, Wesele at 10 Rynek Glowny, and Wierzynek at 15 Rynek Glowny. The last three eateries – Wentzl, Wesele, and Wierzynek – are few meters from one another in the southern corner of Krakow's central square. Curiously, the city's gourmets unanimously consider a couple of the above mediocre by comparison whereas any local gastronome can mention at least another sixteen restaurants in Krakow which would rather merit inclusion.
Jean
---
Booking Pitfalls
/2009-03-15/ Be careful booking hotel in Krakow online. Planning a weekend break in the city I make room reservation on an apparently decent local website. They rank high in searching and the site is glitzy and looks authoritative. And first of all, it displays scores of hotels in Krakow and promise best rates. On arrival it turned out that they couldn't deliver. The hotel expected me next week, a single room was booked instead of a double one, there was no restaurant on the premises, and the location wasn't exactly central as promised on the website. I've also learned that the hotel has off-season rates now, substantially lower than the amount I was charged on the website that has refused to refund the difference.
Ali
---
Booze Buzz
/2009-03-10/ Drinks at bars in Krakow are really cheap indeed. Some watering holes in the city center sell beer for one euro or close to it. Local vodkas are little more. Only imported spirits such as Scotch whisky and French brandies are expensive.
Thirsty Frank
---
Go On Cheap
/2009-03-07/ Welcome to frugal Krakow. The city is friendlier to backpackers than other places I recently visited. I had no problems with finding a cheap hostel in Krakow and it satisfied all my needs. Usually I dodge restaurants but this time how could I resist a three-course dinner for just three euros? Both public transport and beer is affordable and there is no shortage of free amusement, concerts and the like.
---
Bobby
The City Had Some Surprises
/2009-02-28/ Travel to Krakow from London by plane was pleasantly short and arrival to Krakow Airport didn't cause any trouble. I was even able to change money I brought with me from the UK, sterling, into local currency. Also distance between the airport and the city centre turned out surprisingly short. Another surprise – all tourist attractions were open even as it's off-season and it showed.
Janet Ghali
---
Making Sense of 6 Senses Festival in Krakow
/2009-02-19/ They are organized every year. Some are new, some well established. Six Senses Festivals in Krakow are meant as the city's flagship cultural events. Almost every month at least one takes place. Some months hold as much as three festivals of the 6 Senses series. For instance there three 'main events' in May – Photomonth, Cracow Screen Festival and Film Music Festival – plus one 'premier event' – Krakow Film Festival. November contains two 'main events', namely Joseph Conrad Literature Festival in November and Festival of Polish Music, as well as one 'premier event' - Etiuda&Anima International Film Festival.
Kasia
---
Icy Valentine
/2009-02-14/ I expected freezing weather in Krakow in mid February and the city has obliged with negative temperatures day and night plus a round-the-clock snowstorm. But despite the icy cold and heavy snowfall – because of it? – people look happy. Also, St Valentine's Day is surprisingly popular here, at least with retailers.
Frederic
---
Easter Festival, Hallelujah!
/2009-02-05/ This year's Easter festival of classical music in Krakow called Misteria Paschalia takes place throughout the entire Holy Week and Easter holiday from Monday, April 6 through Monday, April 13. It consists of daily concerts that feature Europe's top early music ensembles and excellent soloists. Concert programmes contain a refreshing selection of the finest music by outstanding Italian and French composers of the baroque.
Kasia
---
Likeable Hostels
/2009-01-16/ I'm in the city third time. Always staying in hostels in Krakow I think them usually better than such places elsewhere in Eastern Europe. And good hostels here are easy to find in the city center.
Georg
---
Seeking Good Properties
/2009-01-14/ I want to buy a flat in Krakow or other residential property. I've heard Krakow's real estate is down as anywhere else so I expect a bargain price. All good offers are welcome. Email me at chrisnail@mail.com
Chris Neil
---
Going Out and Down
/2009-01-11/ Last Friday we enjoyed nightlife in Krakow, mixed feelings. Most places are cramped, some appeared deserted, and one cellar spot stunk like hell. Yet generally the city's night scene proved vibrant and full of lively places to have fun. Touring nightclubs in Krakow centre and the Jewish quarter as well we found local DJs who were able to spin great sets, wild crowds, and no shortage of cute babes who knew how to enjoy themselves.
Dave
---
Christmas Is Still Here
/2009-01-10/ Surprise, surprise! Christmas is still going on in Krakow in the middle of January. Holiday decorations, Christmas trees, and nativity scenes – all in place. Also caroling – last night I was to a concert of carols. Only fake Santas are gone, and the shopping spree seems over. Want to enjoy the Holiday spirit as it once was? Come to Krakow in January.
Jose Morales
---
From Russia with Love
/2009-01-09/ In the past I worked a couple of years in Moscow. Now I live in Krakow for some time. So can say Russian language from Polish. The city looks very popular with visitors from Russia these days. Last week I met many Russians, young and old, shopping in downtown malls, dining out in Krakow restaurants, and sipping cappuccino in coffee houses. They appear to replace Japanese tourists who used to swarm Krakow streets in summer but now I haven't noticed any.
Anna
---
Fine to Dine
/2009-01-03/ I found quite a few good restaurants in Krakow. We spent five days in the city on the New Year. Staying in a hotel in downtown Krakow we were able to dine out in five fine restaurants, all of them situated nearby.
Harry Eater
---