The 2012 Krakow Info Blog.
Contributors to the Krakow blog take full responsibility for their entries. The following does not necessarily represent opinions of the Krakow Info editors.
Short-term timetable.
/2012-12-27/ New train schedule for Krakow Glowny, the city's central rail station, introduced this December, is valid through March 2013 only rather than throughout the whole year. There are also many trains that run temporarily.
Mark
---
National Museum at no cost for 31 days.
/2012-12-14/ From December 27th through January 27th, 2013 the National Museum in Krakow welcomes visitors free of charge to all its exhibitions, permanent as well as temporary. The complimentary admission is granted at every branch of the museum, including such popular venues as Cloth Hall Gallery and the Palace of Bishop Ciolek.
Muse Goer
---
Close skiing.
/2012-12-11/ A brand-new ski slope has opened almost on the outskirts of Krakow, in the village of Podstolice, some twenty kilometers by road from the city center. There are two easy adult downhill runs and a very easy one for kids, each complete with ski lifts, lights, and artificial snow. There is also a snow park and a few other attractions. Plus usual conveniences such as a restaurant, a shop, a ski service, etc.
Kasia
---
New Year's anew.
/2012-12-10/ This December 31th New Year's open-air, free-for-all concert on Krakow's central square will feature local bands and pop acts. And laser show instead of fireworks.
Mark
---
Christmas market plus one.
/2012-12-01/ This year the regular Christmas market on Rynek Glowny central square has got a rival Noel marketplace. The 'Advent Fair' in front of Galeria Krakowska shopping mall, next to the Old Town historic center, features an array of stalls selling the usual seasonal goodies plus some specials.
Kasia
---
Air quality updates.
/2012-11-20/ Air quality in Krakow becomes questionable when a stable high-pressure weather system without winds and precipitation continues in the city for a longer period. Notably in November and in the winter months. Up-to-date Krakow information on the air quality and pollution plus forecasts and warnings are published at http://www.malopolska.pl/Obywatel/EKO-prognozaMalopolski/Krakow. Unfortunately it's in Polish only. Some basic info in English is available at http://www.airqualitynow.eu/comparing_city_details.php?krakow.
Mark
---
Open day at Krakow museums.
/2012-11-12/ Twenty museums in Krakow has called next Sunday, November 18th their open day. Besides free entry expect special attractions as well as bigger crowds. Some popular exhibitions require booking a ticket in advance although free of charge.
Muse Goer
---
Christmas market mystery.
/2012-11-03/ Christmas market in Krakow traditionally begins in the last days of November. Unfortunately the organizers have traditionally forgotten to announce the exact date early enough. No info available till now.
Mark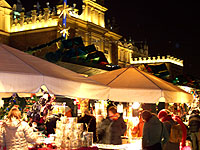 ---
History, naturally.
/2012-10-29/ Museum of Natural History at 9 Sw. Sebastiana street (Muzeum Przyrodnicze) has reopened much changed again. No trace of aquarium now. The famed corpse of the Ice-Age woolly rhino remains the crown jewel and all live animals are gone. The main exhibition is focused on fauna roaming the central Europe from the Middle Ages till now. Expect another makeover next year.
Muse Goer
---
Vintage jazz festival.
/2012-10-26/ Krakow All Souls jazz festival, the country's oldest, takes place for the 57th time in the first decade of November. It starts on November 2nd with two concerts to end on November 10th. There will be 13 concerts in total plus the traditional jazz Holy Mass on Monday, November 5th.
Kasia
---
Resistance resonance.
/2012-10-12/ Home Army Museum in Krakow, Muzeum Armii Krajowej, has recently reopened after renovation. Its innovative, multimedia-heavy exhibition is another ambitious attempt to enliven the history of World War 2. A necessary follow-up to a visit at Schindler's Factory.
Muse Goer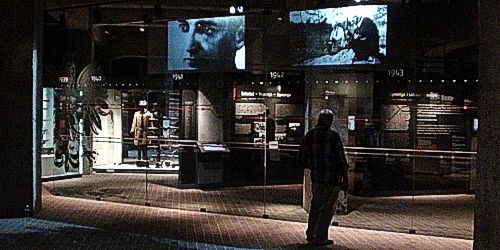 ---
Stag hunting.
/2012-10-11/ I know the stag night is once in a lifetime or maybe two times or three... Yet please consider a ban on bachelor parties in Krakow. Last Saturday a herd of stags (already stoned at 4 p.m.!) effectively ruined our otherwise delightful time on the central square.
Kris
---
Airport taxi.
/2012-10-03/ Krakow Balice airport has launched its own taxi company and granted it a monopoly at on its grounds, notably on the coveted rank in front of the International Terminal. The good news is that fares are uniform now. The bad one - it isn't cheap. A drive to the Old Town historical center costs either 69 zloties (PLN)to its western half or 89 zloty (eastern perimeter). Passengers may pay with plastic. Cabbies speak English and possibly some other foreign language.
Mark
---
Off-season reductions in fares to Krakow Airport.
/2012-09-27/ From September 26th, 2012 tickets for a shuttle train between Krakow Airport Balice and the city's central rail station are significantly cheaper. One-way fare has been reduced by 21 percent from 19 PLN (the Polish zloty) to 15 PLN now. While a return ticket, valid 30 days, costs now 23 PLN, down from 29 PLN previously. Trumpeted as a seasonal promotion the lower ticket prices may well stay in place through the next year's summer because of disappointing number of passengers in the 3rd quarter of this year.
Kasia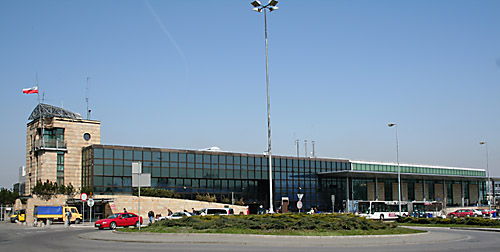 ---
+60 = 10x2 National Museum for free.
/2012-09-26/ Visitors over sixty may see all ten branches of the National Museum in Krakow free of charge on this weekend, September 29th and September 30th. This applies to permanent exhibitions only.
Muse Goer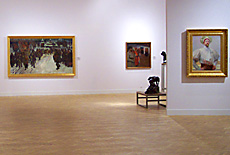 ---
Royal Castle for free.
/2012-09-15/ Polish culture minister has promised free admission to Krakow's Wawel Royal Castle throughout November. Under a new government program visitors will be able to see the leading museums in Poland at no cost every November from this year on. For starters four places have been selected. Apart from the Wawel Castle the rest are Warsaw attractions - Royal Castle, Lazienki Palace, and Wilanow Palace.
Kasia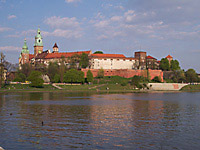 ---
Back to backups.
/2012-09-04/ The locals are back from summer vacations, which plus high season for road works in Krakow adds up to ubiquitous tailbacks and traffic jams.
Mark
---
Nightlife in Krakow
/2012-08-24/ If you're looking to explore the best bars and nightlife in Krakow then try out the bars in the Old Town- there's a plethora of traditional Polish bars mixed with modern watering holes. It's also close to the Kazimierz district where you can have a few sophisticated drinks in a relaxed atmosphere. If you're looking for something more lively then the best place to head might be the Old Town square, a Mecca of Polish party-goers and cheerful tourists. To stay busy in the daytime I can recommend a trip to Wawel Castle or an explore round the statuesque Gothic churches. Whether you're looking to stay busy day or night, Krakow has plenty of options.
Gen Flintham, StagWeb
---
Dubious signposts.
/2012-08-22/ Popular approach road to Krakow from the south has been closed due to punctured overpass. Drivers need to detour via a parallel expressway. Being one of them don't forget to leave the motorway at the very first exit with "Lagiewniki" sign over it rather than continue ahead as suggested by a signpost for "Krakow - centrum".
Mark
---
Village skills galore.
/2012-08-10/ The 35th International Fair of Folk Art takes place on the Krakow central square, Rynek Glowny, from August 17th through August 26th. About 400 village craftsmen and artists - sculptors, painters, potters, blacksmiths, embroiderers, weavers, etc. - will show their skills and sell their handicrafts. Accompanying open-air performances will feature a total of 120-plus bands and ensembles.
Kasia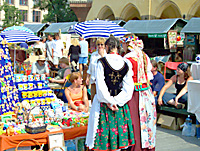 ---
No shopping on August 15th.
/2012-08-09/ August 15th is a major public holiday in Poland. So expect all shops closed on that day. Everything else of interest to tourists, i.e. sights, museums, restaurants, entertainment, nightspots, etc. - will stay open and as bustling as ever.
Mark
---
Beware, in Krakow some don't accept sex life on the street.
/2012-08-07/ A couple of foreigners who made love in public on the street in central Krakow were fined today 100 PLN each. She a German visitor and he an American ignored passersby when they had sex on Mikolajska street in the Old Town historic center full of tourists day and night. A local citizen took offence at their act and brought the municipal police to the scene. Neither the German nor the American protested the 100-zloty fine for sex in the open.
Mark
---
Good food found.
/2012-08-06/ Really good restaurants in Krakow. Better food here than average in Germany, honestly.
Maia from Hamburg
---
Free adult animations after sunset.
/2012-07-25/ Free open-air screenings of animated films are to take place on Maly Rynek square, just one block east from the central Rynek Glowny square, this Thursday, Friday, and weekend. Movies for kids are scheduled for Friday, between 11 a.m. and 5 p.m. Animations for the grown-ups to be shown on four consecutive evenings, usually at 9:30 p.m.
Muse Goer
---
English conversation meetings in Krakow.
/2012-07-23/ English Language Conversation meetings every Wednesday, 6 to 8 pm, on the second floor at ul. Sienna 5 (i.e. two floors above the ground floor at 5 Sienna Street, the street beside Empik on the main market square in the center of Krakow). The purpose of the meetings is to meet people from different cultures and practice speaking English. There are more than 30 people almost every time - some foreigners, some students, some local people. The only requirement is to participate and speak English. English Language Club has met year-round every Wednesday except Christmas Day since 2007. It's almost free (2 zl) and there is tea.
Roy
---
Flapping question.
/2012-07-19/ I saw many pigeons in Krakow. I know that most people think those birds are so cute... But can we be sure that they don't disseminate germs? Are they inoculated or something?
Melinda, Austria
---
August Festival of Classical Music.
/2012-07-15/ Music in Old Krakow festival has been the city's cultural climax of the second half of August for the last 37 years. Also in 2012 the festival starts on August 15 and ends on August 31. Daily concerts - and two a day on August 26 and August 27 - feature accomplished artists and ensembles, both Polish and foreign, performing classical music from early to contemporary.
Kasia
---
Heat tide to go out.
/2012-07-07/ Weather forecasters foretell the end of the heat wave in a couple of days. Temperatures in Krakow well above 30 degrees Celsius over the last fortnight have made folks sweating heavily, somewhat emptied streets around noon, and boosted sales of ice-cream and soft drinks. The city fathers parked a water-wagon with free drinking water on the central square, banned horses from it between noon and 3 p.m., and turned a blind eye to tourists and children bathing in fountains. Fire engines have been improvising cool street showers. It is to change soon and from the next Wednesday on we expect the day highs in Krakow to keep to the pleasant range between 20 and 25 degrees Celsius.
Mark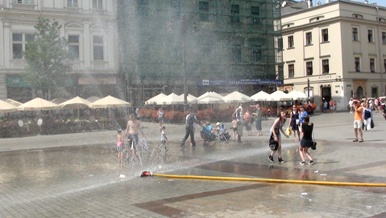 ---
Festival of Polish Music.
/2012-06-27/ 8th Festival of Polish Music in Krakow is scheduled for next month. Its program consists of concerts of classical music by Polish composers, from Renaissance to contemporary, featuring Poland's accomplished soloists, orchestras, choirs, and ensembles. At least one festival event takes place on every day from July 13th to July 21st.
Kasia
---
Jewish Festival of Krakow.
/2012-06-20/ This year's 22nd Festival of Jewish Culture in Krakow spans nine days as it starts on Friday, June 29 with a lecture about 'Caring for Memorials and Teaching the Holocaust' at 4 p.m. and ends on Sunday, July 8th with a concert-cum-screening of a 1921 silent movie at 10 p.m. A torrent of events in between includes at least two concerts every day, series of workshops (singing, dancing, art, cooking, and Yemenite jewelry), numerous lectures and public debates, tours of Jewish sites in Krakow, and five exhibitions. The venues are concentrated in the compact area of the historic Jewish quarter of Kazimierz.
Kasia
---
Preferences vs. circumstances.
/2012-06-12/ Really hard to book decent lodgings now in the city. It's the football championship I guess. Finally we've settled for a rental apartment in Krakow though personally I decidedly prefer staying in a hotel to self-catering.
Alliant
---
A shortened rail tracks to Wieliczka in June.
/2012-06-07/ This June visitors to the Wieliczka Salt Mine should bear in mind that the last train stop there is Wieliczka-Park instead of the usual Wieliczka-Rynek. The line has been shortened to please Italy's national soccer team who made a Wieliczka hotel their base during the UEFA European football championship in 2012. The Italians maintain that trains running past their lodgings would pose a security risk. Sure, noise is dangerous for your sleep. Anyway, trains will stop short of the central Wieliczka as long as the Italian footballers stay in the game.
Mark
---
More for a train to Krakow Airport.
/2012-05-30/ Expect more expensive fares for a shuttle train linking Krakow Airport and the city's central rail station from this June on. A one-way ticket is to cost 19 PLN (the Polish zloty) and a return ticket, valid 30 days, will be 29 PLN.
Kasia
---
Seeing is believing.
/2012-05-21/ I've enjoyed your videos of Krakow. We thought about coming to your city this summer or early autumn. Now I'm positive we should visit the place. Have already booked the hotel.
Bob
---
Two brand-new hotels.
/2012-05-15/ International hotel chain Accor has just opened twin down-market establishments in Krakow. The two are situated side by side behind Galleria Krakowska shopping mall and next to railway tracks on the approach to the city's main train station. The less cheap one has been branded Ibis Krakow Stare Miasto and its one-star sibling - Ibis Budget Krakow Stare Miasto. Their rates aren't that low actually.
Kasia
---
Wow, long weekend again...
/2012-05-14/ All branches of the National Museum in Krakow close for Corpus Christi feast on Thursday, June 7th. Also expect all shops closed except convenience stores attached to filling stations. Other places keep holiday hours.
Mark
---
See Leonardo da Vinci's famed picture in Krakow. Now!
/2012-05-11/ At long last da Vinci's Krakow beauty, Lady with an Ermine, can be admired again. Tomorrow, Saturday May 12th, 2012 the show of the Renaissance masterpiece starts in the Krakow Royal Castle of Wawel. Opening hours are the same as the castle's main tour of the second-floor Royal chambers called State Rooms - from 9:30 a.m. to 5 p.m. on Tuesdays, Wednesdays, Thursdays, and Fridays while on weekends they are 10 a.m. to 5 p.m. Brace yourself for long queuing as only twenty visitors are let at a time. A separate ticket for the exhibition of da Vinci's painting (and practically nothing else) costs ten zloty, an equivalent of about two euro at the current exchange rate. But they say one may also see the portrait by Leonardo at the end of the tour of the royal tour of State Rooms for 18 zloty.
Muse Goer
---
Mayday!
/2012-04-24/ Note that both Tuesday, May 1st and Thursday, May 3rd are public holidays in Poland and Krakow, Poland is no exception. Expect all shops and shopping centers closed. Ditto banks, government and other offices, workshops, etc. Most of the rest - including restaurants and many tourist spots and cultural events - should be alive.
Mark
---
Lady with an Ermine to Reside in the Royal Castle.
/2012-04-21/ From May the famous Krakow painting by Leonardo da Vinci, Lady with an Ermine, will be exhibited on the second floor in the western wing of the Wawel Royal Castle in Krakow. The exact dates hasn't been announced. The Renaissance masterpiece is to stay at the castle till the conclusion of the renovation of the Czartoryski Museum on the opposite end of Krakow's Old Town central district, expected sometime in 2013.
Kasia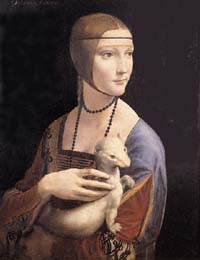 ---
New Public Transport Fares
/2012-04-16/ There are new, slightly raised rates in place on public transport in Krakow. Now a one-way ticket for a bus or a tram costs 3.2 zloties (PLN) within the city limits. When you need to change buses or trams on the way there is a 30-minutes ticket available also for 3.2 PLN or a 60-minutes one for four zloties.
Kasia
---
Beauty Spot
/2012-04-11/ Beautiful city, Krakow. Central square liked most.
Marie, Canada
---
National Museum's Holiday Hours
/2012-04-05/ This Easter all branches of the National Museum in Krakow stay closed on Sunday, April 9 but will be open on Monday from 10 a.m. to 4 p.m. except Stanislaw Wyspianski Museum. They also close for May Day. On the Constitution Day, May 3rd their opening hours are 10 a.m. till 2 p.m. Stanislaw Wyspianski Museum is to remain closed for renovation till September 2012.
Muse Goer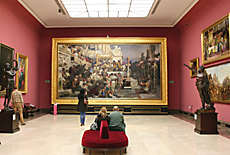 ---
Auschwitz Restrictions
/2012-04-03/ From April 1 through October 31 individual tourists may visit the Auschwitz proper before 10 a.m. or after 3 p.m. Between 10 a.m. and 3 p.m. only groups with a licensed guide are allowed in. Yet individual tourists can join guided tours at stated hours or form a group of twenty of more and employ one of the guides available on the site. Nearby Birkenau concentration camp a.k.a. Auschwitz II is accessible to individual visitors anytime as long as it's the opening hours.
Mark
---
Easter Close-up.
/2012-03-30/ Expect all tourist spots closed on Easter Sunday, April 8th. Many close also for the Monday, April 9th. Shops will also stay closed for those two holiday days. If you will need to purchase foodstuffs, toiletries, etc. practically your only recourse will be gas stations and their stores, open nonstop. Selected pharmacies will sell medicines. Restaurants, cafes, coffee houses etc. will mostly keep hours as any Sunday or Monday.
Mark
---
Easter Market.
/2012-03-27/ Krakow Easter market takes place on the Rynek Glowny central square till April 9th.
Kasia
---
New Flight Schedule
/2012-03-19/ The management of the Krakow airport has announced at last its timetable of air connections for summer 2012. Actually, it covers the coming months from mid-March through October. The new timetable promises more destinations and more frequent flights. Krakow Info publishes the schedule on two separate webpages. One of them is devoted to outbound services, i.e. it shows flights from Krakow. Another features flights to Krakow.
Mark
---
Krakow Michelin Stars, an Update /2012-03-14/ Michelin guide scouts have updated a bit the list of restaurants in Krakow referred to in the latest 'Main Cities of Europe' yearly edition for 2012. Three eateries are out, three new are in. Most regrettably no Krakow place has been awarded any Michelin star ever to date. Currently only three restaurants – i.e. Copernicus, Trzy Rybki, and Wentzl – rejoice in three pairs of cutlery printed next to their names. The fortunate seven which can boast two spoons and two forks each are Ancora, Cyrano de Bergerac, Jarema, Pod Baranem, Resto Illuminati, Szara, and Unicus. The remaining seven Krakow restaurants mentioned in this year's Michelin guide are Del Papa, Farina, Kawaleria, La Campana, Miod i Malina, Trufla, and Wesele.
Yors Tastycles
---
Beefing
/2012-03-12/ What's with you ?! I've tried to find out about dining out in Krakow but the city apparently doesn't have any steakhouses. Don't you eat steaks over there?
Rod, Toronto
---
Online Shopping for the Royal Castle
/2012-03-06/ Museum of the Wawel Royal Castle in Krakow has launched its online shop at www.wawel.krakow.pl/sklep It sells the museum's publications, a few souvenirs, DVDs and CDs with concerts of classical music recorded at the castle, and one board game.
Kasia
---
Easter Classics
/2012-03-01/ This year's Easter Misteria Paschalia festival of classical music takes place in Krakow from the 2nd of April through the 9th of April so it spans the entire Holy Week including Easter Sunday and Monday. Its program consists of one evening concert on every single day and features noted European performers such as Italy's soprano Roberta Invernizzi with Europa Galante ensemble, France's Les Musiciens du Louvre Grenoble orchestra, and Spain's Hesperion XXI ensemble. The music is suitable for the occasion and includes Baroque masterpieces from Bach to Handel to Vivaldi as well as some recently uncovered treasures.
Kasia
---
Fatty Goes Happy
/2012-02-15/ In Poland tomorrow is Fatty Thursday, i.e. the last Thursday before Lent, which means everybody devours donuts. It's one of the strongest traditions in Krakow.
Mark
---
Italians Too
/2012-02-11/ Italy's squad for the Euro 2012 football championship will be based in Wieliczka near Krakow, a town better known for its ancient salt mine. Italian footballers are to stay in Turowka hotel and practice on the turf of Krakow's Cracovia stadium. Also two other key squads, England and the Netherlands, have decided to be based in Krakow.
Kicky
---
Keep Your Plastic Safe
/2012-02-06/ Watch out for bank card skimmers when withdrawing cash from ATMs in Krakow. Evidently the crime is back in the city and you may pay dearly for being careless. So at least obstruct view of your fingers dialing PIN to make sure no spying camera can see it. Also, possibly avoid cash machines situated in deserted places. Generally ATMs inside banks are considered safer, ditto those installed in busy shopping centers and other places permeated with intrusive security. And look for machines with a semi-spherical slot for the plastic which hamper attempts to mount a card skimmer.
Mark
---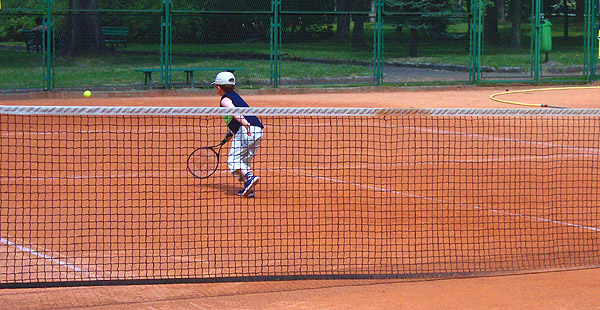 Tennis Special
/2012-02-03/ Tennis player? See our new web page about playing tennis in Krakow at http://www.krakow-info.com/tennis.htm
Kasia
---
The ultimate chill-out
/2012-02-02/ A frost wave hits Krakow with day's highs as low as fifteen degrees Celsius below freezing and night's lows going down beneath minus 20 C this week. Long-term forecasts predict the weather conditions to continue till February 10.
Mark
---
Extended Noel
/2012-01-21/ Fresh from Krakow. I think it's special that that there is still Christmas on in the city in the third week of January. Decorations, trees, even concerts of carols here and there. Maybe little weird but fine with me.
Kid
---
Fit for You
/2012-01-19/ Looking for a gym in the city? We've launched a brand-new webpage devoted to fitness in Krakow. It contains general information about available facilities and details such as rates, equipment, classes, etc.
Mark
---
Lost in a Restaurant
/2012-01-14/ I believe I've forgotten my camera at one of restaurants in Krakow. Unfortunately I cannot locate the place. It was somewhere in the old town, a block or two from the square. They serve Italian food and the room has a glass ceiling (I mean it literally so you see the sky). I think I left the camera hanging on the backrest of my chair. Can you help?
Jose
Contact Amarone restaurant at 14 Florianska street. - Editors.
---
Less Festive Than Usual
/2012-01-10/ Krakow's city council had to slash this year's outlays and the budget cuts are set to affect also a number of festivals planned for 2012. Their organizers usually rely on municipal financing, more or less, so some may be cancelled, some downsized, some will escape unscathed. Rough-and-tumble is in full swing and it's impossible now to predict the outcome.
Kasia
---
Eye Teeth
/2012-01-07/ Looking for a good dentist in Krakow. I've heard they are good value for money. Can you recommend one speaking English or Spanish?
Rosa
---
New Year on the Cheap
/2012-01-02/ Visited the city for the New Year's celebration but have overstayed a couple of days, swayed in part by cheap January rates in our hotel in Krakow. I've found you can be pretty frugal here.
Jon
---