Visitors and residents wrote about Krakow in 2008.
Click here to write your contribution to our Krakow-watching common blog.
Authors of the entries to the Krakow In-Forum take full responsibility for their content. The following does not necessarily represent opinions of the Krakow Info editors.
Party Expectations
/2008-12-27/ Looking forward to Leona Lewis performance on the central square. I've heard that the New Year's party in Krakow is the biggest one or almost in Europe.
Sergey
---
Poking Predators
/2008-12-22/ I was shopping at the Christmas market in Krakow on the main square. There was an open-air cafeteria with hot meals so we decided to have an al fresco lunch. Chewing on my fried sausage I observed a couple of hobos who circled around the tables. At one point one of them, a woman in her fifties, poked her finger into the plate of my neighbor at the table next to mine. And next she snatched the plate full of food barely touched by its rightful owner when he left it in disgust. It looked like premeditated attack on the food. Also, I noticed more bums hanging around. So you'd better watch out when eating out in crowded places.
Maria Gonzales

Krakow's Christmas market on the central Rynek Glowny square.
---
Happy 2009 in Krakow
/2008-12-17/ Last year I tried to book a hotel room in the city for the New Year in October but it appeared that all were sold out. This year good hotels in Krakow are available on the New Year in mid December! Wow, I will celebrate the start of 2009 in Krakow! I hope it won't be too cold.
Andrea
---
Opera Moves
/2008-12-14/ New opera house is good news for lovers of opera in Krakow. Fingers crossed, there will be more than just two opera nights per week as now. And it will be easier to get tickets. On the other hand I will miss the old-fashioned air of the gilded interior of the Slowackiego Theater where opera classics have fitted so well.
Dorota Soprano
---
Redouble the Spirit of Christmas
/2008-12-07/ Parents beware! In Poland kids are entitled to two visits of Santa Claus every year, first on December 6 and next on Christmas Eve. True, some purists maintain that he bothers only on the 6th of December because it's actually St. Nicholas' Day, whereas gifts found under your Christmas tree are delivered by an angel.
Mark
---
City of Christmas
/2008-12-01/ I'm bound for Krakow to spend Christmas in the city with my girlfriend. I've heard it boasts to be the world capital of white Christmas. So we'll see.
Rudi R. Deer
---
Shopping for Amber
/2008-11-26/ We took a city break in Krakow last weekend, visiting synagogues of Kazimierz and the Wawel Castle. When we walked to the Market Square /Rynek Glowny central square – editors/, I noticed that there are many shops selling amber in Krakow. We didn't have much time but anyway I bought a necklace of pretty large beads, almost the size of an egg. We want to come back soon and do more shopping.
Miriam Burnstein
---
Wieliczka Disabled
/2008-11-16/ I am with my husband who is disabled in Krakow. We called the salt mine museum to plan a visit tomorrow' hearing they adapted to wheelchairs. The woman in charge told me we could take only tours on 08:00 or 18:00 hours and that in addition to the costs we have to pay around 290! zloties for the guide, the cost of a guide to a group of 35 people, although we are a couple only. We were very much displeased with it and I think it is rather taking an advantage of the disabled tourist.
Sh.G.
---
Now Krakow Is a Bargain
/2008-11-12/ At present Krakow and Poland are cheaper almost by half for foreign visitors (and investors too). Since the last summer the Polish money, zloty, has depreciated significantly against practically all major currencies such as euro, the American dollar, the British pound, the Swiss franc, and the Japanese yen. For instance, one US dollar is now worth 2.9 Polish zloties compared to just two zloties as recently as last August.
Barbara G.
---
A Wealth of Polish Music
/2008-10-25/ This year's 4th Festival of Polish Music in Krakow takes place from November 9 through November 16 and features outstanding performers of classical music, from early to contemporary. Its concert program – there are one or two concerts every day – includes works by Polish composers of the world's renown such as Krzysztof Penderecki and Henryk Mikolaj Gorecki as well as their less known compatriots. The festival proves that the Polish music can boast many gems besides Chopin's piano pieces.
Mark
---
Tours vs. Day-Trips
/2008-10-18/ There are so many tours of Krakow to choose from that a weekend break isn't enough to see all interesting sites. And while visiting the city it would be a waste to miss a day trip from Krakow to one of the exceptional tourist destinations in the region. The most popular are the Wieliczka Salt Mine, Tatra Mountains National Park, and Auschwitz.
Anna Hernandez
---
Real Property Impact
/2008-10-14/ This year Krakow's property market is seemingly tottering. Prices of flats, galloping over the previous years, have stayed largely arrested since January by stagnant trade or they have even gone slightly down. Despite a weakened demand for real estate in Krakow both developers and potential sellers remained mostly averse to significant reductions, hoping to ride out the rough time. At the same time likely buyers look for bargains in anticipation of falling property prices as an expected abundant supply of new apartments coincides with economic downturn. Real estate agents urge to buy property in Krakow now because prices are set to go up steeply again sooner or later. On the other hand experts advise investors in the city's property market to sell real estate holdings whenever they want to realize their profits right away.
Richie
---
Not So Good Krakow Hotel
/2008-10-08/ I've heard there are many good hotels in Krakow. Unfortunately I had bad luck to book a terrible one. To start with, they boasted a central location while actually the hotel was situated at 29 Listopada street far away from the Old City. The call themselves 'premium' whereas they are rather substandard in my opinion. Flashy online presence often masks a disappointing service in real life.
Jimmy
---
Off Hollywood / Off Bollywood
/2008-10-02/ Krakow's Off Camera festival of independent cinema takes place in early October and provides a feast for the eyes of any lover of indie movies from experimental video to the Sundance stuff. This year the world's twelve top indie films compete for the main award of 100,000 euro accompanied by 350 screenings of 120 pictures. The latter include both new productions and classics by Andy Warhol, Steve Buscemi, and Dan Sallitt. The festival organizers also take care of the ears through auxiliary musical events featuring alternative artists.
Hanna
---
Clubby Event
/2008-09-19/ I'm coming for the Wisla Krakow football match with Tottenham, the second lag of the UEFA cup. We hope there will be no fights whatsoever with supporters of the Krakow club. I also expect a great show. The first match in London last Thursday was a closely fought game full of suspense.
Johnny Ball
---
Sleep in Peace
/2008-09-06/ Quiet backpacker lodgings looks like a contradiction in terms. Still I was able to find a cozy hostel in Krakow in the peak period this summer. Clean and fairly well equipped place, no bunk bedrooms, is run by a middle-age couple in the newer part of the Old Town close to the bus station. On my many travels I've learned that it's always possible to find a centrally located yet peaceful bed and breakfast when you really want one.
Jimmy O.
---
Ghetto Search
/2008-09-04/ We were looking for traces of the Krakow Jewish ghetto that the Nazis had set up in Podgorze district. Hardly anything has survived but walking around in the area was an interesting experience. This part of the city is very different from the Old Town majority tourists know. Memorial to the ghetto victims on the square, metal chairs, is rather curious.
Sarah Berg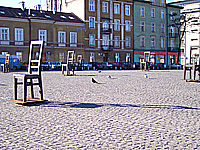 ---
Temporary Display
/2008-08-28/ National Museum in Krakow exhibits an interesting show of the late 20th-century art. Works of Eric Fischl and collages by Andy Warhol are particularly noteworthy.
Pasquale Santi
---
Unsynchronized Swimming
/2008-08-20/ I cannot live without taking a dip every day or two so I wanted to find a decent swimming pool in Krakow. I tried all four open-air public facilities but they were packed beyond belief. At the same time it looked like all indoor swimming baths in the city stayed closed for summer.
Harry
---
Flea Markets of Krakow
/2008-07-24/ A daily flea market next to Plac Nowy square in Kazimierz district is a modest affair employing several vendors. More sellers appear on weekends at a flea market around Hala Targowa shopping center at Grzegorzecka street. Once or twice a year a local collectors club organizes a major flea market called Targi Staroci, i.e. antiques fair, on a square in the Old Town which event gathers many vendors from Krakow and other cities.
Hanna
---
Smoking Fine
/2008-07-22/ Smoking in Krakow is a tricky matter. One can smoke even in the best restaurants but the police may fine you for smoking in the street near a bus stop.
Hans
---
From Purcell to Kraftwerk
/2008-07-14/ Lovers of classical music should visit Krakow in the second half of August and in mid September when two time-tested festivals take place. First, a festival called 'Music in Old Krakow ', August 15 to August 31, offers older music – from Purcell to Bartok – performed in the city's ancient churches and other historical buildings. Conversely, later on the Sacrum-Profanum Festival, stretching over the third week of September with industrial sites often serving as the venues for concerts, is devoted to fairly contemporary music. This year it's the output of the German modern composers. Interestingly enough, the festival culminates in the series of three concerts by Germany's legend of techno rock, the Kraftwerk band.
Hanna
---
Experimenting with Fun
/2008-07-05/ When I asked my local friend about Krakow attractions for a schoolboy he told me about a science garden opposite the M1 shopping mall. I took my nine-year-old son there and he was truly thrilled at the experience. He greatly enjoyed ingeniously crafted and entertaining experiments that demonstrated the basic laws of physics. They are real fun and zero classroom routine.
Sophie
---
Baggars
/2008-06-09/ Be warned the hypermarkets in Krakow don't provide customers with shopping bags. Today I was surprised doing shopping in what I believe was a Carrefour in the shopping mall next to the train station. At the cash desk there were no plastic or paper shopping bags! When I made a fuss the cashier girl offered me rather small shopping bags of thin plastic for 0.60 zloty a piece. I had no choice but to purchase three and one disintegrated almost immediately under the weight of two bottles of mineral water!
Kate
---
Good Krakow Job
/2008-05-29/ Your Krakow Info web site contains so much useful information. Keep up the good job!.
Misia
---
Too Much Noise
/2008-05-21/ Yesterday doing widow shopping in the mall next to the central train station. I left it pretty soon because of noise. This Krakow shopping mall is probably the noisiest such place I ever was to.
Cindy
---
Museums for Free at the Night
/2008-05-18/ Last Friday night we visited six museums in Krakow with a single ticket – in the form of a bogus coin – for as little as one zloty, an equivalent of 0.35 euro. Plus there were some extra attractions such as concerts of music. As it turned out, all Krakow museums are available for next to nothing one night in May every year. Unfortunately, it isn't possible to see them all, as many as they are, on a single night because they close at one a.m. Also, there are huge crowds at the most popular exhibitions.
ZuZu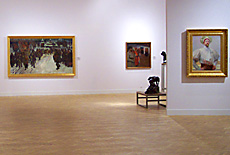 ---
Double Standard
/2008-05-12/ I don't understand why I need to buy another bus ticket for my suitcase – actually one ticket for every piece of luggage bigger than a purse – in addition to the regular fare in Krakow.
Lassie
---
Krakow's Michelin Restaurants
/2008-05-10/ I've found out that the latest edition of the Michelin red guide, Main Cities of Europe 2008, mentions sixteen restaurants in Krakow. Namely Ancora at 3 Dominikanska street, C.K. Dezerter at 6 Bracka, Copernicus at 16 Kanonicza, Culd-de-Sac at 4 Na Grodku, Cyrano de Bergerac at 26 Slawkowska, Del Papa at 6 Sw. Tomasza, Farina at 16 Sw. Marka, La Fontaine at 1 Slawkowska, Leonardo at 20 Szpitalna, Miod Malina at 40 Grodzka, Pod Roza at 14 Florianska, Szara at 6 Rynek Glowny, Szara Kazimierz at 39 Szeroka, Tesoro del Mar at 6 Jozefa, Wierzynek at 15 Rynek Glowny, and Wentzl at 19 Rynek Glowny. It's a pity so many good restaurants in Krakow have been left out. Sure, Krakow is just one of 41 cities in 20 European countries featured in the Michelin guide.
Jean
---
Left Luggage at the Airport
/2008-04-14/ I was said there are no left luggage facilities at the Krakow airport so I'd need to take my bags with me to the central train station. Not exactly. I've found luggage lockers situated outside the airport's terminal, on the sidewalk opposite the car park.
Luigi
---
Book-warm
/2008-04-02/ I've found a fine place near the Krakow royal castle. There is a cafe-bookshop halfway Kanonicza street, at a nice piazza opening to a splendid baroque church. It's fairly roomy with bookshelves supplied well enough to satisfy almost everybody's appetite for reading and quiet enough to have a rest over a cup of coffee.
Julia
---
Missing Schindler's Factory
/2008-03-10/ I'm guilty of talking my friends into visiting Schindler's Factory. I wanted so much to see the place immortalized in Steven Spielberg's movie 'Schndler's List'! I watched the picture several times in recent years, always deeply moved. No wonder being eventually in the city I insisted on a jaunt to Schindler's Factory at the expense other attractions of Krakow. My friends gave in at last. Because the site seemed nowhere near any bus or tram stop we took a taxi. It was total waste of time and money! The factory is just a boring building in the midst of a vast industrial wasteland of similar dirty plants. I had heard that there had been a small museum but the site was off limits to visitors due to extensive renovation works evidently under way. A young man, who was passing by, told us the factory underwent refurbishment and it would open as a museum in a few years.
Judith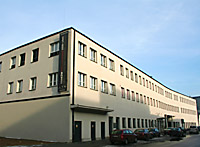 ---
Less Crowded Sky Over Krakow
/2008-02-26/ Hello Mickey. The air connection with Budapest isn't the only one missing in the Krakow airport's timetable. There are noticeably fewer flights to and from Krakow and fewer destinations than last year. I've learned that one major local carrier, SkyEurope, abandoned its all links with Krakow. Hopefully it'll be better with the arrival of high tourist season.
Lucy
---
No Fly Fright
/2008-02-25/ I'd like to travel to Krakow again from Budapest on my May visit to eastern Europe (the Czech Republic plus Hungary and Poland). I'm surprised that no carrier flies any longer to the Krakow airport from Budapest as they used to a year ago. Now I have to make hard choice – should I take a six-hour train journey or should I skip Krakow altogether this time around.
Mickey
---
The Best Museums in Krakow
/2008-02-17/ I don't agree with your ranking of museums on the best of Krakow web page. In my opinion The Royal Castle beats The Czartoryskis Museum. And I wonder why Archdiocesan Museum is missing among the top ten.
Maria
---
Meter Matter
/2008-02-10/ Crisscrossing the city on business – to take advantage of Krakow's buoyant real estate market I was doing viewings of various properties looking for three-bedroom flats – I couldn't rely on public transport so traveled a lot by taxi. I noticed that fares varied widely from ride to ride despite similar distance. Once on return from remote part of the city I was charged almost twice the original fare I had paid to get there. I've learned that each taxi driver in Krakow has his own fares and you should ask in advance how much it'll be (fleets probably charge less).
Billy
---
Remorselessly Overstayed
/2008-01-07/ Krakow has turned out to be so nice city that we have overstayed New Year's Day without much remorse. Also, with holiday visitors gone and the tourist season at its low ebb, we have been able to keep our Krakow hotel room at a reduced rate. Most we enjoy the ancient churches of the old town and the fact that Christmas is still on all around in the city – decorations, glittering trees, carols, nativity scenes, etc. On evenings we indulge in a shopping spree, shame on us!, as shopping centers in Krakow stay open till 10 p.m., even on weekends, and massive winter sales have just started.
Natasha
---