Blog of Krakow-watchers and Visitors.
Click here to write your contribution to our Krakow community blog.
Authors of the entries to the Krakow In-Forum take full responsibility for their content. The following does not necessarily represent opinions of the Krakow Info editors.
National Museum This Festive Season
/2010-12-07/ On Christmas Eve, December 24th, all branches of National Museum in Krakow close at 1 a.m. and stay closed next day. On December 26th their opening hours are 10 a.m. to 4 p.m. On December 31st, New Year's Eve, every branch of the Krakow National Museum opens at 10 a.m. and closes at 1 p.m. to stay shut on January 1st, 2011.
Mark
---
Hot Chocolate Recipe
/2010-11-29/ I recently spent a wonderful week in Krakow, and in several cafes had delicios, thick hot chocolate - the best I've ever drunk. Is there anyone who can give me a recipe for this? The hot chocolate in UK is nowhere near the Krakovian standard. Many thanks
Roger Manning (UK)
---
Xmas Trading
/2010-11-29/ Christmas market in Krakow has started on the Rynek Glowny central square. It'll last through December 26. Traditionally its stalls sell Christmas decorations, sweets and foodstuffs, handicrafts, etc. Other attractions include live performances and craftsmen showing their skills.
Kasia
---
Holiday Making in Progress
/2010-11-20/ Poland has just got yet another national holiday. At long last Epiphany on January 6th is to be sanctioned as a public festival from 2011 on. Visitors to Krakow should expect shops and attractions closed on that day.
Mark
---
Contemporary Via Temporary
/2010-11-15/ Museum of Contemporary Art in Krakow – MoCAK opens tomorrow at Schindler's Factory, 4 Lipowa street, to exist back to back alongside the popular museum of the WW 2 opened last June. The minimalist architecture of the new museum will contain the collection of mostly Polish modern art but temporary shows are supposed to become its hallmark. The first exhibition of contemporary art is expected sometime next spring.
Kasia
---
Black Horse Demystified
/2010-11-08/ Jackie, you mean a very popular picture entitled 'Ecstasy' in English. It was painted by Wladyslaw Podkowinski in 1894. Now property of the National Museum in Krakow and exhibited in its Gallery of the 19th-century Polish Art in the Cloth Hall (Sukiennice) on the central square.
Mark
---
Black Horse
/2010-11-08/ I loved Krakow when I was there recently. I have a copy of a painting of a nude blonde lady on a rearing black horse but am unable to find out title of it or who painted it. Please can you give me this info? Thanks very much.
Jackie
---
Set to Vote
/2010-11-04/ On Sunday, November 21st the citizens of Krakow will vote in the local elections together with the rest of Poland. They are to choose their mayor as well as the city council and the councils of Krakow's 18 boroughs. In the mayoral race the two-term incumbent, Professor Jacek Majchrowski, runs as an independent backed by the left against candidates of the country's two biggest parties, the centrist PO and the populist right-wing PiS.
Kasia
---
In a Word
/2010-11-02/ Was to Krakow last week. Enjoyable.
Cheerio
---
Online Booking Trap
/2010-10-17/ Newly opened historical museum underneath Rynek Glowny central square of Krakow has proved an instant box-office success. And it's natural that people take advantage of an online ticket sale to avoid long queuing. Yet make sure that you'll be able to turn up to collect the tickets on time. Otherwise your credit card can be charged with a fine to the tune of 150 zloties, i.e. an equivalent of about forty euro. Also remember that the tickets booked online aren't transferable to anyone else.
Mark
---
Museum Both Traditional and Modern
/2010-10-08/ Gallery of the 19th-century Polish art on the upper floors the Cloth Hall (Sukiennice), in the middle of the Old Town's central square, has recently reopened after a refurbishment. Fortunately, that branch of the National Museum in Krakow and its cradle retains the nineteen-century atmosphere despite modern equipment and amenities. Also, it still exhibits the best paintings of Poland's top artists from the late 18th century and throughout the next: from the enlightenment to the romanticism to realism to impressionism and symbolism. The museum has got a coffee shop with a large roof terrace providing the best view of the central square's eastern half and St. Mary's church.
Kasia
---
Down and Up
/2010-09-22/ Was in Krakow three days, made a day trip to Kalwaria Sanctuary and Wadowice, the birthplace of Pope John Paul II. Disappointed the Pope's museum in Wadowice closed but the sanctuary very rewarding.
Mario
---
A High-Flyer
/2010-09-17/ Polish Aviation Museum in Krakow has just reopened in a brand-new, purpose-built, state-of-the-art building on its old premises at the historical Rakowice-Czyzyny airport now sitting in the middle of the city. The futuristic construction of concrete, steel, and glass, fitted with multimedia equipment, contains part of the museum's impressive collection of aircraft as well as a flight simulator, a cinema, and spaces for temporary exhibitions and special events.
Kasia
---
Missing Balloon
/2010-09-12/ Where is the balloon that used to take people above the Old Town? It operated next to the Royal Castle but it's gone now. I went up in it last year on my trip to Krakow and I'd like to take kids this time.
Sebastian
---
Way Up
/2010-08-27/ In Zakopane we planned to go for a ride to the top of Kasprowy mountain in a cable car. I knew it's one of the place's main attractions but nobody had told us that one needs to wait for hours in a mile-long queue to get in. As the two of us hated queueing we temporarily parted company with the other couple and decided we'd rather climb the mountain. The trail signpost read three hours but we reached the top in two and half. The track is easy, very scenic, and well kept, with many people of every age climbing up it. And only the last, steep part of the trail turned out somewhat demanding. The view of the jagged Tatry Mountains from the top is really stunning. Soon our friends arrived in the cable car so we had a meal together in a crowded mountaintop cafeteria. As it turned out we easily get tickets back down for half-price what the round trip costs.
Jean
---
Taxed in Krakow
/2010-08-11/ We took taxi from the station to our hotel in central Krakow. A couple of hours later I needed to get back and I had another taxi from the hotel to the station. On the first occasion I paid the double fare it cost on my way back. The same day, the same short distance, two different cab drivers, and 100 percent difference in the fare. I inquired and the hotel staff told me the taxi tariffs in Krakow are regulated. So I wonder how many cabbies in Krakow cheat.
Magnus
---
Sunday Mountaineering Galore
/2010-08-07/ Babia Gora national park close to Krakow is a great summer getaway for hikers. Situated just one hour's drive from the city, it's easily accessible in contrast to overcrowded destinations in the Tatry Mountains such as Zakopane. The 1725-meter-high Babia Gora mountain boasts Poland's greatest elevation beyond the Tatras and it features all vegetation belts from forests to dwarf-pine to alpine meadows to bare rock at the top. Splendid views stretch far towards both Poland and Slovakia. A number of trails lead to the peak of Babia Gora so all kinds of mountaineers can enjoy climbing it, from schoolchildren to ambitious climbers. The easiest track (red signs) runs from Krowiarki / Lipnicka Przelecz (a spacious car park and a bus stop). The most demanding trail (yellow marks) starts near Markowe Szczawiny mountain hotel. Climbing to the peak and back takes under six hours. But don't expect much solitude as the Babia Gora National Park is a popular weekend destination.
Mark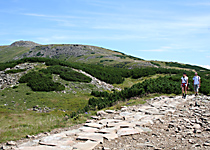 ---
Nice Stuff
/2010-07-28/ We stayed recently in a wonderful downtown hostel in Krakow just a block away from the main market. Nice staff, clean bathrooms, comfortable double bedrooms.
Marianne
---
English Deficiency
/2010-07-16/ Just got back from Krakow and loved my time in this beautiful city.... full of life, energy and colour. May I respectfully suggest that some thought be given to the greater use of English and perhaps other languages when the significance of landmarks, statues etc are being described. The same could be applied to signs in shop windows. May I say that it was a pleasure to go into restaurants where the menu always gave an English version and indeed the Polish people are wonderful in their command of English. Please do not be offended by these suggestions... I only make them with all respect.
Dorothy
---
In Short.
/2010-07-08/ Fine weather. Splendid city.
Ronald
---
Minor Downside
/2010-06-18/ We've brought our two kids, 3 and 5, to Krakow with us for a three-day break. Not many attractions for children in the city. Otherwise fine place to visit.
Mary
---
Schindler's Factor
/2010-06-16/ Historical Museum of the City of Krakow has recently opened its new branch in the former Emalia Plant a.k.a. Schindler's Factory featuring an exhibition entitled "Krakow Under Nazi Occupation (1939-1945)." It tries to expose the city's wartime grim realities through photography and documents as well as interactive installations and multimedia.
Kasia
---
Open Space
/2010-06-07/ Krakow's municipality has completed the refurbishment of the Old Town's Plac Szczepanski square, one block from Rynek Glowny central square. After two years and 13 million PLN spent the former car park has been turned into a pleasant public space with a computer-controlled fountain "dancing" to varied musical scores.
Mark
---
Small Beer
/2010-05-11/ They don't know real beer! Have visited plenty of watering holes in Krakow and all they had were all sorts of lager plus Guinness and a few local stouts.
Kent of Kent
---
Festival of Jewish Culture and Tradition
/2010-05-05/ This year Jewish Festival in Krakow starts on Friday, June 25th to last through Sunday, July 4th. Apart from two concerts every night in Tempel Synagogue at 24 Miodowa street, the festival consists of other musical events as well as several series of workshops, lectures, and tours of areas associated with history and tradition of the city's Jews. Workshops range from Jewish cooking to Hasidic singing to Hebrew.
Kasia
---
Auschwitz Accessibility
/2010-05-01/ I'm a disabled person and I want to visit Auschwitz but they don't provide any wheelchairs there I was said. Is this place for the able-bodied only?
Mick Wheele
---
The Taxing Thing
/2010-04-30/ I'm an American Citizen. While in Krakow I made many purchases and spent lots of money on items I have now taken back to America. I was unaware of the VAT tax in Poland and that I did not have to pay it. I had to leave Poland in a hurry due to the volcanic ash over Europe and had to take a flight back to America from Berlin.
BZ
---
No-go Sunday
/2010-04-14/ President Kaczynski's funeral takes place in Krakow this Sunday, April 18. This solemn ceremony brings an impressive line-up of world leaders to the city. At the same time major disruptions are inevitable. Expect cancellations, shorter opening hours and even closed stores and sites. The entire Wawel Hill and St. Mary's church will be off limits for the whole weekend. Cars will be removed from many streets to make way for VIP cavalcades and the public transport may halt for hours.
Mark
---
The Sorrow
/2010-04-13/ Our hearts are with the people of Poland in this time of sorrow.
Barbara Capuano
---
Up To Read
/2010-04-07/ I have to say, every time I come to www.krakow-info.com you have another interesting post up to read. A friend of mine was talking to me about this topic a few weeks ago. I think I'll e-mail my friend the link here and see what they say.
Louie Bags
---
Walking Holiday
/2010-04-05/ Was for Easter in Krakow. All tourist sites closed on Sunday but enjoyed the break anyway. Nice sunny day so we strolled around the old town, saw its ancient churches (all available though a few happened to hold a service going on), and had an alfresco meal on the central square. The restaurant opposite St. Mary's church serves Polish food: good quality, generous portions. The day before we managed to see the Krakow salt mine.
Sam
---
Easter Market in Krakow
/2010-03-27/ Easter market takes place on Krakow's Rynek Glowny central square from March 27th through April 5th. Besides stands with food products, crafts, and other wares visitors may enjoy tastings of traditional dishes March 26-29 and performances March 28 and April 3rd, at noon.
Kasia
---
Keep Penning
/2010-03-21/ I absolutely love all your writing choice, very exciting, don't quit and also keep penning seeing that it simply just good worth to look through it. Impatient to look into a lot more of your content pieces, thanks!
codagoody
---
List of Krakow Events in 2010
/2010-03-18/ Now you may see the city's major festivals and other top events in Krakow in 2010 listed at http://www.krakow-info.com/07events.htm
Kasia
---
Forgo Taxi, Take a Tram
/2010-03-04/ Start of a year-long overhaul of a key intersection paralyzed transportation system in Krakow over the entire southeast quarter of the downtown. In daytime it may take a couple of hours to get through. As no detour is a viable option trams turn out to be the fastest means of transport in the area.
Mark
---
So Long So Good
/2010-02-21/ Do you have copy writer for so good articles? If so please give me contacts, because this really rocks! :)
Asa Ward
---
Fresh from Krakow
/2010-02-20/ We are just back home from Cracow. I most enjoyed the royal castle and the salt mine. Also, we loved to simply stroll the streets of the Old Town. Except on the last day temperature rose and the snow melted so one had to paddle in shallow water in many places. We stayed in a decent downtown hotel and found several good restaurants in Krakow. One evening we were to a concert of classical music in a richly decorated baroque church, very satisfying.
Betty
---
Food in Krakow
/2010-02-12/ Polish food isn't what people think back in the States. We dined out in various restaurants in Krakow looking for local cuisine. The food proved original and often pretty refined.
Julie
---
Good Enough
/2010-02-09/ Best hotels in Krakow match the quality of good hotels in London or Berlin.
Ed
---
Museum Transfers
/2010-02-03/ Renowned Princes Czartoryski Museum is now closed for remodeling but part of its collections has been transferred to the castle in Niepolomice, a town on the eastern outskirts of Krakow. Their exhibition there is scheduled for opening in mid April or so. But the crown jewel of the Czartoryski Museum, Leonardo da Vinci's famous Lady with an Ermine, is said to be shown in the newly refurbished Cloth Hall Gallery from next June till the reopening of museum's seat at 19 Sw. Jana street sometime in 2012.
Kasia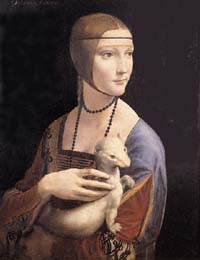 'Lady with an Ermine' by Leonardo da Vinci in Krakow's Czartoryskich Museum
---
The Hotel Blues
/2010-01-24/ Hotels in Krakow. I keep visiting the city from time to time: first as a business visitor, now mostly because of my Polish wife who wants to "stay in touch". So over those many years I've become familiar with nearly all hotels in Krakow and to be honest the service sometimes disappoints. I noticed vast improvement in the "hardware": hotel facilities in Krakow are much better than ten years ago. Unfortunately, I can't say the same about "software". Yes, personnel speak better English now but in the past they seemed to care more about the satisfaction of their guests.
John
---
Son Missing
/2010-01-20/ Have you seen our son Emil Petrov, age 20 from Finland? He was travelling from Warsaw to Berlin on the 1st of October 2009. But he never returned home. Would you like to help us to find him? Please join our group in Facebook or follow the blog written by Emilīs big sister Emma, 21 who is now in Poland looking for her brother! Thank you very much!
Emilīs mother, FINLAND
---
Krakow Takes on Cannes
/2010-01-14/ Krakow's Sinfonietta Cracovia chamber orchestra will play at the main gala evening of Midem Classic festival in Cannes, the world's top music event. It will accompany such outstanding soloists and ensembles as mezzo-soprano Elina Garanca, the UK's King's Singers, and Canada's counter-alto Marie Nicole Lemieux. The Polish pavilion at 2010 Midem fair will present festivals of classical music in Krakow.
Kasia
---
Icy Journey
/2010-01-12/ Travel to Krakow was a nightmare. Last Sunday in Warsaw I got on an express train bound for Krakow. Normally, the journey should take under three hours. Instead, we got stuck someplace midway in the middle of woods. We spent there the whole night, almost, in the bitter cold. The reason? An ice storm turned off the electric power grid and caused havoc with the country's rail transport.
Josh Kosh
---
Cheer Nativity
/2010-01-08/ We visited an exhibition of Krakow nativity theaters in the Museum of Krakow History at the central square. They are ones of their kind. Colorful, funny, cheerful.
Marie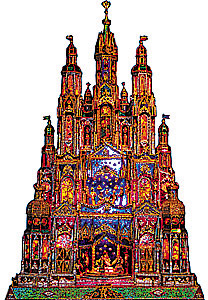 ---