Krakow blog for visitors and residents.
Click here to write your contribution to our Krakow blog.
Authors of the entries to the Krakow Forum take full responsibility for their content. The following does not necessarily represent opinions of the Krakow Info editors.
---
Leonardo is back home.
/2019-12-21/ The Princes Czartoryski Museum, home to Leonardo da Vinci's famous 'Lady with an Ermine', has reopened yesterday after nine years of renovation and modernization. Unfortunately, tickets are sold out till the end of 2019. One needs to book a visit online well in advance. The Czartoryski Museum is now a branch of the National Museum in Krakow.
Barbara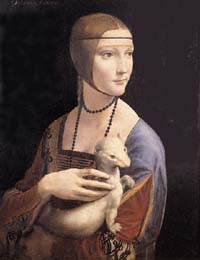 ---
New Year's free events in Krakow.
/2019-12-06/ As usual, New Year's main open-air concert in Krakow takes place in Rynek Glowny central square on December 31st at 8.15 pm to last till 2 am. It'll feature Poland's pop acts Jan-rapowanie, Krystyna Pronko, Andrzej Dabrowski, Ten Typ Mes, Tetris, Piotr Ziolo, Paulina Przybysz, Ralpha Kaminski, and The Dumplings. There will be two additional New Year's alfresco events, both going on from 9 pm thru 1 am, namely a dance party in Rynek Podgorski square and disco featuring pop music of the 1970s and later in Aleja Roz square, All three events are free of charge.
Muse
---
Gothic masterpiece ready for Christmas 2020.
/2019-11-27/ Hopefully, the restoration of the Veit Stoss altarpiece (Oltarz Wita Stwosza) in the Kosciol Mariacki church (St. Mary's church) at the Krakow Rynek central square will be concluded in December next year. So, fingers crossed, the greatest medieval sculpture of the world will regain its full glory again for Christmas 2020. Since 2015 the huge Gothic structure has been stripped piece by piece, each fragment investigated and renovated and secured against decay. The estimated cost is 13.7 million zlotys, an equivalent of about 4.2 million euro.
Ania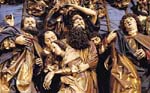 ---
Wavelo rental bikes to be scrapped soon.
Krakow's automated, self-service bike rental called Wavelo stops working December 31st, 2019. Its operator, BikeU, cites a falling turnover as the reason for termination of the service. The Krakow municipality has promised to resurrect the self-service bike rentals one way or another in the future but it's doubtful they will be able to sign up a new operator before the next year's summer.
Mark
---
2019 Krakow Art Salon.
/2019-11-15/ The Krakow Art Salon 2019 has opened in the Palace of Art, 4 Plac Szczepanski square and Planty gardens. Its curators selected contemporary artworks of 112 artists and collectives, out of nearly 1,000 entries by 435 authors. The exhibition stays open every day from noon to 8 pm till November 24th, 2019 and admission is free. On display there are paintings, sculptures, drawings, prints, photos, installations, videos, documentation of performances, and audiovisual projects..
Barbara
---
Easter music festival next year.
/2019-11-14/ The 2020 edition of the Misteria Paschalia Krakow Easter festival of classical music is to go on in Krakow throughout Holy Week, from Monday, April 6th through Easter Monday April 13th. Plus, there will be one early cello recital on Saturday, March 21st. The festival program features an array of Europe's top early music ensembles and soloists. There are two concerts planned each day for Monday, Tuesday, and Wednesday and one on Good Friday, Easter Sunday and Easter Monday. The venues are the Old Town's historic churches as well as the ICE congress center and one subterranean concert will take place in Wieliczka Salt Mine.
Muse
---
Museums almost for free of charge for one day.
/2019-11-12/ This Sunday, December 19th 2019 has been announced the Open Door Day of Krakow Museums with entry to the city's museums for just one zloty, including all branches of the National Museum. Also, various special attractions are planned, available free of charge.
Ania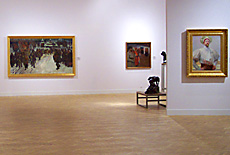 ---
Festival of the Krakow szopka Nativity scenes.
/2019-11-09/ The 77th festival of the Krakow Szopka nativity scenes takes place in the Rynek Glowny central square on Thursday, December 5th, 2019. The event starts at noon. Last year UNESCO has inscribed the tradition of building the Krakow szopka on the Representative List of the Intangible Cultural Heritage of Humanity.
Barbara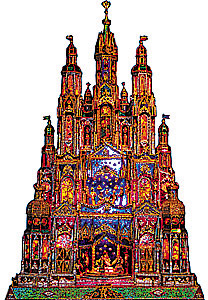 ---
Krakow All Souls Jazz Festival this year.
/2019-10-28/ The 64th All Souls Krakow jazz festival (Krakowskie Zaduszki Jazzowe) starts Saturday, November 2nd which is All Souls Day. This year's edition of Europe's oldest jazz festival ends November 10th. Its traditional Jazz Holy Mass takes place in the Bazylika oo. Dominikanow church, 12 Stolarska street and Dominikanska street, at 7.30 pm on Wednesday, November 6th.
Thoma
---
Christmas market opens late November.
/2019-10-15/ This year the Christmas market in the central square of Krakow starts on Friday, November 29th and is to end December 26th, 2019. Yet we expect it to continue as the New Year's market till January 6th, 2020.
Kasia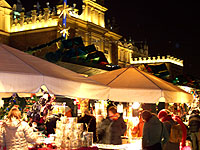 ---
Free Jazz Fall in Krakow.
/2019-09-27/ The 14th edition of Krakow Jazz Autumn festival (Krakowska Jesien Jazzowa) starts October 7th and ends November 29th, 2019. The festival features mostly free jazz and its principal venue is Alchemia club at 5 Estery street in the Krakow Kazimierz historic area.
Muse
---
2019 Krakow Book Fair.
/2019-09-23/ This year's Krakow Book Fair starts Thursday, October 24th and ends Sunday, October 27th, 2019. Its main venue is EXPO Krakow at 9 Galicyjska street in the Nowa Huta district. A one-day ticket costs 8 zlotys (PLN). Opening hours 10 am to 5 pm on Thursday and Sunday, and to 7 pm on Friday and Saturday.
Kasia
---
Krakow piano music festival for free.
/2019-09-10/ The 11th International Royal Cracow Piano Festival (Miedzynarodowy Festiwal Pianistyczny Krolewskiego Miasta Krakowa), a yearly Krakow festival of piano music, starts on Sunday, October 13th. Its program consists of nine piano recitals and concerts, one every two or three days - the last one on Sunday, October 27th, 2019. Admission to all events is free of charge.
Barbara
---
Krakow Honey Harvest – Bee-keeping Festival.
/2019-09-03/ Krakow's beekeepers have a three-day festival in the Plac Wolnica square in Kazimierz district from Friday, September 6th through Sunday September 8th, 2019. It's program includes tasting of various kinds of honey, market with honeys, beeswax, and other apiculture products as well as live performances, contests, etc. On Saturday, September 7th a Bees Parade starts in Rynek Glowny central square at noon and proceeds south to reach Plac Wolnica square at 1 pm.
Kasia
---
Free Chopin music.
/2019-08-20/ Free concerts of Chopin's piano music take place every night August 23rd thru August 25th in Aula Florianka concert hall, 15 Sereno Fenna street, at 7 pm.
Ania
---
Long weekend coming.
/2019-08-12/ The Catholic festival of Assumption Day falls on Thursday August 15th, 2019 and it's a public holidays in Poland (and Krakow, Poland is no exception). Expect shops and shopping centers closed, ditto banks, government and other offices, workshops, etc. Most of the rest including restaurants and many tourist spots and cultural events should be alive. As August 15th is also the Armed Forces Day in Poland so one may enjoy special open-air events on that occasion. A holiday on Thursday means many people take a day off on Friday to take advantage of a four-day long weekend.
Mark
---
Tour de Pologne race in Krakow.
/2019-08-02/ Tour de Pologne bicycle race begins in Krakow tomorrow, August 3rd, 2019. The start takes place in Rynek Glowny central square at 3 pm. It This first leg of the race is scheduled to end at about 6:30 pm with the finish at Focha street next to the Blonia common. As side effects one should expect traffic restrictions, jams bigger than usual, and major alterations in public transport on Friday through Sunday.
Thoma
---
Very modern music festival this September.
/2019-07-24/ The 17th Sacrum Profanum festival of contemporary classical music starts in Krakow on Friday, September 27th and will last Friday, October 4th, 2019. It's 15 concerts usually feature internationally recognized ensembles and soloists performing the newest modern classical music. This year the program includes a good deal of recent Lithuanian music.
Muse
---
The August classical music.
/2019-07-16/ Program of this year's 44th Music in Old Cracow Festival has been published at last. In 2019 Krakow's time-honored festival of classical music consists of 17 concerts in as many days - i.e. one event every night from August 15th through August 31st.
Mark
---
Folk Art Fair in Krakow, August 8 - 25.
/2019-07-12/ The 43rd Cepelia Folk Art Fair in Krakow opens in Rynek Glowny central square on Thursday, August 8th and lasts through Sunday August 25th, 2019. Visitors may stroll along rows of stalls selling assorted traditional village crafts and arts. The wares include embroidery, pottery, woodcarving, painting, iron, metalwork, etc. Also, special attractions and entertainments are planned such as gigs by acts performing traditional village tunes and songs.
Kasia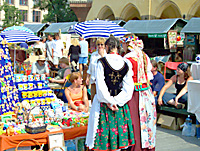 ---
Guide to Krakow 2019 obtainable worldwide.
/2019-07-02/ Published just yesterday, July 1st, the updated 2019 Krakow guide e-book in English is now available from Amazon. Titled rightly The Best of Krakow 2019, it's an expanded digital version of a handy printed guidebook on offer in Poland's bookstores.
Ania
---
Sinfonietta Festival - Stars & Strings.
/2019-06-28/ The 2019 Krakow Sinfonietta Festival of modern classic music starts on Sunday, June 30th and ends on Saturday, July 6th with concerts taking place every second day. And on Thursday, July 4th its program looks hectic with thirteen free concerts to take place in five venues.
Barbara
---
July Festival of the Polish Classical Music.
/2019-06-26/ The 15th Festival of Polish Music in Krakow starts on Friday July 5th, 2019 to last through July 20th. Its program consists of eight concerts and recitals filled mostly with classical music by Polish composers, performed by recognized artists, ensembles, and orchestras - Polish as well as foreign.
Mark
---
Jewish Festival of Krakow.
/2019-06-12/ The 29th Festival of Jewish Culture in Krakow goes for ten days, as usual. It starts on Friday, June 21st to end Sunday, June 30th with numerous, varied events in between. The program features concerts every day, series of workshops (singing, dancing, art, cooking, etc), many lectures and public debates, tours of Jewish sites, and a few exhibitions. The venues are concentrated in the small historic Jewish quarter in the Kazimierz district of downtown Krakow.
Kasia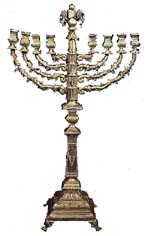 ---
2019 Summer Jazz Festival in Krakow.
/2019-06-08/ The 24th Summer Jazz Festival in Krakow takes place June 28th through July 28th, 2019. As usual, the principal venue is Piwnica Pod Baranami cellar club at 27 Rynek Glowny (Grand Square) where jazz concerts are scheduled every night at 9 pm from July 24th through July 27th. The festival will peak on Saturday July 13th when Krakow Jazz Night takes place with numerous free concerts both at Krakow clubs and in open air, including the centrally situated Maly Rynek square.
Muse
---
Lajkonik traditional parade.
/2019-06-03/ This year the Krakow Lajkonik historic pageant takes place Thursday, June 27th. It starts in Senatorska street at noon to reach St. Norbert convent, Kosciuszki street, at about 1.30 pm to proceed next towards the Old Town down Zwierzyniecka street. As planned, the colorful procession is expected to arrive in the Rynek Glowny central square about 7.20 pm where its culmination show will probably last till 9.30 pm.
Thoma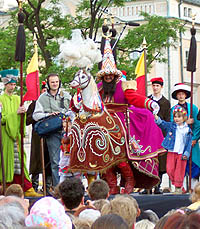 ---
Crafts fair in Krakow central squares.
/2019-05-24/ The Crafts Fair goes on in the Old Town's Rynek Glowny central square and Maly Rynek square till June 2nd, 2019. Some forty stalls sell various traditional Polish handicrafts. Several craftsmen also show their skills live. Plus live dance and music performances feature traditional village tunes.
Kasia
---
Krakow sextuplets.
/2019-05-21/ Yesterday a 29-year-old mother gave birth to sextuplets, Poland's first such case ever, in Krakow's University Hospital. Four girls and two boys have been christened Nela, Kaja, Zofia, Malwina, Tymon and Filip respectively.
Thoma
---
Student revelries peak in Krakow in May.
/2019-05-17/ In 2019 the Krakow Juwenalia traditional student festival takes place from May 21st through May 26th. As usually, it culminates in a wild and colorful pageant in Rynek Glowny central square, preceded by a parade, which falls on Friday, May 24th this year. Expect the parade of Krakow students to reach the square at noon.
Mark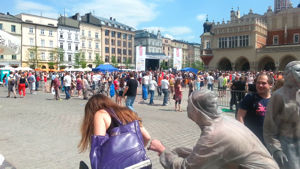 ---
Free museum for a night.
/2019-05-14/ This year the Krakow Museum Night takes place on Friday, May 17th, 2019 starting at 6 pm and ending before midnight. Alost every museum in Krakow will keep very long hours, admitting visitors for just one zloty or even for free in some cases. Also, many museums plan special attractions. Early visitors will get a free commemorative token coin.
Barbara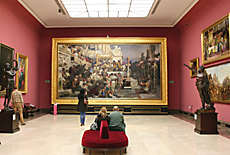 ---
Buses, trams more expensive now.
/2019-05-02/ Now bus and tram tickets cost more across Krakow public transport. A one-way ticket for a municipal bus or a streetcar is 4.6 zloty instead of 3.8 PLN. A 20-minutes ticket, which allows for changing lines, costs 3.4 zloty (PLN) and its 50-minutes equivalent is 4.6 zloties, while a 90-minute ticket has been priced at 6 zloties. The price of unlimited-travel passes for all municipal buses and streetcars have been set at 20 zloty for a 24-hour ticket. The 48-hour passes and the 72-hour passes are good only for travel within the city limits (zone 1) and cost 28 PLN and 42 PLN respectively. A seven-day unlimited-travel ticket costs 68 zlotys.
Kasia
---
Summer opera festival in Krakow.
/2019-04-12/ In 2019 Krakow Opera Summer Festival starts June 7th to end June 29th. Three events take place in the courtyard of the Wawel Royal Castle - namely two concerts of arias and a concert featuring operatic choral music. On June 19th concert Dialogue Between Masters: Mahler and Strauss is to take place at the Polish Aviation Museum at 39 Jana Pawla II avenue Otherwise the venue is the Opera House at Lubicz street.
Barbara
---
Free concerts of classical piano music for four hands.
/2019-04-10/ 3rd Duettissimo! International Piano Duo Festival in Krakow takes place from April 23rd through April 29th, 2019 in the Akademia Muzyczna conservatory at 43 sw. Tomasza street. Two daily concerts - one at 4 pm and another at 7 pm - feature pianists playing piano duets and other classical music for four hands. The concerts are free of charge.
Muse
---
April jazz festival in Krakow.
/2019-04-06/ The 25th edition of the Old and Young Krakow Jazz Festival takes place this month. Concerts of international stars take place on April 16th - John McLaughlin with his band, The 4th Dimension - and April 27th when Kandace Springs sings in the Manggha Museum. The festival program also includes three concerts of Poland's outstanding jazzmen on April 28th, April 29th, and April 30th.
Mark
---
2019 Beethoven Easter Festival's events in Krakow.
/2019-03-29/ In 2004 the Ludwig van Beethoven Easter Festival has been moved from Krakow to Warsaw, where most of its concerts take place. Still, some events are organized in Krakow. And this year the Krakow part of the Beethoven Easter Festival consists of three concerts in in the Krakow National Museum's Galeria Sztuki Polskiej XIX Wieku gallery in the Cloth Hall, 1-3 Rynek Glowny central square, April 1-3 plus one in in Filharmonia Krakowska concert hall, 1 Zwierzyniecka street and Straszewskiego stree on April 12, 2019 and a noon recital at the Jagiellonian Library, 3 Oleandry street on April 1st.
Kasia
---
Free Baroque music.
/2019-03-22/ The 24th Krakow festival of Bach music, called Bach Days, goes from Sunday, March 24th through Sunday, March 31st with one concert of the best Baroque music every day in Aula Florianka, 15 Sereno Fenna street. at 7 pm. All concerts are free of charge.
Barbara
---
Cello music for free in March.
/2019-03-15/ The local festival of music for violoncello, called the 6. Krakow Cello Spring, starts Wednesday, March 20th to last through Saturday, March 23rd, 2019. The cello festival consists of four concerts, one each day, all scheduled for 7 pm. Admission to every concert is free of charge. Venue - Aula Florianka at 15 Sereno Fenna street.
Muse
---
Henry Moore sculptures in Krakow: no tickets, some walk.
/2019-03-05/ The National Museum in Krakow shows Henry Moore's sculptures at its four branches till June 30th, 2019. The exhibition called "The Power of Nature. Henry Moore in Poland" features his monumental works in the open air as well as smaller ones indoors. They are exhibited in the museum's Main Building (Gmach Glowny) at 1, 3 Maja street and also at Europeum (Plac Sikorskiego square), the Szolayski House (Plac Szczepanski square), and The Czapski Museum at 12 Pilsudskiego street. Henry Moore is habitually referred to as "arguably the greatest sculptor of the 20th century" and you may see his works free of charge in Krakow, yet the scattered exhibition requires a fair amount of walking (though it's good for your health, they say).
Barbara
---
Easter market starts in Krakow April 11th.
/2019-02-26/ In 2019 the Easter market in Krakow starts in the Rynek Glowny central square on Thursday, April 11th and it'll continue through Monday, April 22nd. Visitors will be able to choose a wide range of the Polish traditional Easter decorations. Also, varied foods and village handicrafts will be on sale.
Kasia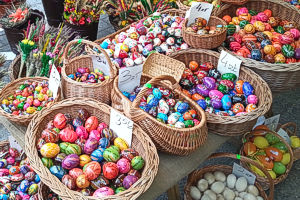 ---
2019 Krakow Easter festival of music.
/2019-02-18/ This year the Misteria Paschalia Krakow Easter festival of classical music takes place throughout Holy Week starting on Monday, April 15th to continue through Monday, April 22nd 2019. The festival features some of Europe's top early music ensembles and soloists. In 2019 the festival features Italy's Baroque church music.
Thoma
---
Street theatre fest July 4-7.
/2019-02-14/ The 32nd ULICA International Street Theatre Festival in Krakow takes place July 4th through July 7th, 2019 with simultaneous alfresco performances in the Rynek Glowny central square as well as other public spaces but always free of charge. This year's edition of the festival has the phrase "Oh, what a circus!" as its theme.
Muse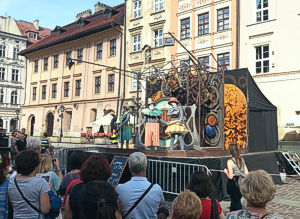 ---
Latest World Press Photo on show in Krakow.
/2019-02-11/ Exhibition "World Press Photo 2018" takes place in Nowohuckie Centrum Kultury culture centre at 232 al. Jana Pawla II from February 8th through February 28th, 2019. The show features 137 blow-ups selected from 70,000 pictures entered for the 61st edition of the venerable photojournalism contest last year. Some images on display are nasty and organizers discourage minors from visiting the exhibition. A regular admission fee is 10 zlotys (PLN).
Barbara
---
2019 stellar performers at the Krakow Arena.
/2019-01-15/ The world's star performers coming to Krakow in 2019. Ennio Morricone January 19, ZAZ February 23, Dire Straits February 24, Shawn Mendes April 2, Elton John May 4, Enrique Iglesias May 7, Jamiroquai May 23, Andre Rieu May 30, Maroon 5 June 6, KISS June 18, Rod Stewart June 21, Muse June 22, Diana Krall June 28, Mark Knopfler July 10, Ariana Grande September 9, Michael Buble September 20. Venue Tauron Arena Krakow at Lema street.
Thoma
---
New Year's market till January 6th.
/2019-01-03/ New Year's market to goes on in Rynek Glowny central square through Sunday, January 6th, 2019, the Epiphany Feast.
Kasia
---