Blog of Krakow residents and visitors.
Click here to write your contribution to our Krakow-watching blog
Read our latest Krakow Info blog | Krakow alerts
Authors of the entries to the Krakow Forum take full responsibility for their content. The following does not necessarily represent opinions of the Krakow Info editors.
---
Museums open on Boxing Day, short hours.
/2016-12-22/ All Krakow museums stay closed on Christmas Day, December 25th. Yet some of them - notably the Wawel Royal Castle, the branches of the Krakow National Museum, and most branches of the Historical Museum - will be open on December 26th although usually only till afternoon.
Thoma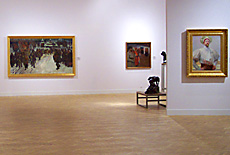 ---
New Year's Eve, more or less.
/2016-12-08/ The municipality of Krakow has decided to scale down New Year's Eve's traditional celebrations in Rynek Glowny central square. An open-air dance party with DJ Charlie and XXANAXX electronica act on January 31, 2016 at 10:30 pm replaced the usual long concert with a lineup of pop stars. Nor there will be any firework displays. However additional alfresco celebrations are to take place in two of the uptown areas of Krakow. Nowa Huta district lures local merrymakers to a show that features covers of the old pop hits by the Teatr Ludowy theater from 9 pm on. Podgorze district hosts a kind of pop music show in Rynek Podgorski square.
Muse
---
A couple of Christmas markets.
/2016-12-01/ The Krakow Christmas market goes on in Rynek Glowny central square, officially till December 26th, 2016 but possibly somewhat longer. A local rival event, called the Galician Advent Market, takes place in Plac Jana Nowaka-Jezioranskiego square (in front of Galeria Krakowska shopping mall) to December 27th.
Kasia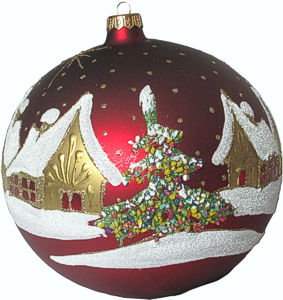 ---
2017 Opera Rara festival: late January, early February.
/2016-11-28/ Next year's edition of Krakow's festival Opera Rara stretches from January 18th to February 10th, 2017. Its program consists of fourteen concerts and recitals of operatic music, mostly of the Baroque period. The organizers have managed to woo a number of top European soloists and ensembles.
Barbara
---
Chicago Dreamliner from July 2017.
/2016-11-21/ Polish national carrier LOT is to relaunch regular direct flights between the Krakow Airport and Chicago, IL in July 2017. The airlines' Boeing 787 Dreamliner will fly once a week, year-round. Everyday flights via Warsaw stay in place.
Kasia
---
Open day museum attractions.
/2016-11-12/ Open day at Krakow museums takes place on Sunday, November 20th, from 10 am to 6 pm. That day 23 museums in the city admit visitors free of charge and many of them organize special attractions such as film screenings, lectures, shows, concerts. etc.
Muse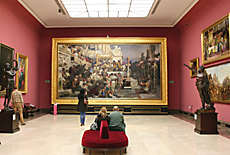 ---
Polish songs on Independence Day.
/2016-11-08/ On November 11th, Poland's Independence Day, two alfresco concerts take place back to back in Rynek Glowny central square, free admission to both. At 3 pm an array of pop acts perform Polish favorite pop songs. At 5 pm everybody sings Polish patriotic songs.
Mark
---
Krakow Royal Castle for free.
/2016-11-02/ Admission to the permanent exhibitions of Krakow's Wawel Royal Castle is free of charge this November.
Barbara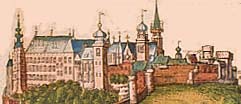 ---
New Year 2017 in Krakow.
/2016-10-27/ No major television network willing to broadcast it live nor ready to cover the cost, the town hall decided against the time-honored New Year's Krakow extravaganza in the Rynek Glowny central square. Instead of concert featuring an array of prominent pop acts, culminating in a firework display, on the evening of December 31, 2016 there will be an alfresco dance party without fireworks. Similar events are to take place in front of Teatr Ludowy theater and in the Rynek Podgorski square, meant for the locals of two major uptown areas, i.e. Nowa Huta and Podgorze respectively.
Thoma
---
Krakow Christmas decorations.
/2016-10-19/ The municipality decided that in 2016 the Christmas street decorations in Krakow will be Art Deco themed. White and silver lights are to prevail, with the addition of navy-blue, green, and red. As usual, the ornaments will be in the shape of stars, balls, and snowflakes. They will stay in place till January 31, together with three alfresco Christmas trees – two ten-meter-tall firs and one measuring 15 meters in height. The Rynek Glowny central square, where the Krakow Christmas markets take place, will get the tallest conifer, decked with some 40,000 LED lights, as early as November 26. Also eleven giant angels made of LED lights are to adorn various parts of the city.
Barbara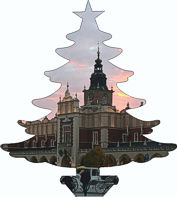 ---
Free jazz autumn.
/2016-10-08/ Jazz Autumn Festival in Krakow takes place October 23rd to December 4th, 2016. Free jazz concerts features a number of Europe's top improvising jazzmen in Alchemia club, 5 Estery street and Manggha museum, 26 Konopnickiej street.
Muse
---
City bike rentals be back soon.
/2016-10-04/ Krakow's municipality-sponsored automated bicycle rental system restarts on Thursday, October 13th, 2016 with stands scattered around downtown. Alas, the renewed service is available only via a monthly subscription .
Mark
---
Saint Michael market goes on.
/2016-09-26/ Saint Michael market takes place in Rynek Glowny central square through Sunday, October 2nd. Its stalls sell the village arts crafts from cloths to pottery to sculpture. Also traditional foods, notably breads, cheeses, and cured meats.
Kasia
---
Nativity scenes on December 1st.
/2016-09-23/ The 74th Festival of the Krakow Szopka nativity scenes starts in the Rynek Glowny central square at noon on Thursday, December 1st, 2016.
Thoma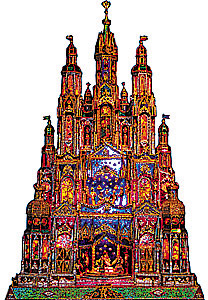 ---
Medieval attraction incomplete.
/2016-09-20/ Famous Veit Stoss's altarpiece of the high altar in the Basilica of Saint Mary (Bazylika Mariacka), arguably the world's best late-Gothic sculpture, is undergoing an extensive conservation, which requires the temporary removal of its segments. Elements transferred to the restoration workshop are replaced with life-size photos showing the missing parts. The renovation is planned to last till 2020 or longer. It will cost about three million euro.
Mark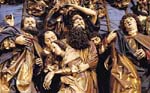 ---
New philharmonic season opens in mid-September.
/2016-09-03/ The Krakow Philharmonics start their new season on Friday, September 16th, 2016. The inauguration concert in Filharmonia Krakowska hall at 1 Zwierzyniecka street features the Krakow Philharmonic Orchestra and Choir with conductor Charles Olivieri-Munroe plus Canada's pianist Alain Lefevre and Poland's tenor Andrzej Lampert performing music by Berlioz, Gershwin, and Szymanowski.
Barbara
---
Tattoo fest.
/2016-09-01/ Tattoo Jam takes place in Rotunda student club, 1 Oleandry street, this weekend September 3rd and September 4th. Shows of tattooing and piercing plus evening music concerts.
Thoma
---
Contemporary classics early in October.
/2016-08-17/ This year's Sacrum Profanum Krakow festival of contemporary classical music takes place in the first week of October, namely from Saturday, October 1st through Saturday, October 8th, 2016.
Muse
---
Xmas market starts in Krakow November 26.
/2016-08-16/ This year the Krakow Christmas market takes place on Rynek Glowny central square from November 26th to December 25th.
Kasia
---
The many shrines of Krakow.
/2016-08-03/ There are numerous pilgrimage sites in Krakow. It's a pity pilgrims seem to think that there is just one, namely the Sanctuary of Divine Mercy.
Mark
---
Christian guide to Krakow.
/2016-07-23/ A brand-new guidebook to Krakow, aptly titled "Holy Krakow, A Pilgrimage Guide to the Heart of Christian Poland" is available now in ebook format from Amazon. Meant for all Christian visitors to the city.
Kasia
---
Festival of churches.
/2016-07-22/ Krakow churches and monasteries open to the general public for Cracovia Sacra festival on the nights of July 24th, July 25th, July 26th, and July 27th. Special attractions planned such as concerts, shows, etc.
Muse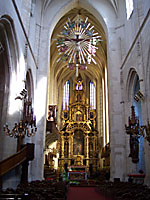 ---
Everyday free concerts.
/2016-07-21/ Everyday open-air free concerts take place on Rynek Glowny central square from July 23rd through July 29th. Part of the World Youth Day program, open to the general public.
Barbara
---
Tour de Pologne race hits Krakow.
/2016-07-14/ Tour de Pologne bicycle race finishes in Krakow on Monday, July 18th, 2016. The start takes place in Rynek Glowny central square at 3 pm, cyclists pedaling to Wieliczka and back. It's scheduled to end at about 6 pm. As side effects expect traffic restrictions, jams bigger than usual, and major alterations in public transport.
Thoma
---
Two weekends full of Polish Music.
/2016-07-07/ This Friday starts the 12th Festival of Polish Music in Krakow. Its program consists of ten concerts of classical music by Polish composers spread over two ensuing weekends: Friday July 8th to Sunday July 10th and Friday July 15th to Sunday July 17th.
Muse
---
The August classical music.
/2016-07-03/ Program of the 41th Music in Old Cracow Festival has been published at last. This year Krakow's time-honored festival of classical music features 25 concerts in 17 days, namely from August 15th through August 31st, 2016.
Mark
---
Cheap travel end of July.
/2016-07-01/ The city council has introduced an unlimited travel pass for buses and trams in Krakow valid July 26th through July 31st. Available to everybody, the pass costs only 15 zlotys (PLN). It's meant to ease transport problems during the World Youth Day and Pope Francis visit to Krakow.
Barbara
---
Our Lady of Mercy.
/2016-06-24/ "Maria Mater Misericordiae" show at the Krakow National Museum's main hall exhibits nearly 100 paintings by European Old Masters. Its title translates into English as "Maria the Mother of Mercy" and the exhibition consists of various depictions of the Blessed Virgin Mary. The show has been put together in connection with the World Youth Day in Krakow in July but it is to stay open until October 9th, 2016.
Muse
---
Early summer festival of classical music.
/2016-06-23/ Krakow's Sinfonietta Festival of classical music starts July 1st, 2016 to lasts till July 5th - five days, five concerts.
Kasia
---
The carless Krakow.
/2016-06-01/ Looks like driving through the city will be next to impossible during the World Youth Days in Krakow Not only the city center is to be off limits to motorists (and, for that matter, cyclists as well) but the authorities also plan to divide the entire Krakow into several zones and prohibit drivers from moving between them without a permit. The traffic restrictions are said to be in force from July 23rd through August 2nd, 2016.
Mark
---
Lajkonik pageant 2016.
/2016-05-11/ This year the Krakow Lajkonik historic pageant takes place on Thursday, June 2nd. It starts at St. Norbert convent, Kosciuszki street, at 1 pm to proceed towards the Old Town. The colorful procession is expected to reach the Rynek Glowny central square about 6.30 pm where its culmination show may last for over an hour. In 2016 the traditional pageant is enriched with a couple of new attractions, such as a special dance performances.
Mark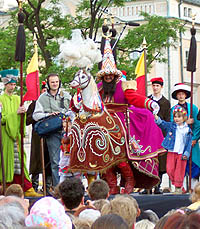 ---
Ojcow National Park regains a top attraction.
/2016-05-02/ The Pieskowa Skala castle, beautifully situated in the Ojcow National Park just 30 kilometers northwest from central Krakow, reopened after a two-year renovation. The Pieskowa Skala castle is a museum branch of the Wawel Royal Castle. It exhibits European art from medieval to modern.
Muse
---
New museum.
/2016-04-23/ Today the National Museum in Krakow has opened its brand-new branch dedicated to the life and output of artist Jozef Czapski. The Jozef Czapski Pavilion is situated at 12 Pilsudskiego street, next to The Hutten-Czapski Museum, another branch of the Krakow National Museum. A single ticket, priced at 9 zlotys, is good for both branches. The Jozef Czapski Pavilion features temporary shows as well as permanent exhibitions presenting the artist's paintings alongside memorabilia, documents, and multimedia pertaining to his biography.
Barbara
---
Krakow marathon in mid-May.
/2016-04-22/ The 2016 Cracovia Marathon takes place on Sunday, May 15th. Start on Krakow's Rynek Glowny central square at 9 am. Some 7,000 runners has signed up for the race.
Thoma
---
Street food speeds up
/2016-04-19/ Food trucks are on a roll in Krakow. The city can boast two new "food truck parks": one at Ciemna street in the Kazimierz area, another at 20 Piastowska street close to the Blonia downtown common.
Yors Tastycles
---
Summer opera.
/2016-04-11/ The 2016 Krakow Opera Summer Festival takes place from June 9th through July 1st. Its program consists of six shows in the Krakow Opera House, four on the courtyard of the Wawel Royal Castle, and two at the old gasworks at 16 Gazowa street in the Kazimierz historic area.
Muse
---
Up-to-date Krakow guide.
/2016-04-05/ Now the new, updated edition of "The Marvels of Krakow 2016" guidebook is available online from Amazon. Released just yesterday, it's reasonably priced and offers exceptionally good value for money.
Muse

---
Pope Francis in Krakow: the visit program.
/2016-03-12/ The organizers of the 2016 World Youth Days have published a draft program of a five-day visit of Pope Francis to Krakow which is to take place this year from Wdnesday, July 27 through Sunday, July 31.
Thoma
---
Krakow Easter market in 2016.
/2016-03-02/ This year's Easter market in Krakow starts on the Rynek Glowny central square on Friday, March 18. It will last through the Easter Monday, March 28th.
Kasia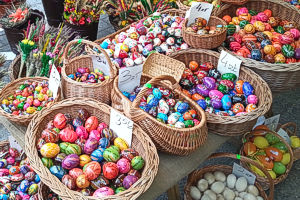 ---
The Czartoryski Museum to stay closed.
/2016-02-24/ Sadly, it's practically certain the Czartoryski Museum in Krakow will not reopen before 2018. One of Poland's top museums has been closed for renovation since 2010. It's best-known exhibit, Leonardo da Vinci's Lady with an Ermine, will probably stay on the show in the Krakow Royal Castle of Wawel.
Muse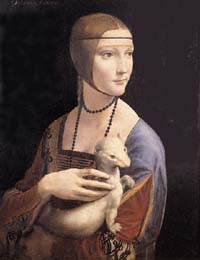 ---
All-walkers days.
/2016-02-20/ As planning for the World Youth Days in Krakow unfolds it has become clear that the city's public transport will be crippled in the time of the event, namely July 26th thru July 31st, 2016. It's said that probably only 40 percent of people, visitors as well as the locals, will be able to make their journeys by means of public transport and the remaining 60 percent will need to travel on foot. Especially that some of the main traffic arteries of Krakow will be off limits to motorists, coaches, bikers, and cyclist - any unauthorized vehicles.
Mark
---
Pinball den.
/2016-02-01/ Pinball "museum" has opened in Krakow at 15 Stradomska street. A vast cellar contains over 40 fully operational pinball machines from the past century. A ticket costing 40 zlotys allows the visitor to play all of them at length.
Kasia
---
More visitors to Malopolska.
/2016-01-21/ Almost 14 million tourists, in that number nearly three million foreigners from 53 countries, visited Malopolska province with Krakow in 2015 and they spent here over some three billion euro.
Thoma
---
Folk Art Fair this August.
/2016-01-19/ This summer the 40th Cepelia Folk Art Fair in Krakow takes place on Rynek Glowny central square August 11th through August 28th, 2016. Expect, as usual, rows of stalls selling traditional village crafts and arts plus special attractions such as gigs by acts performing traditional village tunes and songs.
Kasia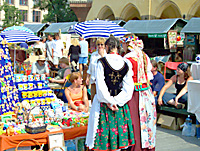 ---
Volleyball world's final in Krakow this July.
/2016-01-18/ Final Six tournament of the 2016 FIVB Volleyball World League will take place in Krakow July 13th to July 17th. The Krakow event is to crown a series of 27 tournaments played on six continents by 36 national teams divided into three groups. The best five squads plus Poland as the host will qualify for the World League Final Six in Krakow. The tournament venue is Tauron Arena which may seat over 15,000 spectators at volleyball matches.
Mark
---
Handball Euro 2016 in Krakow.
/2016-01-15/ EURO 2016 European Handball Championship has started today, January 15th to last till January 31st: in the Krakow Arena at Lema street. A fan zone is on Maly Rynek square at the heart of the Old Town center.
Thoma
---
Easter music festival.
/2016-01-02/ Misteria Paschalia Easter festival of classical music takes place in Krakow throughout Holy Week, from Monday March 21st to Sunday March 27th, 2016. The festival's seven concerts feature Europe's top early music ensembles and soloists.
Barbara
---