Year 2018 blog of Krakow-watchers and visitors to the city.
Click here to write your contribution to our Krakow blog.
Authors of the entries to the Krakow Forum take full responsibility for their content. The following does not necessarily represent opinions of the Krakow Info editors.
---
New Year's free concerts.
/2018-12-14/ Krakow's New Year's main open-air concert starts in Rynek Glowny central square on December 31st at 8.15 pm to last till 2 am. It'll feature Poland's pop acts Quebonafide, Otsochodzi, BOKKA, KAMP!, and Flirtni. There will be two additional New Year's alfresco concerts, both from 9 pm thru 1 am. In Plac Wolnica square Poland's acts Ludwik Zamenhof and DJ Daniel Drumz will perform electronic world music. And in Aleja Roz Krakow's DJ Vasil will spin pop music of the 1980s.
Muse
---
Katowice UN Climate Change - Krakow Fallout.
/2018-12-03/ Heavy police presence in Krakow streets and traffic disruptions, notably morning and evening, are connected with the UN Climate Change Conference (COP24) which takes place December 2nd through December 14th, 2018. Although the city of Katowice actually hosts that major event, thousands of delegates lodge in distant Krakow hotels and commute daily, a headache for local residents and visitors alike. And environmental impact of the motorcades? Who cares?
Mark
---
New item on the UNESCO list.
/2018-12-01/ UNESCO has inscribed the Krakow szopka Nativity scenes on the Representative List of the Intangible Cultural Heritage of Humanity. Actually, at the end of November the organization's session have awarded this status to the tradition of building the szopka Nativity scenes. As every year, the constructors of szopkas will gather in Krakow Rynek Glowny central square next Thursday, December 6 at noon to show their newest works. The szopka Nativity scenes are Poland's first item ever UNESCO voted as the Intangible Cultural Heritage of Humanity.
Muse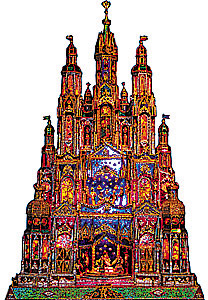 ---
Museums free of charge this one day.
/2018-11-17/ Tomorrow Sunday, December 18th 2018 is the Open Door Day of Krakow Museums which means free entry to the city's museums, including all branches of the National Museum, plus diverse special attractions.
Barbara
---
Krakow Christmas 2018 guide.
/2018-11-17/ The new updated edition of the guidebook to Christmas Krakow for year 2018, published November 16th, is now available as an ebook from Amazon online bookstore.
Mark
---
The same local government for another 5 years.
/2018-11-05/ In the Krakow mayoral race runoff on November 4th the incumbent Jacek Majchrowski has secured his fifth term in office, gaining a solid majority of 61.94 percent of votes. His opponent, Miss Malgorzata Wassermann of Law and Justice party scored 38.06 percent. Also, Prof. Majchrowski will enjoy a comfortable majority in the City Council of Krakow as two weeks earlier a coalition of the centrist Civic Platform party (Platforma Obywatelska - PO), center-left Nowoczesna party, and a group of his supporters have secured 23 seats in the 43-strong body in the Krakow local elections on October 21st, 2018.
Kasia
---
Free concerts of organ music.
/2018-11-03/ The 15th edition of the Organ All Souls International Festival takes place this year from November 4th through November 10th. Seven days and seven recitals and concerts of organ music, one per night, each at one of the historic churches of Krakow. Free admission to all events.
Muse
---
Extra free day.
/2018-10-29/ As the Independence Day, November 11th, falls on Sunday this year, the Polish parliament voted Monday, November 12th to be an extra public holiday, in 2018 only. Expect shops, banks, institutions etc. closed. Tourist sites in Krakow will be probably open as on a Sunday.
Mark
---
Krakow voters have elected the city council.
/2018-10-24/ Local elections on October 21st, 2018 have upheld the current majority in the City Council in Krakow as a coalition of the centrist Civic Platform party (Platforma Obywatelska - PO) and center-left Nowoczesna party plus supporters of the incumbent mayor have secured 23 seats in the 43-strong body. Their opponents, the right-wing Law and Justice party (Prawo i Sprawiedliwosc – PiS), will have 16 councilors, while the remaining four seats went to a failed mayoral candidate and his three supporters. In the concurrent mayoral race no candidate won the outright majority of votes. In run-off on November 4th the incumbent Jacek Majchrowski will fight Miss Malgorzata Wassermann, a prominent member of Law and Justice party and a sitting MP.
Barbara
---
All Souls jazz fest.
/2018-10-02/ This year the 63rd All Souls Krakow jazz festival (Krakowskie Zaduszki Jazzowe) starts properly on Friday, November 2nd, All Souls Day, with the concert at 8 pm starring USA's guitarist Al Di Meola in Kijow.Centrum playhouse, 34 al. Krasinskiego avenue. The 2018 edition of Europe's oldest jazz festival ends November 10th. Its traditional Jazz Holy Mass takes place in the Bazylika oo. Dominikanow church, 12 Stolarska street and Dominikanska street, at 7.30 pm on Monday, November 5th.
Thoma
---
Saint Michael throughout the last week of September.
/2018-09-20/ The Saint Michael market starts in Maly Rynek square, one block east from the Krakow central square, this Friday, September 21st to continue through Sunday, September 30th. Stalls sell the village arts and crafts from sculpture to cloths to pottery and glassware. Also traditional foods such as breads, cheeses, cured meats, and sweets. Live gigs from noon till evening.
Kasia
---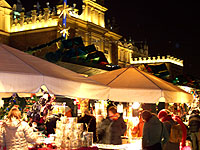 Christmas market opens on the last day of November.
/2018-09-08/ This year the Christmas market in the central square of Krakow starts on Friday, November 30th and is scheduled to end December 26th, 2018. But, circumstances permitting, the market is usually prolonged for another week or so.
Kasia
---
St. Mary's basilica off limits to tourists till November.
/2018-09-06/ One of top sights of Krakow, the Basilica of the Virgin Mary at Rynek Glowny central square, stays closed to tourists for September and October 2018. The reason is the long overdue renovation of the high altar by Veit Stoss, the world's greatest masterpiece of Gothic sculpture and a main magnet attracting visitors to the basilica. Tourists, however, may still climb the towers of St. Mary's basilica.
Mark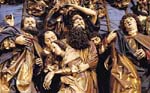 ---
Philharmonic concerts commence September 15th.
/2018-09-04/ The Krakow Philharmonics officially inaugurates its new season on October 5th but the first concert actually takes place September 15th followed by five other concert this month. In the season 2018/2019 the philharmonic concerts takes place at the 1 Zwierzyniecka street typically every Friday at 7.30 pm and on Saturdays at 6 pm.
Muse
---
Less trains to, from Prague.
/2018-08-30/ Leo Express, the Czech Republic's carrier, has announced it cancels trains Krakow to Prague and Prague to Krakow from October 9th through the end of November 2018. It's possible, however, that the service disruption will last longer. There are other train connections between the two cities as well as buses.
Kasia
---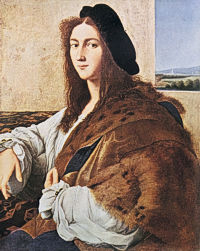 ---
Coming elections.
/2018-08-20/ Poland's local government elections are scheduled to take place throughout the country on Sunday, October 21st 2018 and Krakow is no exception. The city's incumbent four-term mayor, Professor Jacek Majchrowski, seeks reelection as the spearhead of a center-left coalition. The Krakow voters will vote in their mayor for a five-year term and cast votes for the lists of candidates to the city council, to the provincial assembly, and to the district councils as well.
Mark
---
Assumption Feast.
/2018-08-14/ The Feast of the Assumption of Mary falls on tomorrow, Wednesday August 15th. Expect all shops closed as well as a number of tourist attractions including all branches of the Krakow National Museum save EUROPEUM and Schindler's Factory together with other branches of the City of Krakow History Museum.
Mark
---
A feast of dumplings.
/2018-08-11/ The Pierogi food festival starts in Maly Rynek square, one block east from the Old Town's central square, on Wednesday, August 15th to last thru Sunday, August 19th. Visitors may devour the delicious Polish stuffed dumplings and enjoy live gigs.
Thoma
---
Folk Art Fair in Krakow this August.
/2018-08-06/ This year's it's the 42nd Cepelia Folk Art Fair in Krakow and it goes on in Rynek Glowny central square from Thursday, August 9th through Sunday August 26th, 2018. Visitors may stroll among rows of stalls selling assorted traditional village crafts and arts, such as embroidery, pottery, woodcarving, painting, iron, metalwork, etc. Plus there are planned special attractions and entertainments, including gigs by acts performing traditional village tunes and songs.
Kasia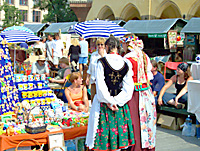 ---
Modern music festival this September.
/2018-08-03/ This year the Sacrum Profanum festival of contemporary classical music takes place in Krakow from Tuesday, September 11th through Monday, September 17th, 2018. It's program consists of 15 concerts and a couple of musical shows. Many of them feature internationally recognized ensembles and soloists performing modern classical music.
Muse
---
Ex-Beatle to perform in Krakow this December.
/2018-07-21/ The UK's best-loved rock star Paul McCartney is to perform in Krakow on Monday, December 3rd 2018. His concert will take place in Tauron Arena Krakow, 7 Lema street, at 6:30 pm. Tickets are priced between 135 PLN and 579 PLN.
Kasia
---
Old music in old Krakow.
/2018-07-16/ Program of the 43rd Music in Old Cracow Festival consists of 18 concerts spread over seventeen August days, one per night except on August 18 there will be two. In 2018 the time-honored festival of classical music in Krakow takes places as usual: August 15th through August 31st.
Barbara
---
Jazz through the night.
/2018-07-10/ The Krakow Jazz Night on Saturday July 14th, part of the Summer Jazz Festival, consists of 20 free concerts. Most of them take place in clubs and start at 10 pm. Earlier in the evening there is an open-air concert in the Old Town's Maly Rynek square from 6 pm to 10 pm. Other alfresco concerts are planned for 8 pm (MOCAK museum) and for 8.30 pm (Bulwarowa street).
Muse
---
Print Triennial.
/2018-07-06/ The main exhibition of the 2018 International Print Triennial in Krakow, called "Immersed in Images", opens in the Bunkier Sztuki Gallery of Contemporary Art at 3 Plac Szczepanski square on July 7th. The show features 257 works by 115 artists from 30 countries and will last till August 26th.
Muse
---
Two weekends full of Polish Music.
/2018-07-02/ Tuesday July 3rd, 2018 starts the 14th Festival of Polish Music in Krakow to last through July 22nd. Its program consists of eleven concerts and recitals filled mostly with classical music by Polish composers, performed by recognized artists, ensembles, and orchestras - Polish and foreign.
Mark
---
Street theater festival.
/2018-06-27/ The 31st ULICA International Street Theatre Festival in Krakow takes place from Thursday, July 5th through Sunday, July 8th with some 80 alfresco performances in the city's squares and parks. The Rynek Glowny central square remains the main venue together with Maly Rynek square one block to the east.
Thoma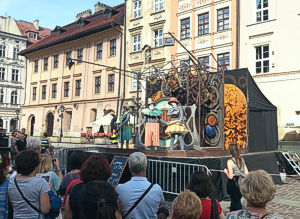 ---
Summer Jazz Festival swings Krakow.
/2018-06-25/ The 23nd Summer Jazz Festival in Krakow goes on till August 4th, 2018. Its principal venue is the Piwnica Pod Baranami cellar club at 27 Rynek Glowny (Grand Square) where jazz concerts are scheduled every night at 9 pm from June 24th through August 3rd. The festival will peak on Saturday July 14th when Krakow Jazz Night takes place with numerous free concerts both at Krakow clubs and in open air, including the centrally situated Maly Rynek square.
Muse
---
Midsummer Garlands festival 2018.
/2018-06-20/ This year Krakow's traditional Wianki (Garlands) midsummer festival falls on Saturday June 23rd and besides the garlands show and a firework display on Wisla riverbank next to the Wawel Castle at 10:30 pm it consists of ten open-air concerts taking place afternoon thru early night plus late-night events at some clubs. The concerts will go on in Rynek Glowny central square, Plac Szczepanski square, Plac Wolnica square, Stolarska street, Plac Nowy square, Plac sw. Marii Magdaleny square, Rynek Podgorski square, a square at 11 Powisle street, Planty garden near Kosciol sw. Krzyza church, and Wisla riverbank next to 16 Podgorska street. Free admission to all events.
Barbara
---
Jewish Festival of Krakow.
/2018-06-18/ This year's 28th Festival of Jewish Culture in Krakow spans ten days as it starts on Friday, June 22nd and ends on Sunday, July 1st. Multitude of events in between consists of at least two concerts every day, series of workshops (singing, dancing, art, cooking, etc), numerous lectures and public debates, tours of Jewish sites, and exhibitions. The venues are concentrated in the compact area of the historic Jewish quarter in the Kazimierz district of downtown Krakow.
Kasia
---
2018 Theatre Night in Krakow.
/2018-06-11/ The Krakow Theatre Night 2018 takes place on Saturday, June 16th. Krakow thespian companies invite to their playhouses for late shows and other events. Free ticket are available at their booking offices and at culture information center at 2 sw. Jana street from June 14th.
Muse
---
Sinfonietta classical music festival 2018.
/2018-06-08/ The 2018 Krakow Sinfonietta Festival of classic music starts on Thursday, June 21st and ends on Monday, June 25th with concerts taking place every day. Saturday, June 23rd looks hectic as the program for that day consists of thirteen free concerts in five venues.
Barbara
---
Lajkonik pageant.
/2018-06-05/ The Krakow Lajkonik historic pageant takes place this Thursday, June 7th 2018. It starts in Senatorska street at noon to reach St. Norbert convent, Kosciuszki street, at about 1.30 pm to proceed next towards the Old Town. The colorful procession is expected to arrive at the Rynek Glowny central square about 7.20 pm where its culmination show may last for over two hours. In 2018 the traditional pageant is enriched with a couple of new attractions, such as a special theater performances and an enactment of a battle.
Thoma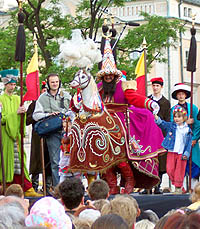 ---
Corpus Christi, May 31st.
/2018-05-24/ All branches of the National Museum in Krakow close for Corpus Christi feast on Thursday, May 31st. The same Schindler's Factory and other branches of the Krakow Historical Museum. The Wawel Castle's exhibitions will keep Sunday opening hours. Yet expect all shops closed except convenience stores attached to filling stations.
Mark
---
Free museum for a night.
/2018-05-16/ This year's Krakow Museum Night takes place on Friday, May 18th, 2018. Most museums in Krakow will keep very long hours, admit free of charge after 7 pm, and often provide special attractions. Visitors may get a free ticket or purchase a commemorative token coin for one zloty that will allow to access the museums.
Barbara
---
Juwenalia student May festival.
/2018-05-14/ This year's traditional Juwenalia festival of Krakow students takes place from May 14th through Sunday, May 20th and consists largely of pop concerts. Yet it culminates, as usual, in a wild and colorful pageant on Friday, May 18th. Unlike in the past the 2018 venue is Plac Szczepanski square, one block west from Rynek Glowny central square, Expect the parade of Krakow students to reach the square at noon or so.
Mark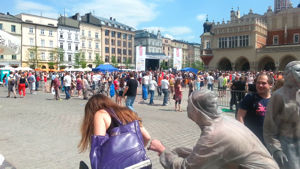 ---
The Krakow crafts fair.
/2018-05-12/ The Crafts Fair goes on in Krakow's Rynek Glowny central square till May 20th, 2018. Some forty stalls sell various traditional Polish handicrafts. Several craftsmen also show their skills live.
Kasia
---
Mendelssohn Festival in Krakow.
/2018-05-07/ The 13th Felix Mendelssohn Music Days take place May 11th through May 19th, 2018. The festival consists of eight concerts and recitals in Centrum Kultury Zydowskiej /Jewish Culture Center/ at 17 Meiselsa street and one organ recital in Kosciol sw. Marcina church at 58 Grodzka street (Thursday May 17th). Tickets cost 30 zotys.
Muse
---
58th Krakow Film Festival.
/2018-05-04/ Man versus the World is the motto of this year's Krakow Film Festival, May 27th to June 3rd. Eighteen documentaries from fourteen countries will compete in the main contest. Ever since its birth in 1961 the Krakow Film Festival has been confined to short films, i.e. currently those lasting fifty minutes or less. The main festival venue is the Kijow playhouse at 34 Krasinskiego street.
Muse
---
Summer opera festival in Krakow.
/2018-04-24/ This year's Krakow Opera Summer Festival starts June 2nd to end on July 7th, 2018. Four events take place in the courtyard of the Wawel Royal Castle - namely the production of Stanislaw Moniuszko's "The Haunted Manor" twice, a ballet show, and a concert of operatic arias staring soprano Aleksandra Kurzak - while two productions of Gaetano Donizetti's "L'elisir d'amore" will happen in Hipodrom next to Niepolomice Castle. Otherwise the venue is the Opera House at Lubicz street.
Barbara
---
Krakow marathon this Sunday.
/2018-04-20/ This year Cracovia Marathon takes place on Sunday April 22nd, 2018. Start in Krakow's Rynek Glowny central square at 9 am, the finish in the same place about 3pm. Pedestrians, cyclists, and motorists should expect streets - and bridges - to be closed in central Krakow, trams and buses rerouted, from Saturday morning to Sunday afternoon, due to the marathon and other events organized in connection with it. Notably the bulk of the central square will be off limits for most of this Sunday.
Thoma
---
Mayday! Long weekend coming!
/2018-04-20/ Be prepared for another of Polish long weekends, this one particularly extended, given that both Tuesday May 1st and Thursday May 3rd, 2018 are public holidays in Poland (and Krakow, Poland is no exception) so many people make it a week-long holiday by taking a day off on Monday and on Wednesday. Expect shops and shopping centers closed Sunday, Tuesday, and Thursday. Ditto banks, government and other offices, workshops, etc. Most of the rest - including restaurants and many tourist spots and cultural events - should be alive.
Mark
---
Trains to bypass the Krakow central station.
/2018-04-16/ Due to the modernization of its platforms starting April 18th, a number of trains - including some Warsaw expresses - are to steer clear of Krakow Glowny central train station for months, going to the city's more distant Krakow Plaszow station instead. Being a passenger you'd better check in advance which Krakow station your train is arriving at.
Mark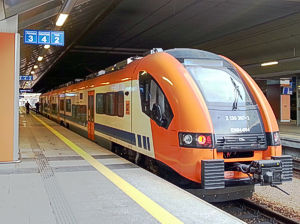 ---
Classical piano music for four hands festival.
/2018-04-06/ The 2nd Duettissimo! International Piano Duo Festival in Krakow takes place from April 24th through April 29th plus one concert on May 13th, 2018. Daily concerts feature pianists playing piano duets and other classical music for four hands. Except concert on April 25th all events are free of charge.
Barbara
---
Krakow Composer Festival: free modern music.
/2018-04-04/ The 30th International Krakow Composer Festival takes place from April 14th through April 22nd, 2018. Everyday concerts feature contemporary classical music. Free admission for all festival events.
Muse
---
Shorter shopping this Saturday.
/2018-03-29/ This Saturday, March 31rth, 2018 shops close at 2 pm or even earlier as required by the new law recently adopted in Poland which applies to shopping on Sundays and prior to religious festivals and public holidays.
Mark
---
Guide to Krakow available worldwide.
/2018-03-28/ Freshly published updated 2018 Krakow guide e-book in English, namely this year's edition of The Best of Krakow guidebook, is now available from Amazon.
Barbara
---
Visit Krakow, cheapest in Europe.
/2018-03-28/ Krakow has been named the cheapest destination for a European weekend break in the 10th annual City Costs Barometer, published by the UK's Post Office. The Post Office's team of researchers assessed 36 cities from all parts of Europe, popular with tourists, and calculated the cost of 12 key expenditures such as the entry to a top museum and art gallery, a three-course evening meal and two-nights accommodation in a three-star hotel. The the short city break in Krakow costs 164.80 British pounds for two, not including flights.
Kasia
---
Krakow museums over Easter.
/2018-03-20/ Museums in Krakow close for Easter Sunday, April 1st 2018. All branches of the National Museum close also for Good Friday, March 30th while all exhibitions of the Wawel Royal Castle stay closed on Saturday, March 31st when other museums keep shorter hours. As regards Monday April 2nd two exhibitions at the Krakow Royal Castle - State Rooms and The Lost Wawel - will be open from 10 am to 5 pm (free admission, limited number of tickets) together with all branches of the National Museum which will stay open from 10 am to 4 pm, while most branches of the Historical Museum of the City of Krakow, including Schindler's Factory are to be open from 10 am to 2 pm.
Muse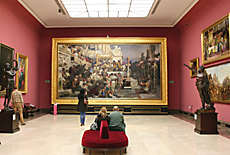 ---
Won't shop this Sunday.
/2018-03-09/ Shops in Krakow, and elsewhere in Poland, will stay closed this Sunday, March 11th as well as the next Sunday, March 18th by courtesy of the ban on Sunday shopping being phased in this year. There are, however, exceptions. Most notably, bakeries and pharmacies are allowed to operate as well as any shops situated at train stations, bus stations, etc. Yet Galeria Krakowska, Krakow's most popular shopping mall, built over the city's central rail station, duly closes for all no-shopping Sundays.
Mark
---
Easter market soon.
/2018-03-02/ In 2018 the Easter market in Krakow starts in the city's central square on Friday, March 23rd and it'd continue through Monday, April 2nd. Expect a wide range of traditional Easter decorations plus varied foods and village handicrafts to be on sale.
Kasia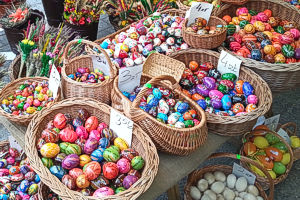 ---
Better air-quality data.
/2018-02-28/ Alarmist reports on air quality in Krakow happen throughout winter, notably when foggy conditions prevail, regarding particulate matter (PM10 & PM2.5), popularly though wrongly called "smog". Usually, there is no real cause for concern as long as you avoid walking thruways jammed with vehicles during peak hour traffic. Unlike London or Paris, in Krakow the equipment to measure levels of fine particulate matter and other pollutants is installed only in the most busy streets so any local published data mostly concern car exhaust fumes not the general air quality in the city. More reliable is The Copernicus Atmosphere Monitoring Service (CAMS) which publishes up-to-date information online at www.regional.atmosphere.copernicus.eu, based on satellite data, plus four-day forecasts - also specifically for Krakow. The Krakow detailed reports by CAMS include PM10, ozone, nitrogen dioxide, and sulphur dioxide. Their maps cover the mentioned four pollutants as well as PM2.5, carbon monoxide, birch pollen and grass pollen.
Mark
---
2018 Beethoven Easter Festival in Krakow.
/2018-02-24/ In 2004 the Ludwig van Beethoven Easter Festival moved from Krakow to Warsaw, where most of its concerts take place. Yet some events of the festival rich programme are organized in Krakow and some other Polish cities. In 2018 the Krakow part of the Beethoven Easter Festival consists of two concerts and two piano recitals March 12th through March 14th. Most spectacular is the concert in ICE Krakow Congress Center at 17 Konopnickiej street on Monday, March 12th at 7:30 pm, starring Germany's violin virtuoso Anne-Sophie Mutter accompanied by USA's pianist Lambert Orkis and Slovakia's bassist Roman Patkolo.
Kasia
---
Cello music for free in March.
/2018-02-23/ The Krakow festival of music for violoncello, the 5. Krakow Cello Spring, takes place from Tuesday, March 20th through Friday, March 23rd, 2018. The festival consists of four concerts, one each day at 7 pm, free admission. Venue - Aula Florianka at 15 Sereno Fenna street.
Muse
---
Free Baroque music.
/2018-02-16/ The Krakow festival of Bach music, the 23rd Bach Days, consists of nine concerts and two recitals spread over nine days from Saturday, March 10th through Sunday, March 18th with at least one musical concert every day in Aula Florianka at 15 Sereno Fenna street. All concerts are free of charge.
Barbara
---
2018 Krakow Film Music Festival.
/2018-02-14/ The 11th Krakow Film Music Festival starts on May 29th, ends June 5th, 2018. However concerts in Krakow will take place May 30th, May 31st, June 1st, June 2nd, and lastly June 3rd at one of two venues Tauron Arena Krakow at 7 Lema street and ICE Krakow Congress Center at 17 Konopnickiej street. Also, there will be concerts in Katowice on May 29th and at The Krzysztof Penderecki European Center for Music in Luslawice on June 5th.
Kasia
---
February festival of Spanish music.
/2018-02-10/ Festival of classical Spanish music in Krakow starts on Sunday, February 18th to last through Saturday, February 24th, 2018. Daily concerts take place at two venues, the Akademia Muzyczna conservatory at 43 sw. Tomasza street and Aula Florianka concert hall at 15 Sereno Fenna street, and they mostly feature Spain's 20th-century composers. Admission for all concerts is free of charge.
Muse
---
Easter music festival.
/2018-02-06/ In 2018, as in the past, the Misteria Paschalia Krakow Easter festival of classical music takes place in Krakow throughout Holy Week. It starts on Monday, March 26th and will continue through Monday, April 2nd 2018. The festival has attracted an array of Europe's top early music ensembles and soloists. There are two concerts planned every day, except on Good Friday, Easter Sunday and Easter Monday just one concert will take place each night. The venues vary from the Old Town's historic churches to ICE congress center to the subterranean chambers of the Wieliczka Salt Mine.
Thoma
---
Sweet Thursday.
/2018-02-02/ Fat Thursday feast, Tlusty Czwartek in Polish, Poland's traditional day of sugary overeating, falls on February 8th this year. So next Thursday don't forget to buy paczki, the local incarnation of donuts, a must-eat in Krakow on that day. It marks the start of Ostatki, i.e. the last week of carnival in Krakow.
Barbara
---
Elton John show in Krakow in 2019.
/2018-01-26/ The UK's stellar pop rock act Elton John will perform in Krakow for the last time next year. His Krakow showing during "Farewell Yellow Brick Road" tour falls on May 4th, 2019. The planned venue is Tauron Arena Krakow at 7 Lema street..
Kasia
---
Sunday shopping to be restricted.
/2018-01-19/ The Polish parliament has passed a bill which phases in a ban on Sunday shopping. In 2018 most stores in Poland will stay closed on 23 Sundays, namely March 11th, March 18th, April 1st, April 8th, April 15th, April 22nd, May 13th, May 20th, June 10th, June 17th, July 15th, July 22nd, August 12th, August 19th, September 9th, September 16th, September 23rd, October 14th, October 21st, November 11th, November 18th, and December 9th. Some pharmacies and some groceries as well as bakeries, flower shops, and all gas stations can stay open every Sunday.
Mark
---
Epiphany January 6th, 2018.
/2018-01-04/ On Epiphany feast January 6th, 2018 shopping malls www.krakow-info.com/shopping.htm closed, practically all shops etc closed, most tourist sites closed, gas stations open. Public transport adopts Sunday timetables. At the Wawel Royal Castle only two shows open, namely State Rooms and Crown Treasury & Armoury, from 10 am to 5 pm. All branches of the Krakow Historical Museum stay closed, including Schindler's Factory.
Muse
---
Christmas market extended thru January 7, 2018.
/2018-01-03/ This year Krakow's principal Christmas market in Rynek Glowny central square has been extended to go on beyond the Epiphany feast, January 6th. And so it ends on Monday, January 8th.
Kasia
---